MiscatSquad
is creating Geek Culture Entertainment and a Geeky Community
Select a membership level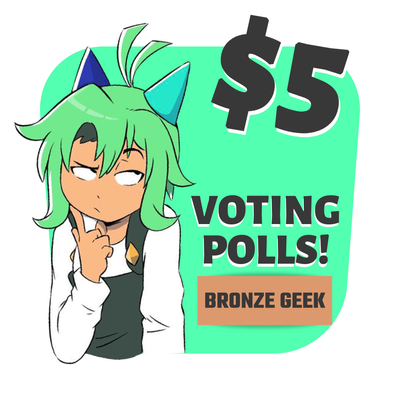 🥉 Bronze Geek
If you're a Bronze Geek Patron for All Ages of Geek you get access to Voting Polls focused on our Content, Streams, Games and more!
🥈 Silver Geek
MOST POPULAR TIER! If you're a Silver Geek Patron on All Ages of Geek you get access to:
12 to 13 FULL/Uncut Reaction Episodes per week
Early Access Content
Mention in the Credits of Episodes
Access to our Discord
Access to Patron-Only Events such as our upcoming virtual conventions over Discord voice chat
Patron Movie Night
Patron Game Day
A special badge on our website (COMING SOON)
Patron Exclusive Reactions
Includes Discord benefits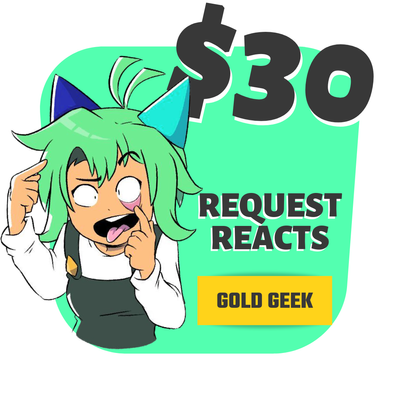 🥇 Gold Geek
If you're a Gold Geek Patron you get Access to all other rewards + you can request up to 5 Videos to React to during Streams or if the videos are strange and weird enough you can send them in for an episode of Squad TV per month! 
📺 Example of Squad TV: https://bit.ly/2lzWmkM
Gold Geeks also get to:

Request 1 Episode of an anime or TV Show to get a reaction for the 13th spot on the Reaction Schedule

Request Movie to watch during Patron Movie Night (once a month)
Request Multiplayer Games to play during Patron Game Day (once a month)
Includes Discord benefits
About MiscatSquad
Hey Squad! And welcome to our
official All Ages of Geek (and MiscatSquad) Patreon
, where you guys can get extra perks and surprises every week.
The more you contribute the more our community can do, such as larger events, more content and a ton of upcoming HUGE projects that will involve you guys and bring you more
#FandomPositivity.



The most popular tier is the $10 Tier which gives you access to:
Early Access

You will get early access to Squad Reacts! RWBY Reacts are on Saturday and My Hero Academia Reacts are on Sunday. Starting in 2020 you will get Early Access to Reactions 1-2 months earlier than anyone else covering FULL Seasons to series EVERY month. 

Example: Patrons will get Season 1 of Steven Universe (or any reaction series) in 1 Week while it will take 1-3 months to finish on the channel. 


 LIVE Watch-a-Thons
Every Wednesday @ 12PM Eastern Time we watch Food Wars together! We'll also be re-watching RWBY and other show episodes to experience your favorite moments all over again and discuss them together. Another part of this package is geek culture Movie Watch-a-Thons, like anime movies, Marvel & DC movies and more!
 Shout Outs

If you pledge $10 or more you will be listed on the credits of EVERY video on the channel. Credits update every 5th of the month if your pledge goes through.

 Roles/Badges

Awesome roles on our Discord AND on YouTube. 
You Are Funding Editing Fees

You Are Funding New Equipment

You Are Funding New Series
You Are Funding New Games

You Are Funding Production
You Are Making this Vision Possible (Seriously it wouldn't be possible without you)
You Are Helping Spread Positivity, Love and Nostalgia in all Geeky Fandoms

 You Are Building the Community
Geek culture is what brings the world together. Despite our differences in race, religion, sexuality and background one thing is certain about geek culture, it unites us. All Ages of Geek's mission isn't just to entertain, it's to unite the geeks of all ages as part of an interactive community. No matter where you are in the world if you are a geek and proud of it, if you are respectful and kind you are welcomed at All Ages of Geek. So rise geeks, rise and stay weird, stay wonderful and stay awesome my friends.
- Kat

If we reach this goal there will 18 REACTION EPISODES PER WEEK ON PATREON! This means 6 episodes every Sunday, Monday and Tuesday.

Around this time YouTube, the website, Patreon and Twitch will be our ONLY focus which means more of your favorite content every week and more community perks.
4 of 5
Recent posts by MiscatSquad
By becoming a patron, you'll instantly unlock access to 490 exclusive posts
By becoming a patron, you'll instantly unlock access to 490 exclusive posts