Sam Shearon
is creating Dark Artwork
Select a membership level
JUST THE TIP!
Welcome to my Patron-Only news feed!

At this level I'll give YOU a tip on my latest print and merchandise releases even before my official mailing list goes out!
(A benefit in regard to those limited edition releases if you're wanting  to grab that specific number before anyone else or simply before  they're all gone!).
 
You'll find out what I'm creating next in the music and comic-book industry such as album sleeves, tour posters, book covers and merchandise!

You'll get a head's up on when I'm drawing LIVE, doing Q&As and more! *(Access to view these videos are in the higher tiers).
 
I'll announce when I'm appearing on podcasts and where I might be signing or appearing that month, such as comic-conventions, galleries or book stores!


Heads up on print and merch releases.
Head's up on new original art in the official store. 
News on who and what I'm creating for next.
Head's up on LIVE-streaming, drawing and Q&A sessions! 
News on when and where I'm appearing or signing etc.

LOBOTOMIST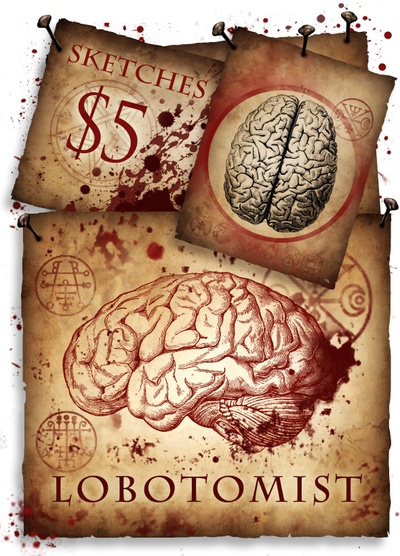 At this level you can get inside my head!

In addition to the Patron-Only news feed, you'll have access to my sketchbooks and doodles, my workings, notes and ideas that I create prior to and during the development of my latest artwork.

I'll post these 'Works In Process' here (only on Patreon!) as I create them, leading up to each fully finished piece.
 
These 'sketches' are extremely private and I never reveal what I'm working on until a new piece is completed... but I will here!

This is your window into that world where you'll see my changes of mind and the development and working processes of my art, even my mistakes or ditched ideas...
Some ideas just don't 'work'... you'll see those and find out why! (So you'll be learning along with me as I grow and develop my own skills and ideas as an artist).

Once each piece is fully finished, I'll also post it here before anywhere else. This gives you a head's up on those limited edition signed and numbered prints and original one-of-a-kind pieces prior to them going into my public store!

In addition to the lower tier rewards...

Access to sketchbooks, WIP, Notes and development doodles.
New completed artwork reveal.
THE ORACLE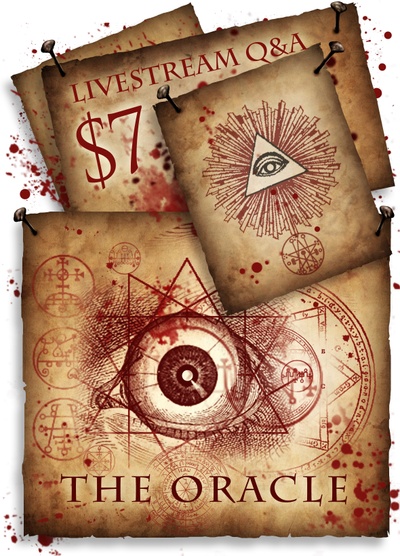 Along with all lower tier rewards, at this level you'll have access to much more behind the scenes stuff!

This includes access to my occasional LIVE-streaming drawing videos with Q&A sessions where you can join me while I experiment and work on new ideas.
(I may even do more than one session a month depending on free time!)

You'll also have access to my occasional time-lapse videos.

I'll also post occasional additional videos with some special guests joining me while we work on the many side projects I'm often involved with, including podcasts, music and film.

Stay tuned!
 In addition to the lower tier rewards...

Access to LIVE-Streaming - drawing and Q&A sessions
Access to monthly time-lapse videos.
Access to occasional extra behind the scenes videos with special guests!







About
Welcome to my official Patreon page!
If you're a lover of all things dark and macabre then you've come to the right place.
My name is Sam Shearon, I'm a British artist based in Hollywood, Los Angeles.
I specialize in illustrating darker subjects such as horror, science fiction and all aspects of unexplained mysteries and ancient legends.
I'm probably best known for creating album sleeves and book cover artwork for clients in both the rock & metal music industry and comic-book world. But I'm also known for creating book covers and movie posters in the many fields of unexplained exploration and study, such as the supernatural and the paranormal, with cryptozoology being my personal favourite!
Each month I reveal new personal artworks and release new signed prints and merchandise along with occasional time lapse videos of my hand illustrations and 'in-process' LIVE videos where you can interact with me and ask me anything!
Here are two examples of the prints I produce each month, these measure 11" x 16".
SO what will YOU receive from my Patreon...?
Depending on how much you pledge, you'll have access to a variety of rewards!
There will be access to the latest news and links to releases of both signed prints, merchandise and original artwork even before my official mailing list goes out!
(This is a benefit in regard to those limited edition releases if you're wanting to grab that specific number before anyone else or simply before they're all gone!).
I'll share the latest news on who I'm working with next or where I'm appearing, drawing live or signing, such as the various comic-conventions, galleries or bookstores.
You'll have access to my behind the scenes initial ideas and sketches... 'in-process' or even unused or alternative versions of my artworks and never before seen art from the vaults!
I'll also be doing occasional LIVE videos and Q & A sessions whilst I draw!
I will be adding Patreon-Exclusive artwork, (that means only available here!)...
One thing is for sure - every month will be different and I'm open to requests and suggestions.
Ever wanted to appear like the walking dead...?
Or perhaps gift a friend or relative with a Zombie Portrait of them!?
There's even a Patron level for that!
With your support and patronage, my work can expand into the further reaches of the strange and unusual. Giving me more time to explore the deepest darkest depths of the unknown in my personal artwork!
With your contribution you're fueling history in the making!
Thank you!

FAQ
What is Patreon?
Patreon is a great way for you to support people that make things that you like. It allows you to donate to them every time they make a new thing, which in this case is dark artwork!
How often will I be charged?
You will be charged once a month, even if I post more often than usual.
Can I give a little more than my tier?

Sure thing and thank you SO much - feel free to pledge any amount over the $1 amount.
It says USD, does it automatically convert to my currency?

Correct yes! Patreon will process any currency.
Recent posts by Sam Shearon
By becoming a patron, you'll instantly unlock access to 10 exclusive posts
By becoming a patron, you'll instantly unlock access to 10 exclusive posts