MyMageOfDoom
is creating Art
Select a membership level
$5
per finished Comic or Drawing
Occasionally I'll offer sketch/doodle requests to any patrons that support $5 or more
$15
per finished Comic or Drawing
Occasionally I'll offer the patrons who support $15 or more a finished piece for their keeping and free use. Digital or Traditional.
$0
per finished Comic or Drawing
About

Hi, so my name is Caitlyn but I usually go by MageOfDoom or MyMageOfDoom or some iteration like that. I've been drawing for as long as I can remember, it's my emotional outlet and my greatest passion and slowly over time I've been channeling that passion into something that could potentially one day support me. I'm an undergrad at the moment, studying to become an elementary teacher so I have the joy of graduate school ahead of me yay! (and more debt woo)
About my art, well like I said I've been drawing since my singular digit age. As is obvious, I do a mixture of fanart and original works and it's safe to say that it's all digital works at this point. I was introduced to digital art when I bought my first tablet and that was around 2001 and over time as I got more used to using my tablet I created less traditional art. From time to time I will draw in my sketchbook but it's usually done at request and I give those drawings away, which I am willing to do for those that pledge where they have that privilege.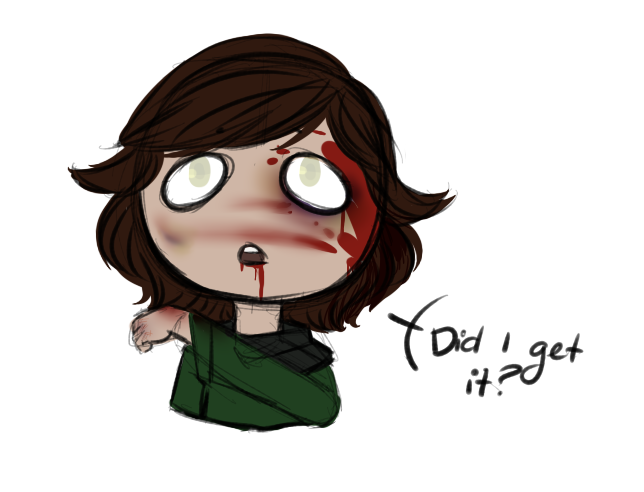 As you can see, my humor can be a bit dark and I love drawing blood ever since I figured it out! But the point of this entire thing is why you should support me, and honestly I don't have much but your pledge will guilt me into giving you a run for your money. The more guilt = more art and comics! Haha I wish I was joking but don't get me wrong I will still be creating art and comics even if I don't get any patrons. At this current state though, without any patrons, I'm estimating about one comic every two weeks. I'd love to be able to do it more frequently and I hope you'll help me out with that part.
The comics I'm drawing will start out as black and white, perhaps in the future, with some motivation (guilt) I'll start making full color ones like the one at the very top of this. Every patron has the option of giving suggestions. Feel free to suggest changes at any time! I can't always promise that I will be able to do it, but I love to get constructive feedback. Don't be shy I'm as every bit awkward and a goof/nerd as you could expect and I'm willing to talk to just about everyone!
Every dollar helps!
$0 of $75
per finished Comic or Drawing
At this point I'll either be more motivated or guilted to upload more regularly so I'll set up a schedule for updates so they aren't coming in at random. Also when this goal is met I can worry less about trying to find money in other odd jobs, as is the way of the broke college student.
1 of 2
Recent posts by MyMageOfDoom
By becoming a patron, you'll instantly unlock access to 3 exclusive posts
By becoming a patron, you'll instantly unlock access to 3 exclusive posts