Netherworks Costumes
is creating Costumes, Concept Art, and Props
Select a membership level
Sponsored videos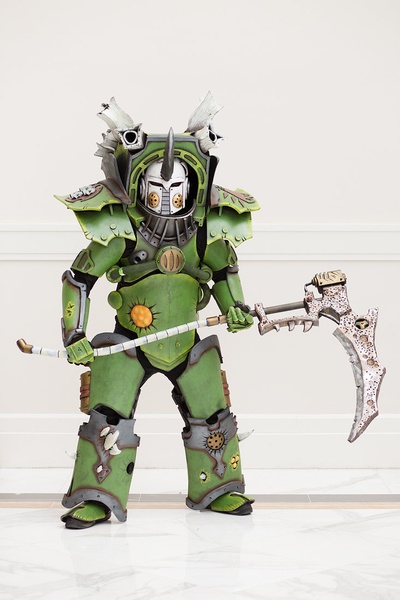 Here is where you can get your name added to the credits of my patron sponsored videos! Huzzah!
About
Here is a recap...
My name is Rafeal Bertiz, but most folks call me Raf. 
I started making costumes and props back in January 2016. 
Since then I have met hundreds of people, watched dozens of tutorials, read a number of books, and have attended several events all for the sake of making connections with like minded people. Why? 
A.) To make a strong foundation for my business "Netherworks Costumes".
B.) To share what I have learned with other people on building costumes with EVA foam.
C.) To absorb as much knowledge as I can on anything and everything there is to know about making costumes for a living. 
By day, I am a retail worker. By night, I build costumes based on whatever character I feel like bringing to life at the time. This is my thing, and It is what I have been doing for awhile now and will continue to do for the foreseeable future.
I had launched my patreon campaign in 2017, but after some time to think on it I decided to completely revise it.


Why Patreon?
Though I work a decently paying day job, and I have my time split between said job and my real job(yes I treat costume/prop making as that) there have been a few times where I was asked "How can I support your next build?!". Heck someone even gave me a few bucks after taking a photo with me simply because they wanted me to put it towards my next costume. 
That's when It hit me.
I will simply used patreon as a way for fans and followers to tip me however they please. 


What to expect?
All my content will be viewable via other social media platforms like Twitter, Instagram, Facebook, and Youtube @Netherworks Costumes. That much will continue to stay the same. I don't really like the idea of hoarding knowledge in exchange for a dollar, but I am not one to turn away someone willing to show support with said dollar.

Now I would love to get into live streaming at least twice a week on a regular basis but that would involve better equipment. Patreon would help hasten the process. I would also love to be able to make more hours of my day go towards my craft which would translate into more progress photo's, videos, blogs, etc. sooner rather than later. This could also allow me to make more patterns for fans and followers to download and maybe even take a few more commissions. 

As I said, These things will happen. Patreon would just help them happen faster haha. If you become a patron, Thank you so much! If not, thank you so much! It still means a lot to me that you would take the time to read through all this.

So to wrap it all up I will say to you: Stay creative my friend!

-Raf
Reaching this goal would go a long way in maintaning that regular stream of uploaded progress videos and photos that my fans and followers love to see!

1 of 1
By becoming a patron, you'll instantly unlock access to 9 exclusive posts
By becoming a patron, you'll instantly unlock access to 9 exclusive posts
Recent posts by Netherworks Costumes