Nicklordzero
is creating LIVESTREAMS, PODCASTS, COMMENTARIES AND MORE
Select a membership level
Teir 1 - One Dollar (Monthly)
A nice feeling for supporting Nicklordzero every month!
- Access to updates on the Patreon page.
- See new videos a few days early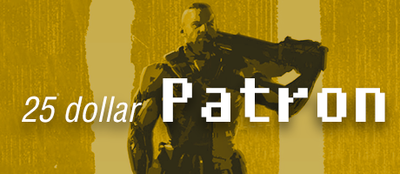 Teir 2 - 25 Dollars (Monthly)
Pledging $25 a month will give you:
- Access to updates,screenshots and sneek peek from upcoming Videos
- See new videos a few days early
Teir 3 - 50 Dollars (One - Time Donation)
Limited (50 of 50 remaining)
- Access to updates,screenshots and sneek peek from upcoming Videos
- See new videos a few days early
- Gain a copy of "The Arcadian Gamer" Soundtrack
- Access to templates for Youtube, Twitch and your own streaming software (PSD Format)

About Nicklordzero
Nicklordzero is a YouTube channel that starting in July 2017 with the goal of bringing daily news updates to the community for the popular 'Zombies' mode of Call of Duty games.

Hello there, I am Nicklordzero welcome to my Patreon page!

Patreon
By now you should be rather familiar with Patreon, You've seen all the other Youtubers posting videos about their Patreon channel...If you haven't, let me explain!
Patreon is essentially a tipping jar for content creators, you choose an amount to give for each animation I upload, and it can be 1 dollar or like...25 dollars...Your choice. If you're worried about me uploading a ton of animations...Well firstly, don't...I don't upload too much...and secondly, you can set a limit so you don't empty your bank.

Why
Broadcasting is my full time career and to make a living off it I have to focus on getting where I need to be, which means less content on my Youtube channel. Broadcasting takes a lot of time and a lot of hard work, so Patreon is a great way to support me, If you don t like giving a couple of dollars per video, you can help me out by sharing and liking my videos, it ll be greatly appreciated!
Thanks for the support!
Thanks for the donation! I will be making more videos very soon and will keep going a little more by month

1 of 6
Recent posts by Nicklordzero