Prospect Tower Observation, and Juliet + Company
is creating of Juliet
Select a membership level
Join the family, Pay What You Can
Please feel free to enjoy Of Juliet magazine content online on our website, or in person at the restaurant if you are local, anytime, all the time, as much and as often as you like. 
Supporters though, at any level, are offered a subscription to our members only email list, published three times each month. Three distinct newsletters will be sent: "Past, Present, Plan", "Process", and one secret (kind of edible) edition as well, that we'll only tell you about if you subscribe. 
We run our efforts based on a Pay What You Can support model. We appreciate more than we could ever tell you your willingness to join our work by supporting it financially. 
80% of all profit generated above expenses is returned to the writers, artists, editors, designers, and other team members associated with bringing this project to new life three times each year. 
Print Subscription
In addition to the benefits outlined above in the Pay What You Can level, supporters of $5 or more per month will be guaranteed a copy of each issue in print, which will be received by mail. While 100% of our print content is available online, we are still big believers in print. We take time to curate the experience, from front to back, to be something special, and worth holding onto. 
Front covers are meant to be collectible, and follow a progression throughout the year, evolving with the current themes (which run three issues, like a yearly trilogy). 
We only print 50 copies of Of Juliet in addition to the subscribers, so this is your best way to ensure that you will get your copy. 
Personal sponsorship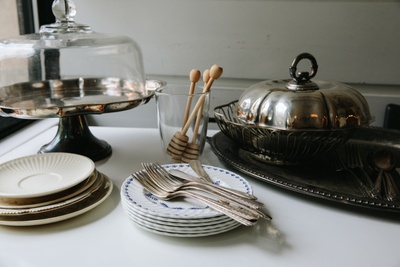 This level of support has a decisive impact on our ability to pursue new projects and devote resources to the development of content with our freelance contributors and our staff. 
In addition to all of the benefits in the first two tiers,supporters at this level will be publicly thanked in each print issue, inside the back cover of the magazine, with the option to add a line of contact information, web address, or similar (not required). This information will be repeated on the Of Juliet website with the about us information. 
Personal sponsorship supporters will receive a personal update each year about the development our our programs at Of Juliet, and will be invited to be part of the yearly editorial steering meeting, over breakfast, each January. 
About
Not a food magazine, not really. A publication of Prospect Tower Observation +
Juliet
.
Produced and managed by the staff of the award-winning restaurant,
Of Juliet
is not only a fulfilling creative project, founded on Juliet's characteristic excellence in craft, but also an experiment in developing economically viable support structure in the arts.
Contributors and staff share in the profit of the project. Like the restaurant itself, supporting this endeavor not only provides a unique and fulfilling experience for fans and readers, but an opportunity to develop skills and be paid for them, for those involved in the creation.
Of Juliet
, published three times each year, is equal parts look deep behind the scenes of one of the country's top independent restaurants, and general interest publication featuring original essays and fiction, interviews, opinion, art and photography, reviews, and more.
Of Juliet
is available in print, and can be purchased online, at Juliet the restaurant, and at a growing number of stockists nation-wide 
(who wants to be our first outside the US stockist?)
. 
Of Juliet
is also free to read, in its entirety, online, or at Juliet the restaurant where there is always a sauce-stained house copy available to enjoy.  
Revenue to
Of Juliet
is earned based on a Pay What You Can patron model, and 80% of all revenue after expenses is returned to the staff and contributors for their work. The 20% remaining funds new creative efforts and initiatives, like video production, or who knows what is next. 
You can, and should, read and enjoy Of Juliet as much and as often as you like. If you can, and if you have enjoyed the results of our efforts, please consider a one time or subscription based payment as whatever level you feel comfortable with. 
We wouldn't last long without you. 
By becoming a patron, you'll instantly unlock access to 2 exclusive posts
By becoming a patron, you'll instantly unlock access to 2 exclusive posts
Recent posts by Prospect Tower Observation, and Juliet + Company