OnlyHopeRemains
is creating a safe place for horses.
Select a membership level
Snapchat Access!
Snapchat access and all the bales!
Includes
50,000 In-channel Haybales
5x Luck in Channel Giveaways
Snapchat Access
Your Own In-channel FFZ/BTTV Emote!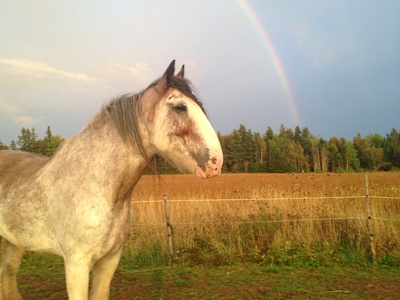 Get your own in-channel FFZ or BTTV emote, plus all the rewards from the first tier!
Includes
50,000 In-channel Haybales
5x Luck in Channel Giveaways
Snapchat Access
Your Own In-Channel FFZ or BTTV Emote
Thank You Card and Photo of a Rescue Horse of Your Choice!
A personalized thank you card, "kissed" by a horse of your choice, and a 5x7 photo of a rescue horse of your choice, mailed to you! Plus all the perks from the earlier tiers!
Includes
50,000 In-channel Haybales
5x Luck in Channel Giveaways
Snapchat Access
Your Own In-Channel FFZ or BTTV Emote
A Personalized Thank You Card and Photo of One of Hope's Horses
About
Welcome to Featherfoot Farm's Patreon!
Featherfoot Farm is a horse rescue which I started in 2011, entirely on my own, without any financial help from outside agencies. I rehabilitate and rehome horses that have been abused, neglected, retired from racing, or retired from work in general. Horses that come through my rescue are rehomed on a contract, which means that should the adopter of the horse need to rehome the horse in the future, the horse comes back to me, is re-evaluated, and then rehomed again through my farm. Adoption fees are generally only what I have invested into the horse, and very often less than. For example, if an old, worn out mare comes in needing $1000 in vet work, I'll never make that back in her adoption, because she's not able to do work anymore.
The rescue started unintentionally when I went to try out a jumping horse I was interested in buying at a private property, and found a skinny, frail Clydesdale gelding, half-blind, getting bullied out of the food by six healthy, young horses, in a tiny muddy pasture. My heart broke for him, and I couldn't leave him there to wither away. So, I threw 14 years of horse jumping, shows, and professional riding training out the window, and instead of trying out the jumper, I asked how much they would take for the Clydesdale. He was home the next week. That Clydesdale, named Tanner, was my first rescue, and my first horse. 5 years later, I still don't have my jumping horse, and I am more than totally fine with it!
Tanner is still with me today, along with three other beautiful, special horses. After acquiring my second pony, Lilliput, and rehabilitating her extremely neglected hooves, word spread in the small community where I live that I would take on horses. Soon, I had people from racetracks calling me, asking if I could help them rehome their racehorses when they had been retired from racing, so that they didn't have to send the horses to auction, and potentially, the slaughterhouse. To this day, I have rehomed 3 dozen horses, either through my farm or directly from racetracks. It is a labour of love which costs me half my annual income to maintain. I still receive no grants, government money, etc. for my work. There's no programs available. I currently run everything out of a two stall stable, which acts more like a run-in shelter for the current herd. Some day in the future, I hope to be able to expand my barn, and my capacity!
Current Horses Living at Featherfoot:

Tanner
– 17 years young – 18HH – Clydesdale -- Photo:
https://imgur.com/a/Yy8Nz
Tanner was my first horse and first rescue. He's a giant, goofy boy, always looking for attention and snuggles. He's blind in his left eye, but that doesn't slow him down at all. Tanner is trained for both riding and pulling, and LOVES being in the woods. The horses have access to a section of trail in their pasture, and I often catch him in there, enjoying the breeze and the birds. His favourite treat is banana, he will even try to steal the peel from your pocket. He is a permanent resident of the farm, and will be living the rest of his days here.
Lilliput (Lily)
– 15 years young – 11HH – Shetland Mix – Photo:
https://imgur.com/a/wBrWT
Lily is a quirky little pony, and was the second addition to the herd. She is sassy, sweet, and stubborn, classic pony traits. Lily came to me after a local farmer informed me of her situation. Her hooves were in terrible shape, and she has permanent bone remodelling from the neglect. Today she is comfortable, healthy, and happy bossing the goat and other ponies around. Lily's favourite things include laying her head across your lap to nap, apples, scratches behind the ears, and nipping the vet's ears. ;) Lily is a permanent resident on the farm due to her leg/hoof issues.
Alissandra (Alise)
– 20 years young – 14.1HH – Norwegian Fjord – Photo:
https://imgur.com/a/Qs2b8
Alise is a retired brood mare, and has had EIGHT foals in her life. She has also been a school horse, and a show horse. She was surrendered to me by her owner after a fall caused an injury to her hock, which prevents her from jumping anymore. Alise is sweet, motherly, and very patient. She spends much of her time with Tanner, though Lily and her are very fond of each other. Her favourite things include scratches on her belly, carrots fresh from the garden, cuddles, and chasing the goat. Alise is a permanent resident due to how hard her life has been, and her injury.
Heartsong Lyric (Lyric)
– 4 years young – 13.1HH – Purebred Hackney Pony -- Photo:
https://imgur.com/a/qqDMQ
Lyric is the latest addition to the herd. She came to me painfully underweight and malnourished, and has grown significantly since recovering. Lyric is still learning manners, and enjoys chasing the other horses in an attempt to get them to play, stealing hats and gloves, pushing things over, and ear scratches. She had been allowed to misbehave in her previous home because it was "cute," and is now slowly learning to be respectful. Lyric's favourite things are apples, shaking objects around with her mouth, scratches on her neck, and galloping in the field. Lyric is a semi-permanent resident on the farm, and may be available for adoption after a few years when she is trained for saddle of harness. Alternatively, my father may keep her as his cart pony. Time will tell!
The cost of grain for a month for the herd. With the low Canadian dollar, feeds that are imported have risen substantially since I started rescuing. Switching to a cheaper grain is not an option here. While not all the herd gets grain, Tanner needs it to maintain his weight, and Alise needs it to easily take her medication and supplements.

1 of 2