Orphan Girl Fine Art
is creating Fine Art Painting on pH Treated Teabags
Select a membership level
Navin
The first rescue I ever had was an American Robin named Navin. (The neighbor boy whom I had a crush on at the time suggested the name.) This tier is for the "good feels" of doing a great thing--a feeling I get every time I am able to release something back into the wild where it belongs. 
Goo Bird
This is Goo Bird...named for her messy eating habits. As a chick, she had a personality that wouldn't quit. This was how she spent most winter mornings, feathers slightly puffed, neck outstretched, basking in the feeble sun. She stayed with me for quite some time and will forever be in my heart. With this tier you get all the "good feels" PLUS access to Patreon-only content and a chance to win bi-monthly prizes...because everyone loves prizes! 
Dexter the Turkey Vulture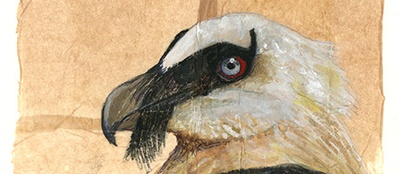 It's a commitment, doing wildlife rehab. I learned this the day I picked up a turkey vulture and headed out for a 3 hour drive to Badger Run. He vomited 10 mins in to the drive. Because that is the type of smell you peel off the roof of your mouth three days later, you deserve a great reward: Everything from Tier 1 & 2 PLUS a greeting card each month and 10% off Etsy all of the time, and for in-person sales too!
About
I grew up in Lincoln, a small Oregon community twenty-two miles up Highway 66 from Ashland, now nestled in the Cascade Siskiyou National Monument. Here, I could step out my back door to explore seventy-five acres of towering pines and firs, and encounter the creatures who inhabited my world.

When I was eleven, I rescued an American Robin, named him Navin, and happily released him back into the wild after three months. I was hooked, and over the years I continued to roam my surroundings and take in orphans and injured birds. Privileged to watch these creatures, I got to know each of their personalities and with luck, to release them back into the woods that I loved. I gained an intimate understanding of those acres and their animal inhabitants: I knew where a particular wildflower would appear, where the Tree Swallow would likely nest, and where to find petrified wood after the first heavy spring rains. I once encountered a coyote turning back to stop and stare at me, yellow eyes gleaming. I held an injured Sharp-Shined Hawk and a Pygmy Owl—both completely unafraid. I eagerly anticipated the bi-annual birding trips with my father to the Klamath Bird Refuge. There, I learned to identify and name the hundred plus species that congregate during spring and fall migrations. And so it was that birds captured my heart.
By now I've cared for and rehabilitated hundreds of birds (and a few mammals), and continue to do so with the help of Badger Run Wildlife Rehabilitation in Keno, Oregon. Part of my proceeds go directly to wildlife rehabilitation.

Orphan Girl Fine Art brings together my love for wildlife, my passion for art, and my taste for tea. I paint with Gouache on upcyled teabags. My creative process usually begins with inspiration to paint a bird or raptor I've encountered or rescued. It continues with saving teabags from myriad cups of tea savored--each bag to be processed. I let the tea bag dry out in order to set the stains and then I painstakingly remove the tea. A quick rinse is next, followed by an overnight soak in a base bath to remove acidity. A soak in a distilled water bath allows me to PH test them in batches.  The tea bags dry and are flattened, and finally, I apply them in layers onto canvas. Beforehand, I've prepared the canvas with an India ink wash and other decorative papers to provide an aesthetically pleasing background. So, why teabags? Because their muted colors and textures enhance the natural qualities of fur and feathers, bringing to the paintings a softness and warmth that that mirrors the creatures that I paint.

So why Patreon? I  need to get my Federal and State Certifications for Wildlife Rehab. I am Currently a Sub-permitee of Badger Run - which is great but, comes with limitations. It means I end up driving the three-hour round trip to the next county over where the rehab facility is located, because I can't house critters here for extended periods of time. It can also be a stressful drive for the animals and one that is unnecessary if it's something that I could treat at home. Time. Time is the biggest factor for me. I have to work to meet everyday expenses. But, also things like meal worms, rats, medications, enclosures, gloves... for the rehab cases. Not to mention gas for all the trips and pick-ups. It adds up. So I work more, while having less time to paint and care for the birds that I love. I cannot push my art further without more time nor can I dedicate as much time as I would like to studying for certification and getting hours in at the Center. As long as I am working the nine to five my art can't take flight and I can only do so many pick-ups and intakes of injured wildlife in my county. I want to change this. I want to paint and rehab full time while using my artwork as a way to raise money and awareness for injured and orphaned wildlife. That's where you come in:  A lot of people doing just a little bit would sustain my work and generate awesome rewards for you: a behind the scenes look into wildlife rehab, first dibs at original art, Patreon-only content, step by step art videos, prizes, and much, much more. 

Being able to work with wild animals is an incredible privilege, and painting individual birds as I know them, in a way that captures their unique personalities is an honor. I am so very happy to be able to share my work with you.

Help pay for my International Wildlife Counsel Class on Wildlife Rehab in Oct. $215.00 plus travel costs. I am very excited for this course. It will move me one step closer to getting further certified for wildlife rehab and will be a valuable learning experience!
1 of 1
By becoming a patron, you'll instantly unlock access to 18 exclusive posts
By becoming a patron, you'll instantly unlock access to 18 exclusive posts
Recent posts by Orphan Girl Fine Art