PhDancer's Teapot
is creating Stories, poems, drawings, photos and extras!
Select a membership level
$1 - $3 per month - Every tea leaf helps bring thoughts
Every tea leaf helps bring thoughts. You will gain access to the patron-only feed on this site, showing drafts and works-in-progress. I will write you public thanks, and you can request poem topics - just send your requests to me, or ask me to review a creative product you would like my thoughts on. 
$4 - $9 per month - The buyers of pens
You bring the stationery and I'll show you how I make the characters, where the ideas come from, and perhaps even write you your very own character profile. You'll have access to the patron-only feed with all these notes and more, and of course you will be thanked each time I write acknowledgements! Just let me know if there's a character you'd like to see developed in a profile.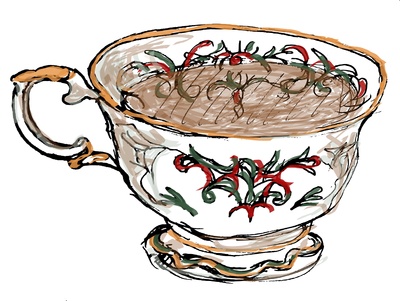 $10 or more per month - hero characters!
Would you like to be in a story or hear a story about something very special to you? You will see my development notes in the patron-only feed, can request topics for stories, and will be in all my acknowledgements both online and in print. 
About PhDancer's Teapot
Hi! I'm Sarah. Thank you for visiting! You can find me in most places on the internet as PhDancer's Teapot. 
What do I make?
I'm a writer, illustrator and budding arts journalist, and I hope to do some self-publishing along with more storytelling, drawing and poetry through this Patreon. If you'd like to have storytime for adults on a regular basis (where I will read you new short stories I have written, suited to relaxation with a cup of tea), listen to poetry, or have your say on illustrations, photography and little films, among other general creative outputs, you're in the right place!
Why the Patreon?
I love to create stories for people to lose themselves in, poetry to relax to, and illustrations and photos that bring it all to life.  I'm also starting to work on some arts journalism, reviewing creative outputs made by others and making little films about local creatives and their work. However, I do have a day job, and I don't have the best art and writing resources, or the financial capacity to start self-publishing. To improve those things, I need a way to earn some money back from my creative work. That's where Patreon comes in.
What do Patrons get from me?
By becoming a patron of my work, you'll get access to the inside scope on how I go about making these things via the exclusive patron-only feed, including drafts and character notes, I'll consult you for topics and characters you'd like to see written about, and I might even put YOU in a story. If you have ideas for other things I could do to reward you for your patronage, please suggest them to me and I will see what I can do! A huge thank you to those who are already here, and welcome to those who are new! Let's tell some stories.
Ink, Watercolour, Paper


When I earn $50 I will spend it to get ink for illustrating using my quill, watercolour paper/card and fancier paints. Also possibly more writing notebooks, because I go through those like they are snack food now that I am writing as much as possible!
1 of 3
Recent posts by PhDancer's Teapot