Prism Bitch
is creating music, art, & friendship.
Select a membership level
Buddy
Let's be there for each other. For $3/month contribution, you get: 
•Access to "Patron Only" feed - This exclusive feed for our friends features behind the scenes of tours, writing retreats, video shoots, rogue jams, and early releases of songs and videos. Heck, you may even be able to download a free track or two. We're buddies, afterall.
•Our eternal love and gratitude
Pen Pals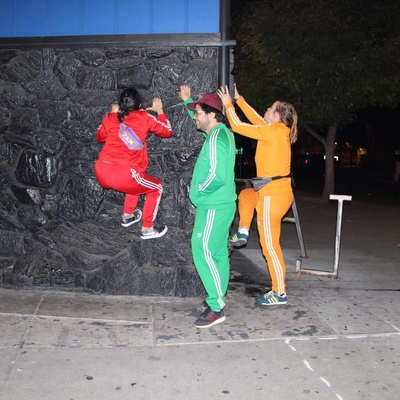 It's like we went to summer camp! Here, we'll send you a genuine analog handwritten letter/postcard from a member of PB! Whether it's sweet love advice from Chris, or workout routines by Lauren, or a drawing of Mel's Hole by Nelson - we got you covered pen-pal style.  For the $7 tier level, you get:
•Access to exclusive "Patron Only" feed (see Buddy level)
•A letter or postcard from a band member
•Our eternal love and gratitude
Super Friend
Through thick and thin, we got each other's back. And you'll have a download to listen to us whenever you want, even when there's no wi-fi.  At the $10 tier, you get: 
•Access to exclusive "Patron Only" feed (see Buddy level)
•A letter or postcard from a band member
•Download code to the EP of your choice
•Our eternal love and gratitude
About
PRISM B!TCH
 is a hard rock band that beamed down in 2016 from the dust and wind of New Mexico. The group started as a four piece and asexually reproduced an additional member in 2017, resulting in a 5 piece mix of heavy guitar/keyboard layers blended with pop hooks/melodies/harmonies and occasional total noise freakouts - often compared to The Pixies and The Yeah Yeah Yeahs. From humble beginnings at a punk rock coffeehouse open mic to nominations in the Weekly Alibi's "Best of Burque" music awards for 2017, 2018, and 2019 (Best New Band, Best Party Band, Best Stage Presence, Band Most Likely To Make It Big In Japan), Prism Bitch has been privileged to share stages with Treepeople, Shonen Knife, and Le Butcherettes. 

In September 2018, Prism Bitch completed a West Coast tour with Built to Spill, and will be touring again with the iconic band on the East coast September 12 to October 12, 2019. Prism Bitch released their self-titled EP November 2018 through Freakout Records. The EP features 5 new songs, recorded with engineer Toshi Kasai, known for his work with The Melvins, Big Business and Foo Fighters.

Prism Bitch has a reputation for wild and performative shows, professionalism and friendship.

PRISMBITCH.COM
By touring and creating albums, we hope to establish meaningful relationships with you all, while creating work we are proud of. If we are able to make 750 each month, we'll be able to produce better quality content more often, including music videos, recording & production, merchandise, promotional campaigns, and touring funds. 
1 of 1
By becoming a patron, you'll instantly unlock access to 12 exclusive posts
By becoming a patron, you'll instantly unlock access to 12 exclusive posts
Recent posts by Prism Bitch