Project dED
is creating Videos, podcasts, research, graphics, poetry
Select a membership level
Welcome to the family!
Support dED's survival & help us progress towards our missions. 
- Be the first to know about our new HYPE so you don't miss our launch!
- Receive a "Project dED" thank you video from your favourite Global Hype Women, Mel & Jin!
Become a backbone to the family!
Super support dED as we work to support groups working towards the UN SDG's.
- Get an exclusive teaser of our monthly "dED GO DEEP" podcasts
- 'Mel's #dED NEWS' Instagram story will be sent to you via email 
Help feed our family!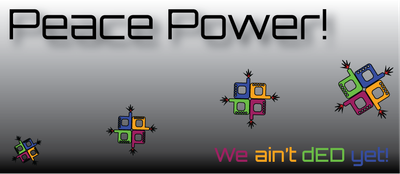 There are so many amazing projects to HYPE & support...let's do it together.
And as a thank you dED will send you...
- 'Mel's #dED NEWS' Instagram story + 'Jin's #dEDBARS' will all be arrive straight in your inbox!
- Be the first to know when we have uploaded a new blogpost as we will send it straight to your inbox
About
Mel & Jin are on a mission to hype up the global peace force!
In these times of global crisis, we want to blend real emotions, humour, and opinions with current facts, exposing humanitarian "fuck ups" while celebrating peace progressions.

Demilitarise Education aka Project dED are working to unite and support global peace movements working towards the UN sustainable goals for development.

Our long term plan is to develop technology solutions. In order to do so with the greatest impact, right now we will be starting off dED by hyping and supporting demilitarisation movements across the UK.
In Year 1 we will be doing this in two main ways:


1. 

Developing an academic report entitled: 'The University of Manchester the full case for Divestment'




2. 

HYPE MONTHS!
The Report will aim to look at why the university should divest, how it could happen and what the best solutions are.
dED aim to get mass involvement in this report from students, teachers, and staff in order to define the different schools' needs and present the niche ideas from various societies, faculty at the Uni of Manchester.
As we work on this report, develop our organisation and operations, we want to ask you to join our journey and this is why we are committing ourselves to HYPE Months!
Each month, dED will be getting to know and hyping a different social mission group.
This will include a
Hype Launch
where we will just post an introduction to the group, in their own words and one episode of
'dED Go Deep'
which will be a podcast discussion with the group. dED take to the streets and speak to the general public about the group and play games with them such as
'What Sucks More'
where we compare different facts about what the social mission group we are hyping is fighting for. For example, when we HYPEd the Campaign for Nuclear Disarmament (CND), we told students various facts about nuclear weapons and asked them to tell us which one they thought sucked more. We believe this is an innovative way of getting the message of the social mission we are hyping across clearly and sharply, but still in a light-hearted manner. This game can also be played via our Instagram stories for anyone we don't meet on the street!
'dED Definitions'
will be a video and post share which will aim to help break down complicated language essential to demilitarisation movements, and these dED Definitions may also be used to define moments in history. dED will also share some
'dED bars'
via our social media, which is a short poem that loosely summaries the group. dED will also be presenting monthly
Pub Quizzes
to share the hype and fundraise….not to mention dED will be posting a
monthly blog post!
But the content sharing won't stop there! We will be posting
'dED in 1min'
news readings videos on our stories and sharing relevant articles too!
With your help we believe the global peace force can help end all UK University ties to the global arms trade, giving planet earth hope and drive to progress towards the UN SDG's together!
If we find enough people that can support the dED way of supporting anti-arms trade and peace movements, we will be able to financially support ourselves and go full time, making a sustainable business model via memberships, content sharing, events & merchandise. This will guarantee our full commitment to hyping, uniting and supporting the global peace force!

Other dED projects your contribution will help make happen:
- 
A database which compares UK Universities involvement in the global arms trade.
- Market research into how social mission groups best meet their missions and collaborate.
- Research into how Blockchain technology can best support social mission groups working towards the UN SDGs.
So whether you can become a committed dED Patreon and or you want to make a one-off donation, your contribution will help us, help others change the world!
Love, peace and power to the people
...cos we ain't dED yet!
Thank you!
Melina & Jinsella xxx
Recent posts by Project dED