RETREAM
is creating retro video games for Amiga, Commodore 64, and PC
Select a membership level
About RETREAM
Simone Bevilacqua. There, the name of the only man behind the label RETREAM. This is more or less how I look like: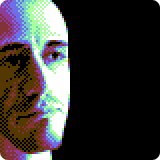 Nope, I don't suffer from some weird skin disease - that's simply my face pixelled in
Commodore 64
colors (and without glasses).
Yes,
Commodore 64
: that's the machine I started programming on at age 9 and that I'm making games for right now - I'm one those few passionate (crazy?) developers that enjoy to no end creating stuff for that wonderful machine. But there's also a newer platform that I love just as much: the
Amiga
! That said, I've also made games for PCs - in retro style, of course. You know, when it comes to video games, I want to live a dreamy experience like when I was a kid, I want to "retro-dream", so to say - and now you know also where
RETREAM
comes from.
I have released
a few games
(not many, indeed, but that's only because I dedicated to each of them an immoderate amount of time, in order to bring them to the most perfect level I was cabable of)...
... some are free, some are commercial (yet inexpensive), and some have even received a glorious physical release...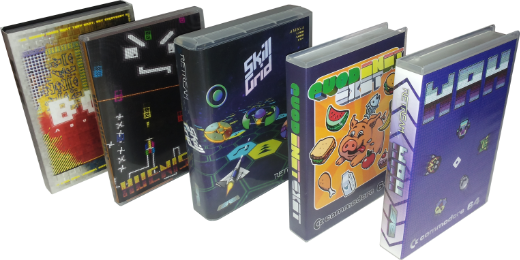 I can't help but keep on making games: I love it and I need it. The reason why I opened this Patreon page is precisely to ask you to help me with that - no, not with defeating that unstoppable inner urge, but with supporting it financially.
I honestly don't feel at ease with such a request, as the way I've always worked in and that I'm comfortable with is: create something, and then, when finished, give it away for free or sell it; but now I'm forced to go for this alternative because, quite simply, I have been without a source of income for way too long (years!). I'm sorry if this sounds bad, but that's simply how things are.

Now, what do I offer in return?

Firstly, access to my currently released games.

Then, the option to get a free (and signed, if requested) copy of the original BOH:
IMPORTANT: shipping expenses excluded; until stock lasts.
Here's the plan for the future (in no particular order):
C64: finishing QUOD INIT EXIT IIo, the "fat" (i.e. multiple levels, more enemies, more music, more features, more everything) version of QUOD INIT EXIT IIm;
Amiga: making a new game using an AGA dot-matrix engine written in 2018;
Amiga: adding an (already designed) AI to MeMO;
Amiga: reworking entirely Follia and Puzzly, using a graphical engine written in 2003 that extends the AMOS Professional capabilities by exploiting the AGA chipset;
Windows: finishing Blastaway (currently almost done).
Of course, I'll be giving updates about the progress of the projects.
Finally, these are the projects that have been completed since this page was launched:
I'll do my best to make the plan happen.
Thank you right away for helping me get it done.