Reagan Gomez
is creating Horror and Fantasy stories for film and tv.
Select a membership level
$2 Tier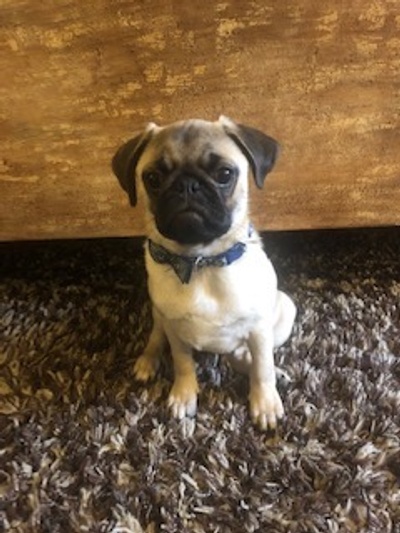 Can't give much? No problem! We appreciate every bit. Please enjoy monthly pics of our Pug puppy, Wasabi.
$5 Tier
Once a month, $5 patrons will not only get Wasabi pictures, you'll get a shout out on Twitter and access to my patron-only blog about politics, parenting, the industry and more.
$10 Tier
In addition to the previous tier gifts, you'll get a patron-exclusive movie or tv show podcast review and/or celebrity interview podcast. Thank you!
About
Hi, my name is Reagan Gomez. If you were a fan of black family sitcoms in the 90's and saw me on the street, you might say,
she looks familiar.
You might then ask what high school I went to. I'd say I had a tutor. Then we might go back and forth about ways we might know each other before I'd eventually say "Well...I'm an actress." Two things might happen then. I'd go through projects I've done that you might've seen and you might say "Omg that's you"? OR you might say "Um, I've never seen any of that but do you shop at the Dollar Tree up the street?'. We'd laugh because yes...yes I do. So once again, hi. I'm Reagan Gomez and
I've been an actress for over 20 years.
You might then ask, "What are you doing now"? Well, I still act. I'm a married soccer mom with two kids. I've been doing a bit of
voice over work.
My husband and I have had a podcast for the last five years,
Reaganomics Podcast.
I've also been writing and directing original content on my Youtube and Vimeo since 2010. Let me back up. I began writing in my teens and in fact, an episode of The Parent'hood was inspired by a script I wrote. Remember when Zaria wore the skimpy dress to the dance? Yup, that episode. I decided to get serious about writing when I was pregnant with my oldest. I called up producers and directors that I'd worked with and pitched scripts to them. The meetings would always go great (I'm kind of adorable) but nothing would ever materialize. That all changed in 2009 when I got on Twitter. The best thing about Twitter for me has been the relationships I've been able to make. It's because of Twitter that I was finally able to produce one of my scripts, a short film called
This Time.
Between 2012 and 2013 I wrote, produced and starred in seasons
one
and
two
my first webseries, Almost Home. Although I directed one episode in season one, I really got my directing hands dirty when I directed all of season two. The show was about a brother and sister who decided to leave Chicago for LA after the death of their mother. It was a cool show about fashion and music in LA. We had original songs and a
soudtrack!
This was before Empire. Not to toot my own horn but, TOOT TOOT!
My next project was a complete (counts on fingers) 180. We shot in Dec 2014/Jan 2015. I love the sci-fi and horror genre so I wrote a 7 episode show about two black sisters trying to survive when a mysterious virus takes over their city. The sisters also need to find their missing scientist father, who might've had something to do with the virus AND they need to stay away from the Government, whom want them dead for some reason. Fun! The name of the show is
Surviving.
For all of our projects my husband (and producing partner) and I had to drain our savings AND crowdfund. Our crowdfunding goal for Surviving was $8500. It was our first crowdfunding campaign where we met our goal. Great right? The total over all budget in the end was over 50k. There went our savings. It was worth it. Surviving was our first show I didn't star in. I was strictly behind the scenes and I loved it. We were proud of the show. And someone else was because Surviving was nominated for a
Gotham Award in 2016 for Best Original Show Short Form.


That award ceremony changed my life. We had been really down since releasing Surviving on Youtube. We'd put so much effort into the show and things weren't going as planned, then this nomination came out of nowhere. We had enough money to go to the ceremony which was so exciting, especially because a director named Barry Jenkins was there with the cast of his new film, Moonlight. They won everything and hearing Barry talk about his journey and film making process let me know we were on the right track. We didn't win, but there we were, nominees just like them and everyone else in the room. Two months later, Barry and the cast would (eventually) win Best Picture at the Oscars. We still have no idea who submitted Surviving for consideration because we did not.
I haven't produced or directed anything (except our podcast) since 2015. We do not have the funds to be able to do so and I've crowdfunded three times already. I'm looking for other ways to be able to fund content production. I haven't been able to produce or direct scripted content, but I have been writing. I have been a writing fool! Tv, short stories, full length features, you name it! We've actually been prepping our first feature film, about a middle school kid from LA who discovers their dead parents were superheroes. I wanted to shot a 2-3 minute teaser shop it. The teaser has animation so I hired an animator and things didn't work out so we're back to square one, with no teaser, a year and a half behind schedule. It's very frustrating.
I want to be able to concentrate on creating original content and not have to worry about booking auditions. Again, I've been an actress...a black actress for over 20 years. I also know that now is the time for women of color directors and producers...so they say anyway. The statistics and barriers I see and face everyday would say otherwise. The statistics for women director are abysmal, but the numbers for Black women are...what's worse than abysmal? Abysmal times 2? Yeah that's it. It sucks but there's something in the air. I know I'm supposed to be creating content but I cannot fully do so while worrying about booking auditions to pay my mortgage. And not for nothing, I've played my fair share of  the 'sassy best friend' or 'the new black girl in town that was supposed to be recurring but never came back' (Hi that 70's Show) and my fave 'the pretty girl who isn't quiet clean cut enough to get the guy'. Looking at you Love Don't Cost Thing! I've also auditioned for the lead of a show and network tested (at the request of the shows producers) only to be offered the role of the best friends because the lead needed to go to a white actress. Yeah. Not to say if I got the lead role in Ryan Murphy's next project I wouldn't break my back to do it. But...if history is any indicator of my acting future, I want to bet on my own content.
It is extremely difficult to break into this business. Even for someone like me who has privilege having already worked in the business. It's hard and I'm at a point in my life where I'm taking a leap of faith, just like my mom and I did coming out here on a whim, in the summer of 1994. I booked the Paren'thood two months later and we had to move from Philly to LA. I've done pretty well taking leaps of faith. I need to take another one.
Yay! my first goal! Once we reach 25 patrons I will post a podcast available to all patrons, featuring an up and coming writer/director. These conversations are really important so that listeners can hear people's journey to get where they are. No one journey is the same and there's no one way to get your content out there. I'm excited about getting this content to you guys. Let's go!

1 of 2
Become a patron to
Unlock 67 exclusive posts
Connect via private message
Recent posts by Reagan Gomez