Rocky Fretz
is creating PIANO MUSIC, PIANO DRIVEN CONTENT, & JOY!
Select a membership level
CD MAKER PATRON
Limited (50 of 50 remaining)
THE CD MAKER PATRON 
This CD MAKER PATRON tier is primarily for those who want to keep it simple and just get a jump on my new music, a great deal on my CDs and maybe get a little additional music, video or other content every week throughout the year without a large commitment.
At this $2.22 per month CD MAKER PATRON tier you get:
ACCESS TO MY FEED AND LOTS OF MUSIC
A digital download or life-time streaming rights to "The Path Ahead" CD! 
1 (one) autographed physical copy and digital download and streaming of "Sacred Keys" 
1 (one) digital download and/or Immediate streaming rights to "The Path Ahead" CD! 
One song also via video of one of my previous recordings per month. 
So every month you get to download 3 songs, 2 new and 1 from my earlier releases PLUS Stream 2 different CDs.
MUSIC MAKER PATRON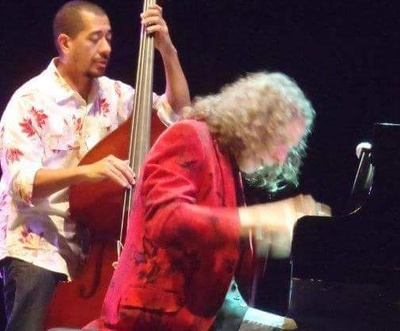 Game Changer Tier
1 Autographed copy of The Path Ahead (Available Dec 1, 2019)
Stream The Path Ahead CD
1 New Stream Every Month from Rocky's older recordings
1 Autographed physical copy of Sacred Keys upon release
Surprise new music and videos often.
CAREER MAKER PATRON-YOUR OWN SONG!
$11 CAREER MAKER PATRON Tier!
EVERYTHING LISTED IN THE PREVIOUS TIERS
+
YOUR OWN SONG! 
*
That's right. For less than the price of one CD per month you can have your own song! 
PLUS...downloads and streaming rights to every CD I have ever released or will release for as long as you are a CAREER MAKER Patron :)
YOUR NAME on the thank you insert INSIDE ALL NEW CDs!
About
Hello from Monday November 16, 2019
Thank you for your visit!

My name is Rocky Fretz and I am so glad to see you!
I have been composing, performing, teaching, studying and recording piano music for 50 years. In that time I have never been more excited to offer my piano music and content as I am here on Patreon today!!
Who would have thought that one might be able to make music at such a low price point? Especially as a composer of contemporary instrumental, sacred, neoclassical and new age music, and a concert pianist. But by harnessing the power of community, Patreon has now made that possible.  I'm not sure how probable but possible for certain. There's power in numbers. 
So...me and my creations...
I create piano music, piano driven content, live online concerts, and piano lessons. I sell these creations for between a very small amount per month to much more depending upon how much of my content one would like to purchase.
I hope to eventually be able to hear my piano music on the radio.  The money raised here will go toward creating my CDs, videos and podcasts etc. 
I recorded and released 9 independent CDs between the early 1990s and 2009 when I recorded my last CD, "The Path Ahead"...however, I have not recorded any other CDs, nor performed more than 70 times in any year since 2009 because of health issues. But, Today...Monday November18, 2019...I am finally getting better. :)
I have performed more than 8,000+ times including more than 6,000 performances as the feature pianist for The Carolina Opry Show in Myrtle Beach, SC from its opening night, May 2,1986 through December 31, 2017. I've played another 2,000+ times online  in many Living Room Piano & Conversation Concerts via Facebook Live and in assorted theaters, churches and concert venues around the world all toward my life goal of playing 10,000 times. 
I am thrilled that you have found my Patreon Page  and are interested in joining my fanily (fans more like family) of piano music lovers. No matter the tier in which you choose to invest...thank you!
I can't imagine doing anything else for a living yall. Thank you for helping me build my music subscription service here. I hope to remain a well received contemporary instrumental, sacred, neoclassical composer and concert pianist and until I, after my encore in concert, and taking a final bow, sit back down, gently slipping off the bench, dead, at 105 years old.
:)
Sincerely and gratefully,
Rocky Fretz
~~~~~~~~~~~~~~~~~
"Listen and...Connect!"
~~~~~~~~~~~~~~~~~
PS. Please feel free to email me 
r
[email protected]
with any critique, suggestion, or reward change you think necessary.
Thank you again.
Rocky
With your help, for every $1,000 per month committed I will record another CD! The cost is about 12-20k for a professional, radio ready, record with only the best in the recording industry in my genre at the helm.

That's right...if you play a part in seeing it created by becoming a Patron, you deserve to reap the reward of never paying another dime for the music outside your monthly patronage.
Thank you!!
r
1 of 1
Become a patron to
Unlock 40 exclusive posts
Connect via private message
Recent posts by Rocky Fretz