Royalty
is creating Anthro Illustrations
Select a membership level
Loyal Subject
Show your support! It means the world to me!
Access to patron-only content and images.
A big Thank You for supporting me! ❤
Nobility
Access to patron-only content and images, such as WIPs, sketches, studies, and some spicy extras!
Opportunity to vote to influence the outcome on some fun, occasional personal and patron-suggested art.
My sincerest gratitude! Your support means so much!
Court Member
Limited (0 of 10 remaining)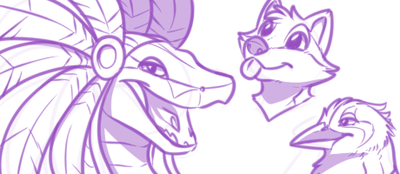 Nobility Rewards
Sketch headshot expression or headshot Telegram sticker of your character every month!
About
Find me on:
Twitter
Furaffinity
Picarto
Hello there! My name is
Olivia
, known in some communities as
Royalty
. Welcome to my Patreon!

Getting Started in Anthro Art
My interest in animals started with me making fan art for pet websites and tv shows! Later, it developed into something more personal when I began to interject more character into the drawings. I decided to focus on mainly anthro work in my digital and traditional illustration, which is what I continue to do today as a freelance illustrator.
I'm grateful for the people who follow and commission me, since their support is what makes my livelihood possible!
Favorite Subjects to Draw
My personal favorites are avians, reptiles, dragons, and mythical creatures in general, but I enjoy drawing all kinds of species, including mammals and insects!
Why Make a Patreon?
This is a way for anyone interested in showing long-term support to have a means to do so. The money earned from my Patreon goes right into allowing me more time per month to work on creating new merchandise designs, and gives you a chance at securing guaranteed art each month!
About the Tiers

--Support Tiers--
Loyal Subject
- $2 per month! I feel very loved whenever people give whatever they can to support me. A big thank you from me to you! You will also get access to patron-only content and images, including merchandise exclusively available to my supporters!
Nobility
- $5 per month! This is the foundation! On top of getting access to patron-only content, you will also get to vote and influence the outcome on some fun occasional personal art! Have something in mind that you've never seen me draw before, or an old favorite theme that you want to see me revisit? Suggest it to me, and I may put it up to a vote against other ideas! The winning subject/theme will be drawn out, and even colored if time allows.
--Reward Tiers--
Court Member
$25 per month! You receive all of the rewards of Nobility PLUS an uncolored headshot sketch OR headshot telegram sticker every month! The uncolored sketches are more detailed and less toony. The Telegram stickers are colored, and make great icons.
Esteemed Advisor
$70 per month! Nobility rewards, PLUS a full body sketch of your character OR a colored (and shaded) headshot every month! I also offer up a roster of my own characters that can be drawn if you're out of ideas for your own, or want to see something different! I can always work off of artistic freedom with your characters though.
Royal Consort
$200 per month! ❤ Wow, you put a lot of support towards me every month and your loyalty will be rewarded! Nobility rewards PLUS a full body colored image of your character, OR a sketch page if you want to see some variety in poses. More than one character can be included on the sketch page!
You will be charged when you sign up, and then on the
1st
of each subsequent month!
❤Thank you so much for your support!❤
$1,005 of $2,000
per month
If I reach $2000, most of my monthly expenses are covered by Patreon! ❤  I can produce more personal projects and think about longer-term art goals... I've always wanted to try out doing a short comic!

2 of 2
By becoming a patron, you'll instantly unlock access to 5 exclusive posts
By becoming a patron, you'll instantly unlock access to 5 exclusive posts