SGEFF
is creating The Singapore Eco Film Festival
Select a membership level
Friends of SGEFF!
All money will go towards our eco efforts in Singapore and beyond! Such as fuelling our volunteers, conserving tropical rainforest in Malaysia, saving pangolins in Vietnam, running events to educate more about environment, or funding our miscellaneous operational costs such as transport & accounting fees! 
Education, Art & Craft - Proud Pangolins!
Have you met Pango yet? She is our SGEFF Mascot of an endangered Sunda Pangolin that was HANDMADE and created for the Festival. Pango goes on tour throughout the year to visit schools, and take part in eco events around the country to raise awareness of conservation. 
With this funding, we can invest more into Pango's maintenance, protection and transport. We might be able to also design, create and build more mascots of other endangered species for future festivals!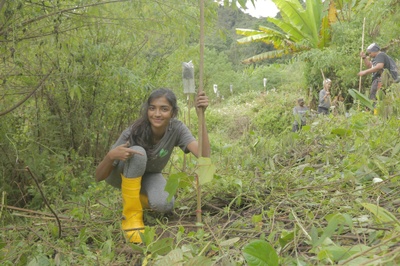 Offset your C02 - Eco Warriors!
Every year SGEFF is offsetting all our C02 to make sure we're entirely eco freindly! To do this, we donate over $2000USD each year towards TRCRC - the Tropical Rainforest Conservation and Research Centre in KL! 
TRCRC's mission is the conservation and preservation of tropical rainforest plant species and to promote
and support rainforest landscape-wide protection and restoration. The Singapore Eco Film Festival (SGEFF)'s donation will assist TRCRC in its mission to
protect, preserve, and restore Malaysia's tropical rainforests.
With this donation, TRCRC will plant trees classified as endangered species by the IUCN Red List in TRCRC's Tropical Rainforest Living Collection Merisuli in the state of Sabah in East Malaysia.
About SGEFF
The Annual Singapore Eco Film Festival (#SGEFF) is an inspirational event that fosters collaboration, raising awareness & igniting a public passion towards protecting our environment in Singapore & Beyond!

SGEFF has a jam-packed programme over 3 days filled with unforgettable experiences; including Eco-focused Films, insightful Panel Discussions, and an activity room filled with workshops for people of all ages!

The event is free and open to the public, families, children and people of all abilities!
When SGEFF reaches 100 patrons, we'll host a Community Event for everyone to connect, share stories and find ways to collaborate! 
1 of 1