April Hannah
is creating a Sailboat - Sailing With The Tide
Select a membership level
The "Anything helps" Tier
You're officially a patron and will receive one very thankful virtual hug. Although your pledge is small, your heart is still large. Thank you, thank you, thank you. every dollar helps.  
(You'll have access to my patron-only feed for blog posts and picture updates along the way.)
Pay for some love - bits and pieces
$10 is enough to pay for a part. Tons of little rigging bits and bobs have to be bought and installed before she can sail again and you just paid for one. Thank you. :) 
Shout out time!
I will note your beautiful name on my next upload. Thank you for spending your hard earned money on my dream. 
About
Please help me get my beloved Sailboat back in the water where she belongs! 
**I have been updating this as I go, a ton of things have come up as I work on her** follow the refurishing on Youtube and Instagram. 
Ever feel like you wish you could just simply sail away? That urge you have once you have sailed once, will make you want to do it again and again. The calm, the quiet, the joy, the fun. 
I grew up on this beautiful sailboat. Her name?.. 
Catspaws
.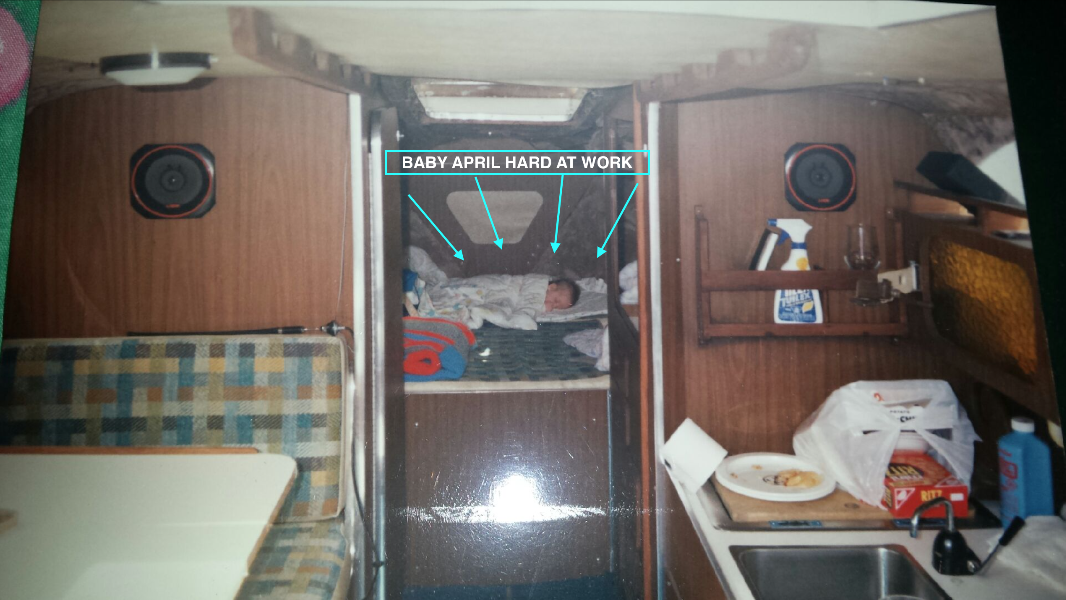 She is sturdy, strong and begs to go back into the water. My father taught my sister and I to sail her when we were little. Spent more time on her then at home I believe.
(Some sister love while reading Pacific Yachting)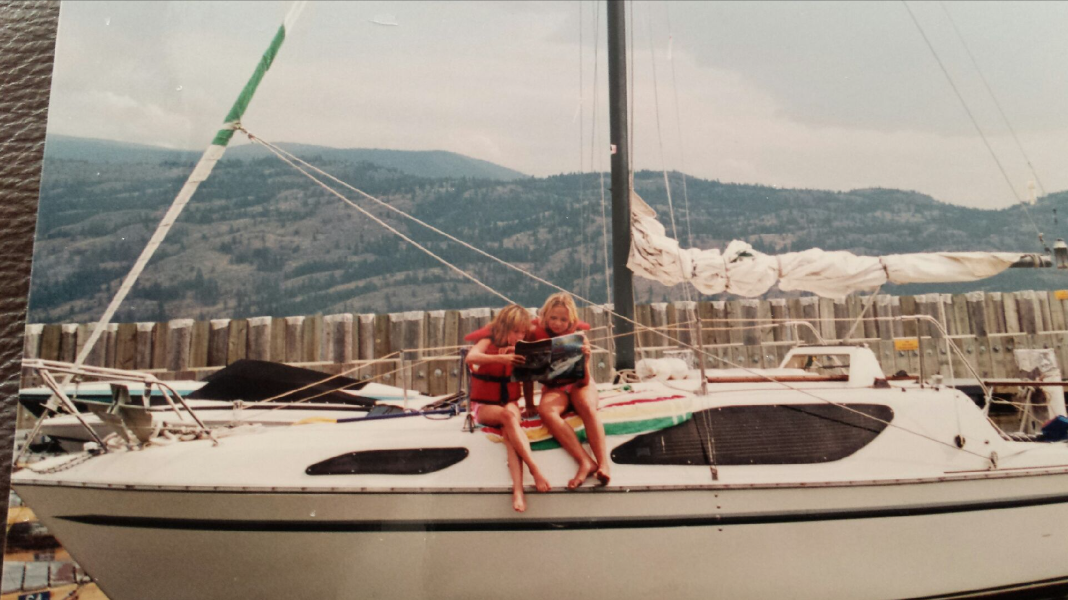 Catspaws
has massive sentimental value for me. I am hoping most of you visiting my page will understand how it feels to have put blood sweat and tears into a boat your whole life.. You do not simply want to see it disappear into the past.
I grew up so fast with my sisters all around me; Another sister joins me on the bow at 14 Years old: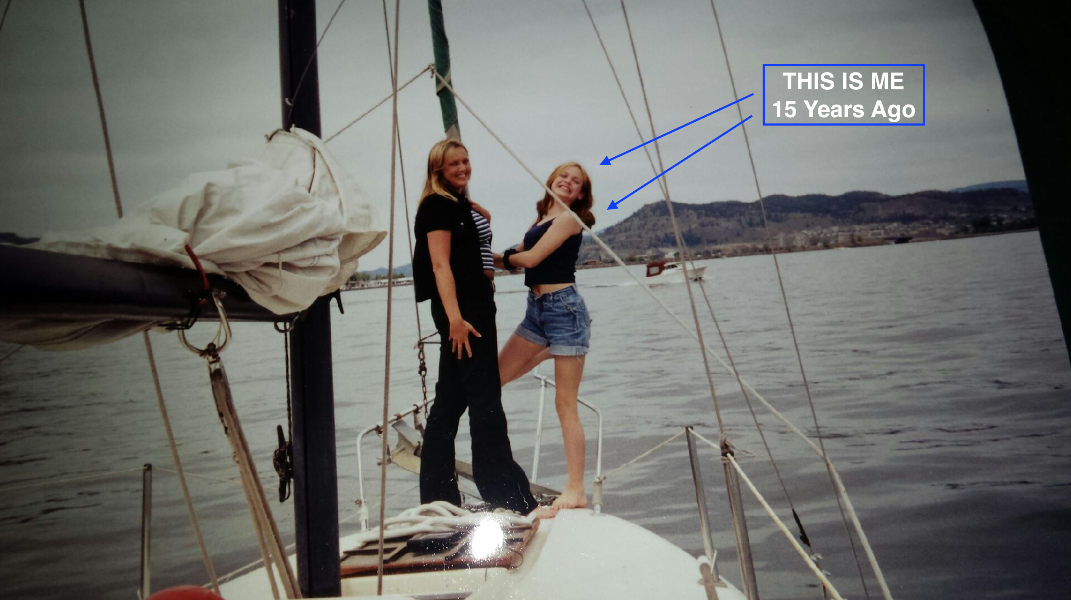 The love from your boat and your dog, two loves that come unconditionally in life. Two things I wish and hope everyday, to get to share at the same time.
(The German Shepherd Companion: aka The Navigator, She tells me she knows water, I guess i'll just have to trust her.)
Story time:
Sadly for
Catspaws
and my love for sailing, about 7 years ago my parents separated and the boat went up onto the trailer, towed away from the water she loved. Since then she has fallen into disrepair but I could always hear the call of sailing whispering for me to come back and put her in the water to thrive again. I took a good look at her and thought for sure that with some elbow grease and the knowledge my father had passed on to me while growing up, I could get her going again no problem.
So I created a plan...
Ship Catspaws here to Vancouver and do everything I could to return her to the open water I know we both love and enjoy. In my twenties I knew I could live on her for quite a while and let myself and my German Shepherd dog Nalla thoroughly enjoy the adventure.
I went home to start the list of repairs, start making calls to secure the trailer insurance for towing, and empty her of anything unwanted from the past.
YAY! Almost prepped for the move!
Then the plan crashed... Talk about taking the wind out of ones sails.
This plan came to a crashing halt when I found out that the trailer she is sitting on cannot be re-insured and has to be scraped. Which also means that the money I saved up to fix her would now be all gone due to having to ship her to Vancouver instead of towing her.  My original thought was it would take about $5000 to upgrade and fix the issues with her I could not do on my own, but with some hard work and elbow grease I knew I could get the other fixes done myself, in theory anyways.
The plan back on track...
After a very long break working out how to get her to Vancouver, she is here! 
I have been documenting the whole remodel and posting the videos to YouTube as I go. Watch instagram for more frequent updates as I actually make them. 
~ ~ ~ ~ ~ ~ ~ ~ ~ ~ ~ ~ ~ ~ ~ ~
Here is a list of the fixes required for Catspaws; More and more costs are coming up as I repair and pull things apart and put them back together. Of course, isn't that how owning a boat goes? B.O.A.T - Bring Out Another Thousand:
• Fibre Glass -
Mast repair(DONE)
, stern repair, cockpit repair, repairs so we can fix the railings,
Cracks in the Gel Coat.
• Electrical - Re-do the electrical completely. This has to be done for safety reasons.
(Should we do this or get a professional to do it?)
• Rigging - All the rigging needs to be re-done.
(As I took it apart I noticed that so much of the old was frayed!! I had no idea that most of it would not be salvageable.)
• Railings.  
I think I would like to keep the wooden railings. I know they did not come with the boat but they add something to it that I like. :) 
• New doors - I would actually like to do new doors. Once that open up instead of slide in like of original boat has.
• Re-seal Windows
• Re-finish all wood that we plan to keep. 
• Canvas - There is currently no Canvas railings to cover the cockpit what so ever. The boat didn't come with any, when originally built.
I think this one might have to be put on the back burner for now but when you live in Vancouver, having a cover over the back of the boat is basically the only way you can sail for 10 months out of the rainy year!
• New outboard and mount - The current one is too small.
• New outboard - We need a 15-20hp engine.
• The Swim grid is coming off the back so it will have to be re-done too.
• Ropes and ties.
•New port-a-potty
•Taps and fittings for sinks and drainage
•Holding tanks - Fresh and Grey
•Flooring - Inside
•Roofing - Inside
•Forward bunk mattress
•And a new Canadian flag to fly proud once we are finished will repairs!!
I have a lot of work ahead of me. Cannot wait to begin! I will find someway to document and thank all who become a Patreon! And even to all who come to watch and give ideas and support. More information to come on how she is doing, and once I have a better of what to work on next.
If you made it to the end thank you very much for taking the time to scroll to the bottom and hear my story. I hope you feel I have earned your dollar as every dollar helps.
Thank you. From the bottom of Catspaws' heart and mine.
xo
April Hannah
Sailing With The Tide
One step at a time. One part at a time. One smile at a time. One sail at a time. One laugh at a time. One Dollar at a time. 
1 of 1
Recent posts by April Hannah