Seattle Peace Chorus
is creating musical performances to promote peace and justice
Select a membership level
About Seattle Peace Chorus
Seattle Peace Chorus provides a unique choral experience for listeners and singers who believe in the power of music to promote peace and justice and inspire action. Our commitment to peace and social justice creates a special bond among members and with our audiences.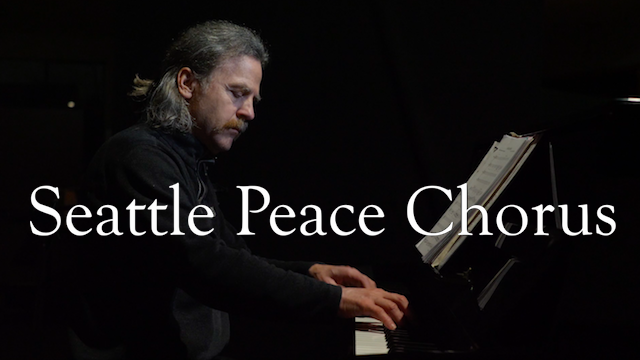 Last year we premiered director Frederick N. West's
People of the Drum,
which honored the legacy of Native Americans. The composition was embraced by our Native American guest artists and helped to create important bonds of friendship in our community, increasing awareness of the struggle, the history, and the great cultural gifts of the first peoples of our continent.
This Fall, our "Music Crosses Borders" concert represented musical traditions from Latin America, India, Russia, and African America. We featured a new work by Sondra Segundo-Cunningham, and performances by Mexican harpist Abel Rocha, violinist Madeleine Sosa, and Alma Villegas, a Mexican-born singer with a world-class alto voice who will also be singing in our Spring concert.
In January 2019, the chorus traveled to San Antonio, El Paso, Tuscon, and Riverside to sing for immigrant rights.
In June, we will perform
Canto General,
celebrating the 80th anniversary of this epic poem . . . a visionary interpretation of Latin America, depicting its history as a grand, continuous struggle against oppression, which became a hymn for South America.
We celebrate diversity in all of our presentations. The 45 voices of Seattle Peace Chorus are a beautifully tuned and powerful voice for peace and justice in this time of great apprehension.
Read more about Seattle Peace Chorus on our website,
seattlepeacechorus.org
. Seattle Peace Chorus is a 501C-3 nonprofit organization, so your donations are tax-deductible.
Recent posts by Seattle Peace Chorus