Skye Class
is creating Stories of world adventures, videos of attractions and postcards
Select a membership level
Become A Patron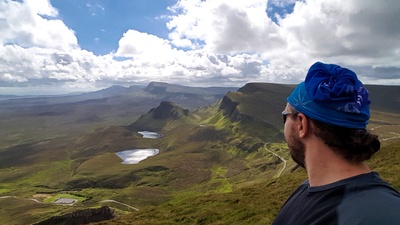 Become a patron of SkyeTravels.com. Receive a postcard from my current location, and a special one each Christmas or on your birthday from a unique location around the world.
Optional: Receive my monthly newsletter to keep track of recent posts and life changes.
Get Monthly Post Cards
 Receive a monthly post card
Receive a post card  with a greeting from a destination I travel to each month
Receive an hour of one-on-one travel advice over Skype
(optional) get a shout-out on my social media for becoming a patron
Personalized Post Cards
Receive a personalized post card from a different location each month
I will send a postcard with a special message each month to you or a person of your choice
Three cumulative hours of one-on-one travel advice over Skype.
About
Hey everyone! It's been two years since I launched 
Skyetravels.com
. It's come a long way since then, but now I want to take it even further.
While so far I've funded my travels from what little money I saved before I hit the road, plus selling my motorcycle in the states and odd jobs here and there, I'd like to take the blog to the next level. I'm now working as an English teacher, which is paying the bills, but I've decided to use that money solely for living purposes (room and food) and I want to have all blog expenses come from the blog itself and other on-line work. I currently have several freelance writing jobs which is helping to pay some of the bills.
More than anything, I want the blog to be about exchange. I write for you. I wish to inspire you to travel and follow your dreams, and I want to be able to help you as much as I can.
However, there are other things I can do to exchange with you as well in my travels. From the outset I've had plans to set this up, and now I am bringing it to fruition.
The first step is post cards. I've seen some amazing ones in my travels, and I've picked up quite a few here and there. How would you like to receive one once a month from different destinations around the world? Wouldn't it be nice to have your fridge or poster board covered with exotic destinations?
Next is souvenirs. Many times I think of you when I walk into shops and gift stores around the world. I don't have any room in my bags to purchase anything for myself, but I'd love to grab you a gift and ship it off to you, especially for special occasions such as your birthday and Christmas.
Finally, I love meet up with my readers in any chance I get. What's more, I like to host you. For the top donation, I would fly out to host you at the location of your choice, along with using my talents as a chef, massage therapist, etc.
2017 is the year of the dream. With so many things appearing to go wrong in the world, it's time to make things go right. By the end of the year, my personal targets are to get in excellent shape physically (including fixing some problems that got me to travel with a f**k it attitude), reach 60 countries total (currently at 40) and take the blog up to 1 million monthly viewers. Unfortunately, reaching that many readers, due to the current state of social media, requires paid content.
Thus, it comes down to exchange. If you can help me realize my goals for the year, I'll increase the exchange with you on a more personal level. Of course, I'm still always available to answer your travel questions, which I've always done free of charge. Like I said, I'm here to help you!

Please note that all money from Patreon will go toward improving the blog and bringing you more and better stories. None will go toward living expenses.
When I reach $250 per month, I will be able to take the blog to a whole new level. I have some key ideas in the works, which I just need the funding for.

A redesign of the blog with a new logo and theme
Purchasing a DSLR camera to take even more incredible photos to tantalize you with
Hiring a virtual assistant to handle all social media so I have more time to provide you with content and photos
Starting a weekly podcast of my adventures
1 of 1