Susie Kelly
is creating stained glass portraits of K-pop idols!
Select a membership level
Trainee
Trainee tier is just the beginning! Trainee is a basic package with monthly EXO sticker rewards! 
Debut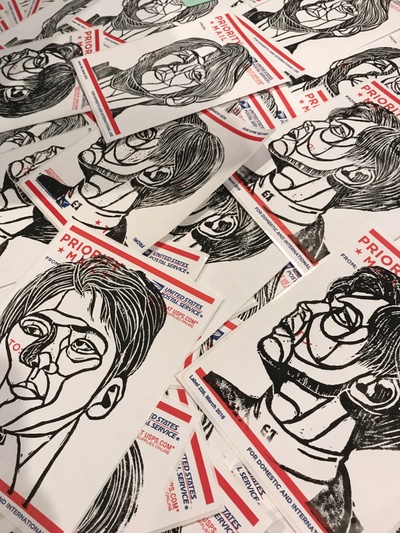 Welcome to your patron debut! Here you will receive hand printed EXO stamp stickers and you will be able to participate in piece polls- deciding which pieces I will work on next! you will also have access to behind the scenes studio tour videos!
Debut Stage
We're just getting started! Including all the previous rewards from the Trainee and Debut tiers, the Debut Stage has a reward for every three months of a small custom stained glass piece! Whether it's a small window hang or an original pattern drawing, is up to you!
About
Hello!! Welcome to Susie's Patreon page!!
Here you'll be able to directly support me and my never-ending obsession with creating stained glass portraits of k-pop idols!
Since 2015, I've adopted the stained glass technique into my personal studio practice and have been completely enamored by it! I want to bring my patrons through the process I've come to love- From the beginning planning stages of pattern-making to the tedious and labor-intensive grinding process!
My most recent body of work has been dedicated to EXO. After seeing them on their Exo'lution tour, I've been enthralled by their energy and stage presence.
So much so, that I dedicated my entire Master's thesis to them. You can find documentation of my thesis exhibition here:
https://artistsusankelly.com/resume/exhibitiondocu...
With this page, I aim to create larger, more detailed portraits that capture the essence and energy that we fans admire of our beloved idols. Each patron will be directly helping fund these new works and will of course come with handmade rewards! Patrons will also be able to vote on what pieces I work on next! I'm
a little biased
towards Chanyeol, so I'll be opening polls to force myself to create new works that focus on other idols! This will be your chance to help create a portrait of your favorite idol!
I will also have behind the scenes studio tours, and tutorials for making your own stained glass patterns and pieces!
Along with stained glass, I also do stencil and stamp work and will be offering small prints and stickers as rewards!
When I reach 200 patrons per month, I will host a live stream stencil demo class from my personal studio!
In this stream, we will look at popular stencil artists for inspiration and create our own basic stencil!
I will release a custom stencil pattern that patrons will be able to print at home and create along with me!

1 of 3