Svetlana Mori / Pois0n
is creating paranormal/fantasy/SF romance books, photography, a book blog
Select a membership level
1 random picture/four months
You'll receive a random picture every four months.
Remember to check your address!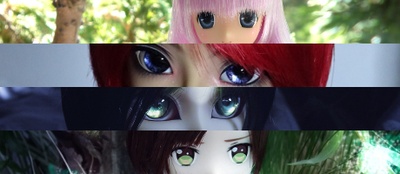 1 doll picture/four months
You'll receive a random doll picture every four months.
Remember to check your address! 
1 nature picture/four months
You'll receive a random nature picture every four months.
Remember to check your address!
About Svetlana Mori / Pois0n
English /
Français
Hello!
If you're here, you may know me either under my pen name (Svetlana Mori) or my internet username (Pois0n).
Bonjour!
Si vous êtes sur cette page, vous me connaissez sans doute sous mon nom de plume (Svetlana Mori) ou mon pseudo internet (Pois0n).

Since I became old enough to hold a pen, I wrote stories. Years passed and it ended to become a full-time activity. My books are full of romance, adventure and action settled most of the time in fantasy worlds. As romance fantasy really is a niche market in France, going indie was an obvious choice - as well as the wish to design beautiful-looking books. It also allowed me to release a full bilingual book, with dialogs in english and narration in french, exactly as the characters (from different nationalities) live the story.
Depuis que j'ai atteint l'âge de tenir un crayon, j'ai écrit des histoires avec. Les années ont passé et c'est désormais mon activité à plein temps. Mes livres sont composés de romance, d'aventure et d'une bonne dose d'action, le plus souvent dans des mondes imaginaires. Comme la romance fantasy est un genre de niche, surtout en France, l'auto-édition a été un choix évident - en plus du désir de proposer des livres soignés sur le plan visuel. Ca m'a aussi permis de sortir un roman entièrement bilingue, avec les dialogues en anglais et la narration en français, pour mieux immerger le lecteur dans les échanges des personnages de l'histoire, de nationalités différentes.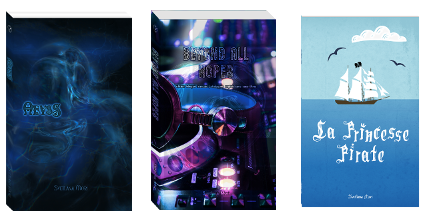 Like many writers, I'm also a huge reader - and an even bigger bookdragon, amassing books and slowly turning my living place into a cave covered under piles of them. That's why I ended opening a blog to talk about books, with some chit-chat, community tags and challenges, and a monthly debrief, not only about the fresh arrivals, but also with my best photographies of the month.
Comme beaucoup d'écrivains, je suis également un gros lecteur - et un encore plus gros collectionneur, amassant les livres au point de lentement transformer mon lieu de vie en antre obscur empli de piles de bouquins. C'est comme ça que j'ai fini par ouvrir un blog pour en causer, avec du blabla, des défis entre blogueurs, et un bilan mensuel avec non seulement les acquisitions récentes mais aussi mes meilleures photos du mois.
(website in french only /
site exclusivement en français
)
Yup, I take pictures too. Since I first got my first camera, I've always been carrying one - from disposeable cameras when I was in college, until I got my first bridge camera at the age of 20. Ten years later, I upgraded my gear - but always stayed within the bridge range, needing their versatility. I photography either nature (landscapes, sunsets or flower macros), my collector's dolls, some shipspotting from time to time, and hardstyle parties and festivals, enjoying both music and photography at the same time. This latest category is still quite a challenge to me since low-light photography was always my weak point, so there's much room for improvement right now.
... Parce que oui, je prends des photos aussi. Depuis que j'ai eu mon tout premier appareil photo, j'ai pris l'habitude de toujours en trimballer un - ça a commencé avec des jetables à l'époque du lycée, jusqu'à ce que j'obtienne mon premier bridge pour mes vingt ans. Dix ans plus tard, j'ai du meilleur matos... mais toujours dans la catégorie des bridges, étant donné que j'ai besoin de leur polyvalence. Je fais aussi bien des photographies de nature (paysages, couchers de soleil, macros), des portraits de mes poupées de collection, du shipspotting de temps en temps, que des photos en soirées et festivals hardstyle, où je profite du son tout en capturant la beauté des lasers ou l'expression des artistes. Cette dernière catégorie est encore un défi pour moi, la basse lumière ayant été ma bête noire durant de très nombreuses années. Mais j'essaie d'améliorer ça!
---------------------
All
the money gained through this Patreon will be saved for my dream camera, a Sony RX10IV way too much pricey for my disability allowance. No matter how small this income may be, or how much time it'll take aside saving enough money on my own, but every single dollar earned by the support of my works - either if you like my novels, my pictures, my blog, book reviews or even my choice of twitter shitposts xD - will count, be treasured, and a true reward to my eyes. Because maybe I can't work, but I can still create and share my passions.
That's also why as a thank you, I want you to get physicals rewards: printed photographies, three times a year, no matter where you live in the world, either totally randomly, between three categories (nature or dolls), selected only from my best pictures from each term. But if you don't like surprises and prefer to choose your favorite, you can for only an extra dollar!
TOUT l'argent récolté via ce Patreon servira à financer partiellement l'appareil photo de mes rêves, un Sony RX10IV beaucoup trop chéros pour mon AAH. Peu importe la somme qui sera ainsi réunie, ou combien de temps ça me prendra pour économiser assez à côté, mais chaque centime récolté grâce à mes travaux - que vous aimiez mes romans, mes photos, mon blog, mes critiques, ou même les bêtises que je retweete xD - comptera, et aura à mes yeux bien plus de valeur que celle de l'argent. Parce que je ne suis certes pas en état de travailler, mais encore capable de créer et partager mes passions.
C'est pourquoi je tenais à offrir des contreparties physiques pour vous remercier: des tirages photo, trois fois dans l'année, peu importe votre lieu de résidence. Soit totalement au hasard, soit piochés parmi deux catégories (nature ou dolls), mais toujours sélectionnés parmi mes meilleurs clichés sur cette période de temps. Cependant, si vous n'aimez pas les surprises et préférez choisir, c'est aussi possible, pour seulement un petit dollar de plus!
In case I couldn't take (good enough) pictures within the four-month between two shippings (most unlikely, but it still *can* happen as my activites all depend of my health), the pictures sent would be chosen from the best among previous selections.
Also, I'll keep track of what is sent to who, so you'll never get the same picture twice (unless you request it).

Dans l'éventualité où je ne serais pas en mesure de proposer (d'assez bonnes) photos durant les quatre mois entre deux envois (peu probable, mais néanmoins possible étant donné que tout dépend de mon état), les photos envoyées seraient piochées parmi les meilleures des sélections précédentes.
Enfin, je noterai quelles photos sont envoyées à qui, de sorte que vous ne receviez jamais deux fois la même (à moins que vous n'en émettiez la demande).
Recent posts by Svetlana Mori / Pois0n