TOONZIES
is creating Cartoons N StuffZ
Select a membership level
Ya Man Tier!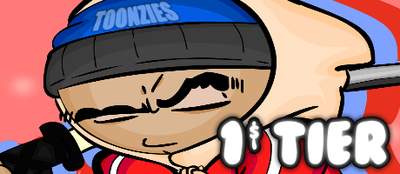 God bless yo soul homez!
(This is the only tier lol)
-You get access to sneak peeks to my animations
-Can hear the audio recordings before they get animated 
-The cartoon scripts
-Enter a drawing poll for weekly drawings
-Once the cartoon is finished you guys to see it first waayyy before anyone else!!
-You get to have your name put in my cartoons!!
Damn thats alot for 1 dollar XD 
About
"Hi How Are Ya?"
Lol but heyyo fellow humans!

If your from my youtube channel.. Welcome To a simple page that you see alot of animators use cuz a certain platform *Coughs Coughs Youtube* are d*ck heads. But ya im not big with introductions..
BUTTTTTTTT

This is the official TOONZIES Patreon.

Let me explain why im on this junk now!

Basically Youtube took away my Ads cuz they claiming the cartoons i worked my ass off for years now, are "reused" or "renamed" content.

BS RIGHT?!! i contacted them and they really think i stole my own cartoons that i legit have the files on my PC.

So ya, Thats why im here.

But This isnt a multi tier patreon. I think money is evil asf!

Thats why i only got a 1 dollar tier lol

But here's what you can get with that only tier.

N*GGA WHY YOU ONLY GOT 1 TIER?
CUZ I CAN DUDE DAMN!! MONEY IS EVIL BRUH!!! So every dollar is loved and cared for i promise Let me tell you what you can get access to.

You get you'll get access to sneak peeks of my cartoons, Audio files of the recordings,
the script, you get to see the New cartoons hours before its posted on youtube,
and also you get your name written in my cartoons. Ill keep a list of everyone
who became a patron and basically as long as you stay a patron your name stays in my videos!
Also ill be doing weekly drawing polls so you guys decide give me something to draw
as long as its nothing nasty! :D

F*CK YOU TOONZIES WHAT YOU EVEN GONNA DO WITH THE MONEY!??

Well if you let me flippin talk ill tell you!! 
I plan on making a website where i can freely post my content and have over the top offense content. But i cant do it right now cuz all i got is youtube. 

Well i hope you enjoy your stay!
And ya.. umm Bye lol


By becoming a patron, you'll instantly unlock access to 271 exclusive posts
By becoming a patron, you'll instantly unlock access to 271 exclusive posts