Team BBB
is creating family friendly toy opening videos
About Team BBB
We are a family friendly toy opening channel. We LOVE toys! :-)
We love to open blind bags and boxes. From disney to shopkins and all inbetween.
We are from England UK and we always recycle where we can.
I (Jayne from TeamBBB) am disabled and Greg works full time and very long hours, so we started this channel so we could work from home together and be there for each other as my condition varies daily and can be very painful.
we have a young son too so it would be nice to be around for him more by working from home
please find us on Youtube :
www.youtube.com/c/TeamBBB
Thank you for looking at our Patreon page <3
Select a membership level
Behind the Scenes
You will get to see awesome behind the scenes videos of our studio and toy storage room and other cool videos that are not shown on our YouTube channel too :-)

Shout out
We will give you a personal shout out on one of our videos to say thank you. We will include a link in our description to your Youtube channel or Esty/craft account if you like (limitions apply)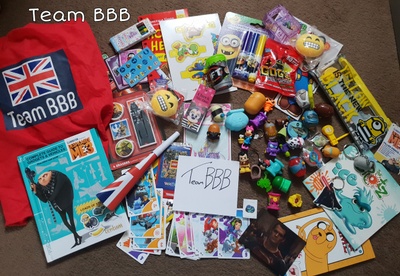 Signed item by TeamBBB
We will send some toys to you that have been opened on the channel :-) and we will sign one too. (one time only)
Also you get the other tiers too, so access to the Behind the scenes videos and a shout out in a video too!

We will be able to work from home full time so Greg can give up his builder work and support me at home during my bad days but we can make videos and have fun for you all on my good days

1 of 1