Nate Fleming
is creating a live lo-fi Chicago based late night show
Select a membership level
Chicago Lo-fi Lover
The moment we build a Chicago Lo-fi social media, you will get a follow and a shout-out!
Desk Bit Inclusion
You are in the lottery to be picked for the desk bit of the show!
(local only)((if you are flying in to visit we will make the show fit your schedule))
Get Lo-fi In Your Living Room
Limited (50 of 50 remaining)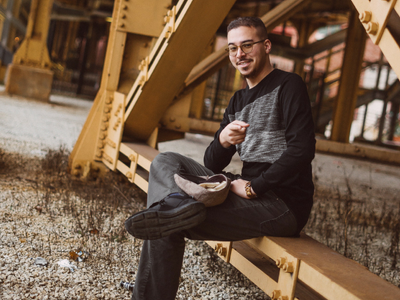 This is a Chicago based show so if you are a Chicago resident.
You will get an episode of Chicago Lo-Fi Late Nite in your house!
All you gotta do is provide the space and the producers will create the show.
You will be the featured guest if you so choose!
About
So here we are together. You have made it to the Patreon I set up to fund this insane idea of mine. You can watch it on certain nights that we go live. There are no regular nights yet, but that is what the future holds!

Chicago Lo-fi Late Nite
I was sitting in a temp job realizing that I had only a week left and I got the crazy idea to shoot a late night show based in Chicago with all the equipment I had and a budget I had access to. That is what led to the creation of Chicago Lo-fi Late Nite in which the beginning was using the one Patreon Patron I had as my budget and the equipment I had at my disposal. That is a monthly budget of $5 and my phone for YouTube live. My first few guests will be friends and family who are doing dope sh*t and I hope to expand from here. So you are here to help increase the small budget I started with to help make something out of this molehill I began with. 

My intention was to create a space that people wanted to watch to hear level headed opinions of current events. A place where my friends could practice their late night segments while being able to be interviewed like the celebrities they are going to become. A place where you could find out about the shows to see in Chicago this week, where to see us perform and a space that let you listened to new music you wouldn't normally find on the airwaves. To create a late night show for the people. 

So here we are making this crazy show a reality. If you don't have any money the best thing you could do is share the videos and subscribe on YouTube while we do what we can to grow this thing into something fun. Even if we don't get to grow it, we will at least make it. From humble beginnings is where we will start and this show will hopefully not end there. Thank you for taking the time to read this. Maybe we will have you soon!

Nate Fleming
Founder of Chicago Lo-fi Late Nite

This is enough to get a new camera a month until we are up to 4 cameras for this. The cameras will remain low budget and the set up will remain in an intimate living room setting. We will just be able to cover more of the hilarity and pay each of the camera persons!
1 of 1
Become a patron to
Connect via private message