TheTwitGamer
is creating Gaming Videos, Random Nonsense and Tea.
Select a membership level
Cup of Tea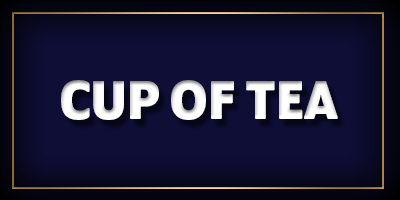 You Get:

Access to the feed. (Mid-month Q&A, Weekly(ish) updates, Polls)

Credited in the Random videos on the channel (The Non Let's Play ones)
A Cup of Tea with one Sugar
If you happen to donate $15 or above you are granted a special mod rank over on my Discord Server! Enjoy! But not too much...

(This should happen automatically. If it doesn't and you want the promotion, please do message me with your discord name and I will promote you manually! And, you will also get the previous tier!)

Includes Discord benefits
Producer/Special Blend
Want your name in lights!? Well tuff. All I have is videos.

And I have a lot of videos! At this rank you will be in the Producer credits for the Let's Play videos that go out daily!

(You will also gain access to previous tiers rewards)

Includes Discord benefits
About
Hai!
Hello there, I'm TheTwitGamer! How'd you stumble across this page? Ah well, guess I should let ya know who I am! I'm probably best known for making gaming videos on YouTube and an almost unhealthy obsession with Tea! My channel has passed 20k Subscribers and is nearly 8 million views… Which I am quite happy about!
So what's this Patreon for?
Maintaining a Gaming YouTube channel can be quite a difficult. There's the time involved in recording and editing as well as the costs for the games and editing software. I'd like the channel to go further and improve the quality of my content!
My usual month on YouTube:
Recording & Editing 3 different games (And purchasing the games)
Creating new Intros
Social Media Interaction (Comments, Twitter etc.)
Drinking Tea
Studying Analytics (Very dull… but needed.)
As you can imagine all this adds up in terms of time. It's a full time job in itself. Trying to maintain all this while also working a full time desk job and have a social life can be quite draining. But, the reward is giving people out there a bit of entertainment to brighten their day. In the end it's worth it.
So, if you become a patron you are helping make it easier for me to maintain what I currently do and work towards a day when I can make YouTube my full time job. If we can accomplish that, I will have so much more time to improve upon my content and hopefully reach a wider audience as a result!
So, what rewards do you provide?
Well first and foremost, the content on the channel will become better and better over time! But I will provide Weekly Updates on what is happening for me and what projects I have in mind. At the second tier you will get Admin privileges on my
Discord Server
.
One thing I will never do is put my content behind a paywall. So there will never be any exclusive content. I don't believe in telling people 'Hey you wanna see this? Pay up.'! The aim is to entertain as many people as possible, making the content gated… just doesn't sit right with that idea!
I am also open to ideas on what other rewards I could provide though. So if you have any suggestions I'm more than happy to listen!
Penultimate Segment (I need a better title for this…):
If you can support me in this I would of course be extremely grateful! You would be making it possible for me to pursue something that brings me nothing but joy. Creating videos for people to enjoy has led to such wondrous things for me and has changed my life for the better. Thank you to those that have supported me in any regard. I will always be thankful.
TL;DR:
Anything you pledge will go towards support my YouTube channel and allow me to maintain and improve the content I provide.
At this point I will be able to cover the running costs of the channel! From buying the games to nipping down the shop to buy some more tea!

1 of 3
Become a patron to
Unlock 94 exclusive posts
Connect via private message
Recent posts by TheTwitGamer