Rafael Armada
is creating TITANIC: Una Historia en Miniatura
Select a membership level
Bienvenido a bordo! / Welcome aboard!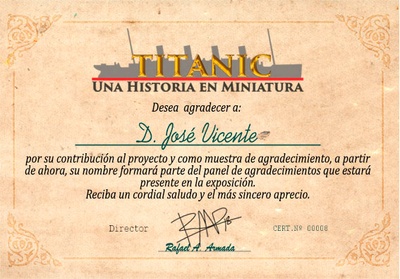 - Recibirás por email un CERTIFICADO DIGITAL PERSONALIZADO y numerado de agradecimiento.
 You will receive by email a CUSTOMIZED DIGITAL CERTIFICATE and numbered thank you. 
- Tu nombre estará en la pagina de facebook del proyecto y en un panel de agradecimiento en la propia exposición. 
 Your name will be on the facebook page of the project and on a thank-you panel at the exhibition itself. 
-Acceso a NOTICIAS
Access to NEWS
Obrero del astillero / Shipyard worker
- Recibirás 3 postales digitales para usar de fondo de pantalla en cualquier dispositivo
You will receive 3 digital postcards to use as wallpaper on any device
- Llavero / keychain
+ Bienvenido abordo / Welcome aboard
Pasajero / Passenger
- Alfombrilla de PC (diseño a elegir) y camiseta
Mouse pad (design to choose) and T-shirt
+ Bienvenido abordo - Trabajador del astillero / Welcome aboard - Shipyard worker
About
1.- SOBRE EL PROYECTO / ABOUT THE PROJECT
2.- SOBRE DONACIONES / ABOUT DONATIONS
3.- SOBRE LAS RECOMPENSAS / ABOUT THE REWARDS
https://youtu.be/HaNKhjLfPZ4

1.- SOBRE EL PROYECTO / ABOUT THE PROJECT
Desde la noche del hundimiento del famoso transatlántico en Abril de 1912, hace ya 107 años, se han publicado libros y articulos de prensa y se han rodado peliculas, series y documentales. Pero en todas y cada una de esas producciones solo se ha tocado (y nunca mejor dicho) "la punta del iceberg" de la historia.

Since the sinking of the famous transatlantic liner in April 1912, 106 years ago, books and press articles have been published and films, series and documentaries have been filmed. But in each and every one of those productions has only been touched (and never better said) "the tip of the iceberg" of history.
El proyecto
TITANIC: UNA HISTORIA EN MINIATURA
(UHEM, por sus siglas) pretende ser una exposicion itinerante por toda la geografía española (aunque con "puerto base" en Nerja, Málaga) donde contar de forma cronologica y con detalle, la historia de los barcos de la "
clase Olympic
" (RMS Olympic, RMS Titanic y HMHS Britannic) en su mayor parte desde la perspectiva de las maquetas a escala, acompañadas de paneles informativos (fotos de personas,mapas...) y replicas de objetos y documentos.

The project TITANIC: A HISTORY IN MINIATURE (UHEM, for its acronym in spanish) aims to be an itinerant exhibition throughout the Spanish geography (although with "base port" in Nerja, Malaga) where chronologically and in detail, the history of the boats of the "Olympic class" (RMS Olympic, RMS Titanic and HMHS Britannic) for the most part from the perspective of scale models, accompanied by information panels (photos of people, maps ...) and replicas of objects and documents .
UHEM
quiere contarle al visitante la historia de un modo mas profundo y personal: Reuniendo todos los datos existentes y actualizandolos en una sola muestra de modo que conozcamos un poco mas a las personalidades que viajaban abordo del Titanic y tuvieron alguna relacion con la clase Olympic. Cada maqueta, cada objeto estaran enlazados con historias de los barcos y personales respectivamente: todo ello tras un trabajo de años de investigacion por parte de nuestros colaboradores.
Ah, algo muy importante! Separaremos
REALIDAD de FICCIÓN
UHEM intends to tell the visitor the story in a deeper and personal way: Gathering all the existing data and updating them in a single sample so that we know a little more the personalities that traveled aboard the Titanic and had some relationship with the Olympic class. Each model, each object will be linked with stories of the boats and personnel respectively: all this after a work of years of research by our collaborators.
Oh, something very important! We will separate FICTION REALITY
La exposición contará con
2 tipos de visitas
:
A TU RITMO
. Donde tú te tomas el tiempo que necesites para seguir la historia y
GUIADA
(abajo), donde tendrás la oportunidad de preguntar al guía cualquier duda que tengas en tiempo real.
The exhibition will have 2 types of visits: AT YOUR RHYTHM. Where you take the time you need to follow the story and GUIDED (below), where you will have the opportunity to ask the guide any questions you have in real time.
2.- SOBRE DONACIONES / ABOUT DONATIONS
CON VUESTRAS DONACIONES PODRÉ... / WITH YOUR DONATIONS I CAN...


- ...dedicarme plenamente (8/10 horas al dia) a construir las muchas maquetas que tengo planeadas que comprondran gran parte de la exposición.
...dedicate myself fully (8/10 hours per day) to build the many models that I have planned that will make up a large part of the exhibition.

- Construir los expositores de las maquetas y un embalaje adecuado para transportarlas cuando sea necesario.

Build the exhibitors of the models and a suitable packaging to transport them when necessary
.

- Pagar la impresión de los paneles explicativos que acompañarán a las maquetas, piezas de las propias maquetas que por su pequeño tamaño y complejidad han de ser fabricadas con impresión 3D y otros articulos de exposición como barreras separadoras.
Pay for the printing of the explanatory panels that will accompany the models, pieces of the own models that due to their small size and complexity have to be manufactured with 3D printing and other items of exhibition as separating barriers.

3.- SOBRE LAS RECOMPENSAS / ABOUT THE REWARDS
¡¡¡LAS RECOMPENSAS "Pasajero, Tripulación y Capitán" TIENEN UN EXTRA OPCIONAL LIMITADO!!!

/

REWARDS "Passenger, Crew and Captain" HAVE AN EXTRA OPTIONAL LIMITED !!!


Tienes la oportunidad, si lo deseas, de aparecer en las maquetas para "darles vida", según se necesite y según la escala. Lo único que tienes que hacer es indicarlo al hacer la donación y se te explicará qué se necesita de tí.
You have the opportunity, if you wish, to appear in the models to "give them life", as needed and according to the scale. The only thing you have to do is indicate it when making the donation and you will be explained what is needed from you.
Podría comprar el material y las piezas necesarias para finalizar las dos maquetas actualmente en construcción.

I could buy the material and parts needed to complete the two models currently under construction.

1 of 4
Recent posts by Rafael Armada