Tooning Japanese
is creating podcasts
Select a membership level
ACROSS Recruit
Get access to bonus audio:
Access to bonus mini-episodes!
Read over our show notes.
Access to campaign goals.
Fair warning: Any bonus content may not be PG. 
Team Dai-Gurren
 Receive previous rewards PLUS:
Gain access to future videos in our Tooning RPG series.
View and download BESM RPG characters made as part of Tooning RPG.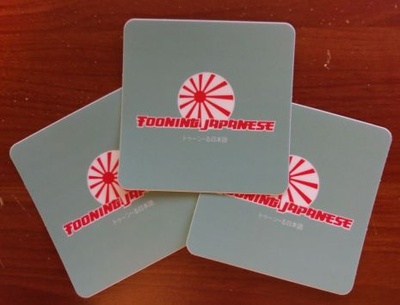 Gung-Ho-Gun
Receive previous rewards PLUS:
Display your love for the podcast with your very own exclusive Tooning Japanese sticker!
We will give you a shout out on an episode as a thanks for your support of our show!
Also, suggest an anime character, and we will record a Tooning RPG episode (dedicated to you) and create that character in BESM!
About Tooning Japanese
Tooning Japanese is a podcast
where three dudes in their thirties sit down each week and review anime from their teen years.  We have reviewed all of
Excel Saga
,
Trigun
,
Gurren Lagaan
, and are currently reviewing
Wolf's Rain
.
We love creating this podcast for our fans.  We will always give you the best content that we possibly can.  That being said, there are some things beyond our control that your contribution to the show will help us with.
1.  The cost of hosting, the website, & advertising
We are in the process of moving over all of our old and current episodes from Podomatic to Podbean. While this will enable us to keep all of our former content live, it comes with a cost of $108/year.
Aside from the hosting costs, our website (tooningjapanese.com) currently costs $26/year. We also promote our podcast at local conventions, which incur costs for the booth and printing promotional materials.  These cost comes directly out of the pocket of one of our hosts, Andy.  Anything that the fans can give back will help alleviate those costs.
2.  The time put into editing and releasing episodes
Every episode takes Andy around 2-5 hours to edit and put together.  He currently works two different jobs, both of which require substantial work at home as well.  Add everyday life and work on The Shadowvane Podcast, and it's become difficult to keep up the schedule for Tooning Japanese.
Your donations will allow us to eventually hire someone to edit and produce our episodes.  This will free time to create more bonus content for our listeners.
3.  Recording Equipment
We want to do more interviews with voice actors and people within the anime community.  We had a blast interviewing Jessica Calvello and Dorothy Fahn, and we hope to bring more of that to you all!  Good software for recording remotely is an added cost we just don't have right now.
Anything that you can contribute will be go directly to the show!  We will pay it back by providing for you additional content laid out in our donation tiers as well as our overall goals.  Take a look at our page, give our show a listen, and contribute if you can!  Otherwise, we are excited to continue to bring you our brand of humor and reviews of our favorite shows!
If we reach $50/month, we'll release a bonus episode every month of a movie review! The movies will be voted on by our Patrons, and they will be released on the main feed for everyone.
1 of 3
Recent posts by Tooning Japanese