Trishneen and Behemoth Cosplay
is creating Cosplay, photography, video,tutorials
Select a membership level
Guardian of the galaxy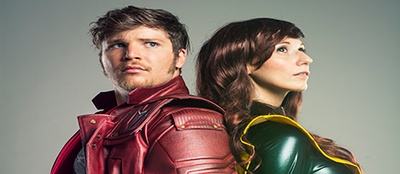 Thanks for support what we do! Becoming a patron just with 1$ you will have access to all of the content we will be posting every month about
crafting
sewing
make up
photopgraphy
tips and tricks or even behemoth cooking videos  
( ^▽^)σ)~O~) 
About
Welcome to our page!!! We are glad to have you guys visiting our space (ooouter space) and dedicating to us a little bit of your time
(☆^ー^☆)
But...Who are these nerds?             

(″・ิ_・ิ)っ
We are Brendan and Diane(Behenoth and Trishneen), two cosplayers from Madrid (Spain) and California (USA) living in Southern California .
We met through Instagram and through our passion (cosplay) one year ago, and we had the crazy idea of start a life and and adventure together, so here we are! Creating cosplay (almost) every day, sewing, crafting, even working out to reach our goals (Looking like Wonder woman and All might it's difficult and means no vodoo donuts anymore sometimes 
(╥_╥)
)


 



o(≧o≦)o
Trishneen
o(≧o≦)o
I'm just a big nerd who started loving comics and videogames being really little (videogames thanks to my older brother) and who discovered cosplay 10 years ago when I started reading manga and because of this my first cosplay was Nana Oosaki for Nana Day convention Madrid, since then has been my hobby, always using it as a way to express myself through my favorite characters and enjoying every part of what it means to create and wear a cosplay. I've read tons of comics in my life, from x-men when I was 12 to batman and wonder woman a few years later, that's why a big part of my cosplay creations are comic characters, and you know guys, being a superhero is every kid's dream. My cosplay name comes from the Devil May Cry character Trish, the first time I tried using this name for an on-line game was already (obviously) in use so I just added -neen, so yeah, the story of my nickname it's not really amazing XD
I love cats (I'm a cat nyaaa~~~~~) comics, anime, cute things, all of the nerd stuff and I'm a megasuperultra  Dr.Who and Harry potter fan!        
∩(︶▽︶)∩
And no Behemonth, Jedis are the best, I will never be part of the dark side.

My profile on: Instagram

I'm more of an anime nerd and gamer, I'm also a fitness nerd and I like to weight lift, part of the reason i've started making fitness a habit was because of my love to want to look like really cool anime and comic book characters, ranging from Batman to All might or Illidan Stormrage.
Cosplay is a personal challenge to always try and improve my physical appearance.
I started cosplaying in 2015 and my first convention was Anime Expo wearing Cid from FFVII because I thought I looked like the character. However, when I went to the convention, no one knew who I was and I felt I did a bad job at my cosplay even though it was my first one I created. I didn't even know what worbla, foam, barge or anything was! I didn't feel good about myself.
After this I decided that I was not good enough to cosplay but then in 2016 I decided to be my favorite character of all times, Squall Lionheart from FFVIII and I had the best time of my life and I made new friends and found my place among the cosplay community, that turned out to be super supportive.
I love dogs, I have a siberian Husky and she is the cutest thing ever (wan wan ☻ᴥ☻) I like to cook and I like when people love my food (I need to feed my girlfriend because she is a cat) 
My cosplay name comes from the purple monster of Final Fantasy saga.
I truly believe that Siths are better than Jedis.  (◣_◢)
My profile on: 
Instagram
And the final question... Why are we now on Patreon?
Actually this is something that we've been thinking for a while. We love this community called cosplay with our heart and soul, thanks to cosplay we made friends, we discovered a way to express ourselves and work hard and we found each other throught it, cosplay is something that makes us happy, we want to dedicate all our time to this but sadly we are both students right now and we live together paying bills, so our budget for cosplay is really tight.
We are not going to offer nudes, lewds (sorry, we are not into that) or spicy exclusive content but we have something that we can offer to this community, all of our knowledge and everything that we are learning with every cosplay.
Also, we see patreon as a good place to show all our cosplay content  (づ。◕‿‿◕。)づ
We are going to post our sets for free, you don't need to pay to see our photos since we do cosplay because we love it! But if you want to support us as Patron, as a reward we will give you tutorials, tricks, information about how to find everything you need and more fun stuff!
And one thing for sure, you will have all of our gratitude, either patrons and people who stop here to read or just to see our cosplays, we love you, this is important to us, and it's beautiful when someone understand that.

Lots of love from these two nerds.