UON Visuals
is creating Psychedelic Animation Art
Select a membership level
Pledge $2 per 1080p60 loop pack download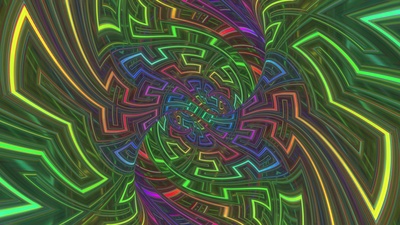 High quality downloads of my 1080p60 layer packs in MP4 format, for personal use as dynamic wallpapers, screensavers, projection art, etc!
$54
per loop pack download
About
UON Visuals was started in 2015 by 3D animator Mike Vos Kakis (me!) ! I've been making hundreds of unique videos since 2013 and have over 70,000 fans who enjoy them on my
Instagram
and 170,000 fans on my
facebook
page!
My animations are based on the geometric imagery the human brain is capable of generating under different states of consciousness. At its full potential your mind can create the most complex impossible-looking visuals that look unlike anything you have seen before, and I've been spending most of my free time learning how to re-create bits and pieces of this phenomena through 3D animation. 
Want to know what to expect? Here is a 1 hour showreel of a bunch of animations I've created over the years, from oldest to newest!
My art has become quite popular, especially in live music where it can be seen on projections and LED screens at shows. I have a store where I sell my loops in high quality formats to VJ's who want to play them live, or for people to edit into their music videos.
Here is a music video where I used one of my layer packs to make each layer react to a different EQ frequency of the music!
However, I want to expand the ways my art can be enjoyed. This patreon page is for people to enjoy them for personal use, such as using them for moving desktop backgrounds, dynamic phone wallpapers, projecting onto walls/ceilings, etc! 
I plan on pushing computing technology to its absolute limits in the decades to come, in order to show a glimpse of the unimaginable beauty and complexity that squishy thing in your head can generate!
I now release my content here in separate layers, without a watermark, without music, just a pack of video files that can be combined together however you want. Either enjoy a layer of your favorite color style, or open up an editing program and stack them on top of each other, have them loop for as long as you want, and change their transparency over time for all sorts of neat effects!
Pricing: 
$0 - You get to see a social media post of an example of my latest packs reacting to music, as well as everything else I post on social media, but all in one place! 
$2 per pack - Whenever I release a 1080p 60fps pack, you get to download all the layers in MP4 format! I'll be releasing one or two (sometimes 3!) of these a week, so the higher you set your payment limit to the more visuals you'll get!
$5 per pack - Whenever I release a 4K 60fps layer pack, you'll get to download the layers same as above. 
This is just a new starting point for my Patreon, as it grows I will be adding more bonus features such as video tutorials, live streaming and more!
$53.81 of $2,000
per loop pack download
Start paying for online render farms to render my animations with ridiculously awesome quality and detail far beyond what I can achieve with my home PC.
1 of 1
By becoming a patron, you'll instantly unlock access to 12 exclusive posts
By becoming a patron, you'll instantly unlock access to 12 exclusive posts
Recent posts by UON Visuals