UnityGameDev
is creating Unity Game Development Tutorials
Select a membership level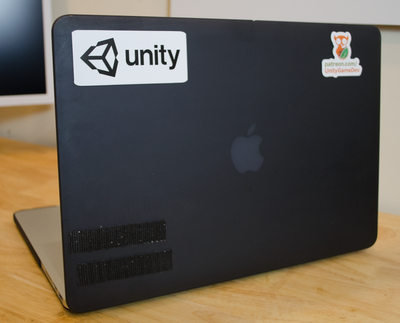 Unity and UnityGameDev Stickers for your Laptop!
Unity stickers on your laptop...show off a little...
Your name listed on new tutorials
Have your name listed towards the end of each new tutorial. You can also send in your logo and I'll work that into the video.  
Subject to approval (no obscene words or graphics).
Includes Tier 1 stickers.
Your name read out loud on new tutorials.
I will give thanks verbally using the name you supplied towards the end of each new tutorial.
Subject to approval (no obscene words).
Includes Tier 1 stickers
Includes Tier 2 name listing on new tutorials
About UnityGameDev
Hi to all you wonderful, game developers.  I am Frederik Koetje a game dev who has been creating interactive experiences since 2010 at the company I founded,
Koloza LLC
.  I have recently switched my focus from releasing games to developing high-quality, in-depth Unity based 2D and 3D tutorials plus building a thriving community around this content.
For my Patreons
I aim to create awesome Unity Game Developing Tutorials (2D and 3D) and further enhance the content with my personal experience related to hardware and platform choices, marketing, audio, outsourcing graphics, when to quit your job and go all in, creating unique games vs copying, freemium VS paid and many other topics. These tutorials are meant for absolute beginners as well as more advanced programmers. I plan to release at least one post per week.
My format will follow a text-based post associated with a video post.
I generally will start a game project and make the code publicly available via my
GitHub repository.
You can use the code as you wish and even deploy to iOS, Android, or PC as is.  I don't place any copyright on my code, but please watch out for any assets I might have purchased from the
Unity Asset Store
as my rights on those don't transfer to other parties.  Tutorials will be released alongside the code and will be atomic in nature so you should be able for instance to jump into a Menu UI tutorial and get value without needing to go through a "setting up Unity" tutorial.
I want to save you time and present content in a unique way so you can focus on the most important part, developing polished, fun, creative, engaging games that you hopefully can also make a living from so you can be a very happy person:)
We live in exciting times where you and your laptop can take on the world and influence people's lives with a unique experience.  How amazing is that?  All those ideas in your head just waiting to come out...
My Credentials
I have had some decent success with my Unity 3D game
Animal Rampage
bringing in a healthy $1000 per month at times and have had over 250,000 downloads across all my games.
I also hold a Bachelors Degree in Computer Science. 
My Road to Unity
I started out the hard way, developing natively for iOS in
Objective-C
using
Cocos2d
and other frameworks. 
Smart Kid ABC
was my very first game / app and I originally created it so my daughter could teach herself the ABC's without me needing to sound them out.  I actually received the coveted
New and Noteworthy
mention from Apple for my very first game and that gave me some confidence that I was doing something right.
I love anything related to flying so the next project was a flying 2D game for me.
Minesweep Jet Hero
took a year to develop with the Cocos2d platform.  I created my own game engine alongside many levels and got a free resource for an awesome sound track.  I am still the most proud of that game, but I made no money from it.  That happens a lot in the gaming world so I advise setting up a mental framework of why you are entering this practice and being realistic so your heart does not get broken if things don't go your way.  That being said, I have a dream that one of my Patreons would create an awesome game that makes millions of dollars alongside movies and merchandise like what happened with
Mortal Kombat
and
Angry Birds
.  Nothing will make me more proud:)
I wanted to port Minesweep Jet Hero to Android, but it looked like it would take me another 6 months to a year to do that since I would have to rewrite everything from scratch on the Android platform.  I did some research and discovered how you could create a game once in Unity and port it to 17 different platforms like iOS, Android, Arcade, Xbox, Playstation, etc.  That sounded super awesome so I decided to give Unity a try on a new game.
I developed a brand new 3D game (
Animal Rampage
) while learning Unity in 4 months!  I could not believe how easy it was to develop games in Unity VS native iOS / Android coding.  I became a Unity believer and evangelist of that platform.  When I first released Animal Rampage I was getting around 2000 downloads a day.  It was crazy exciting.  Things have settled down a bit now, but I am still generating revenue 2 years later while not working much on the game!
I also released a 2D Unity game called
Endless Ninja Drop
to try my hand at 2D in Unity.  I actually find that 3D is easier than 2D in Unity, but both perspectives can be achieved with relative ease on the Unity platform.
What jump started my passion...
I grew up in the 80's and 90's so my first memories of awesome games were related to the
Commodore 64
,
25 Cent Arcades
and IBM computers.
My initial memory of a game was
Frogger
on Commodore 64 when I was 6 years old.  You had to load those games from a magnetic tape drive and that could take hours.  Sometimes something went wrong and you had to start all over...the anticipation was a killer.
The first game that blew my socks off was the arcade version of
Mortal Kombat I
.  I love good graphics and this was the new kid on the block with realistic looking characters and insane action.  I spent all my pocket money for months on that game.  I could not get enough.  It sucked me into a new world where reality faded away and you could be a martial arts God.
This was the first time I dreamed of becoming a game developer...
My first programming experience

Around the age of 11 I discovered you could program the Commodore 64  in
BASIC
.  I coded basic sounds and text graphics.  I think I felt a little bit like an artist, being able to produce those tiny experiences.
The teenage years


Girls!!!  Pretty much no coding here. Sorry brain:(
Becoming a game developer at an older age


I am an entrepreneur at heart and have tried many ventures from buying and selling used cars (ugly business), building and selling PC's, developing custom web sites, blogging, composing and selling my songs on iTunes and developing custom web apps.  I remember always getting bored with all those ventures. It was hard to stick with anything...that was until I finally took that step to develop my first game.  I was hooked.  I could use my programming, graphics, audio, marketing and business experience all towards one gaming project.  If I got bored working on graphics, I could turn to audio and so on.  I can keep going from one aspect of game development to the next while working on a project. 
So at the ripe age of 32 years old I officially became a professional indie game developer. 
I am 39 years old now and still loving it:)
Why Patreon, Now?


I often felt rushed to quickly finish a game and make it a commercial success.  This mindset made me skip important steps like making for instance the AI for a bunny the best it possibly could be.  I want to get back to the creative process and focus on learning and doing things the right way.  I can then share this experience back to the community to hopefully enhance the game creation process and help you be successful, however you define your success.
Gift one $350 laptop per month to aspiring game developers who don't have access to hardware.

While working on one of my posts where I compared a cheap PC laptop VS older MacBook Pro, I discovered that for only $350 you can get a more than decent laptop to run your Unity Studio. That made me think of all the young people out there that simply cannot afford a $350 laptop and are held back creatively wise, wasting valuable time where they can be learning the wonderful craft of game development.  Once we reach the $350 goal, I will start gifting one $350 Acer laptop per month to kids under 21, institutions or schools seeking to gain experience in Unity game development, but simply don't have the means to do so. 

We have to find a way to:

Ensure that only kids in need receive the laptops (Maybe the UnityGameDev patron community can give some suggestions of people and those can get up voted?)
Obtain social proof that the recipient received the laptop (I was thinking a photo of the recipient with Unity loaded in the background)
If you have any suggestions on points 1 and 2 above, please chime in.  I am new at this and any suggestions will be greatly appreciated:)

1 of 1
Recent posts by UnityGameDev