Vivian Historic Park
is creating A Historic Research And Education Facility
Select a membership level
Park Patron
Our thanks, and a standing invitation to come see any working weekend (just don't interfere with the process); Access to the webcam if we can get that up and running (the webcam access is primarily for safety and security, and therefore not available to the general public), and a Letter Of Thanks from the park.
Full-Time Park Access.
Access to the park during "off hours," when you can talk to the re-enactors and watch us "cheat": During our "after hours" periods, the park itself is "closed" and therefore everyone maybe out of costume; during this time is when forges get repaired, etc. (the sorts of things that don't reflect the time period), and uses equipment that would be inappropriate to the time period (find me a diesel generator in 1260's France or a welding torch in 1862 United States, and I'll shut up), and to our monthly letter, "You Just THOUGHT You Knew…" detailing an event of history you THOUGHT you knew…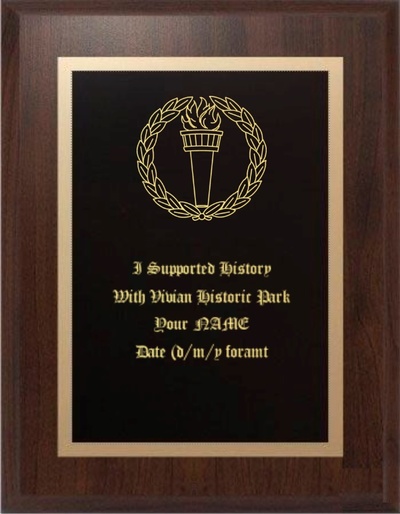 Friend Of The Park
Full time unlimited access, even during "off hours" (such as to the park's fabrication shops). (Access limited to Monday through Friday, 9 in the morning until sunset; other times by appointment.) With two month's patronage, you will also receive a Vivian Historic Park plaque to keep at home. With three month's patronage, you will also receive a Vivian Historic Park Brick that will become part of "The Queens Wall" (separating the park itself from the business offices and machine shops).
About Vivian Historic Park
Primary Purpose:
To provide space and support equipment for historic re-creators to maintain their operations, with a emphasis on period correct methods to the greatest detail possible under current legal requirements. (Certain equipment that was commonly used in the 11ᵗʰ century, mostly for food preparation, is specifically banned under current law. That's fine, we'll use a current standards butcher shop and fire pit and dress up the pit at least to "look" like one from medieval Europe.)
These aren't "just" re-enactors, labels notwithstanding; We supposedly know how, say, muskets work, but do we REALLY know how they're made? Practical applications of weaving techniques a few years back revealed what we THOUGHT we knew, we didn't know. (After much trial and error, the ladies figured out the correct process- but one ended up with stitches.)
"Down the road" (2+ years) we also hope to sponsor other types of cultural events; We've already started research to replicate Joss Temple (a Buddhist Chapel located in Weaverville, CA.). Much sooner than that (hopefully in 2-3 months), we hope to invite Jr. and High School students to observe a demonstration (though what exactly depends on who's willing to volunteer.)
If this is half the success it can be, we hope not only to maintain THIS park but to build additional parks; One in every continental US state, another (perhaps 2) in Hawaii, and "more than one" in Alaska. (Alaska's mere size and distance, combined with the driving conditions in general, strongly suggested adding additional parks.)
Our funding issue;
To build this we (or more precisely
-I-
) have to barrow money from the bank. The payments are a bit over my ability, especially for the first 2 years.
Most people here want as much as they can get; I have a limitation, they don't. We only need $2,000 per month (that's $10 a month for 200 people [which is our preference] or $100 a month for 20 people), and unlike "most" Patreons, we have a definitive "end goal"; $300,000 total.
And we don't have "forever" funding needs; We just need to get over a 5 year hump. (In point of fact, I'm paying a large part of the bill as well, about 75%. Assuming fullest possible funding by 2,000 patrons, we actually MUST shut down funding after 5 years; this is an issue with the IRS v. our charter [it's not the IRS's "fault," it simply is the fact of the issue] in order to avoid needless funding/taxation disputes.) Our model at this point will make us self-funded, forgoing government funding and thus giving us the flexibility to tell the WHOLE story- Not just the winner's story (or at least the FUNDER'S story).
Here's my story:
About 5 years ago I attended a RenFaire in a relatively small town; With more the 50 tents erected, there were TWO people in period costume, and only one selling anything like a Renaissance Fair materials.
It was an art show. Plain and simply, it was just an art show.
My degree is in history. The park I mentioned before is about 5 acres, of which less than ½ was used. I realized if historical re-enactors had a place to develop (and perhaps display) their craft, more people would become interested. Now, 5 years later, I (PERSONALLY) own 10 acres of dirt, but the support facilities are simple not there.
History is CRITICAL to humanity; To remember our mistakes AND our successes. Nobody wants a repeat of the rise of Hitler, and if we try to pretend it didn't happen, how are we to stop it next time?
And history has PRACTICAL matters to teach us; If a city, let's say New York, were to suffer a catastrophic blackout (
because, of course, that could never happen
), how would we recover? These and MANY more issues are what we hope to address.
Access to the park to visitors is to be free (and if I could pay the re-creators, I
WOULD
). Access to the individual re-creators is semi-restricted; You can approach and watch, but do not interfere with their activities unless they request it (or someone gets hurt).
I'm asking for money, yes; But this isn't a "gimme" program. First and foremost, it's intended to allow anyone to observe (from a safe locations, "flies on the wall"). Second, I've invested the last of my own money into this project; Without getting into the details, I've already put 4 times as much as I'm asking for into this (and chances are pretty good I'll be putting more in, but this particular piggy bank is out). Thirdly, we will be responsive neighbors to our community, providing Emergency Services whatever support we can during times of crisis. Lastly, the "Future Histories Department" will bring together lessons of the past to apply to the potential futures; Whether the dystopia view of Mad Max, the "utopian" view of Star Trek, or the more pragmatic view of Star Wars (without the lightsabers).
So please help us create a place to not only "remember" history, but make it LIVE.
Our non-profit status was approved. I just got the email this morning.
Also, yesterday I received a photo by email of some Aztec (significantly Neolithic) weapons that suggest quite strongly that Vivian Park, despite it's lack of a free water source (river, stream, or pond/lake) "could" support stone-age reconstruction after all.
VHP has (currently) 4 main missions:
1. Preserving History
2. Supporting Emergency Services
3. Supporting The Community
3. Planning For The Future
5. Maintaining A Library
Preserving History:
Naturally, and this is at LEAST ½ all by itswlf. "Rarely" will we have major events (being too far from the sorts of areas where re-enators WANT to be), though we hope to, but we can still support them by giving them space to develop their craft. Need/Want to learn blacksmithing? A full blacksmiths shop will be provided. Want/Need to learn how to milk a cow? We can get a cow; Bring your own bucket (hygiene reasons). Want to rebuild a Panzer III? THAT will be a bit harder, since you'll have to work in the main grounds, and the vehicle isn't allowed off the trailer except for demonstration purposes (to avoid needlessly damaging the grounds, which have to be available to other groups as well), but our shop "should" present everything you need.
Supporting Emergency Services:
We are developing ties to emergency service to facilitate "whatever they need that we can support"; For Law Enforcement this is very little (the park is neither a jail nor an office adequate to LE needs), but for fire and disaster response the park is perfectly adequate.
Supporting The Community:
Right now, we are directly trying to work with local charities and non-profits on firewood programs for elderly and low-income families (an unfortunate side effect of land-clearing operations).If circumstances allow we also hope to work with the local Jr. High School (VEMS and NCEMS), High School (NCHS), and Community College (BPCC) to host some specialized instruction (although exactly how isn't clear at this point).
Planning For The Future:
The whole purpose of learning about the past is to learn from it; Both to remember the successes (such as why steam engines came to be, and thus why the trains and steamships came to such importance), and to avoid the mistakes of the past (segregation, slavery, the "Elixir sulfanilamide" crisis that KILLED "more than 100 people").
Maintaining A Library:
Burning books NEVER solves problems; That's not to say every book should be read by everyone, either. Our library will be accessible to those with scholarly research purposes, but part of it will be restricted due to the HIGHLY controversial materials, such as
Mein Kampf
,
The Communist Manifesto
,
Little Red Book
, and even hard copy of such "weird" documents as
Little Green Book
(never heard of it? don't feel too bad, it was Muammar Gaddafi's entry into the "literary" world; despite the fact that it made better toilet paper than reading material, it still has to be protected) and Theodore J. Kaczynski's
Industrial Society and Its Future
(better known as
"The Unabomber's Manifesto"
); Nothing "titillates" like the idea that something is forbidden, therefore we seek to 
PROTECT
that which is forbidden- But much like small children shouldn't be allowed to watch PG-13 movies, not necessarily everyone should read
Mein Kampf
- Or
Little Green Book
, for that matter. (Fewer still CAN read that rambling mess that is
The Unabomber's Manifesto
, it's just insane.)
There had been requests for some out-of-historic considerations; This has been approved as the "Future Histories Department," a monthly round table (no pun intended) for well-considered speculation,on what the future "could" hold, and how best either to prevent a catastrophe or to develop the future as a species. (Note; Politics get left at the door. No speeches. That mean YOU Mars.) The park's primary focus is on science and technology's effect on society, and thus the "possible" applications of this kind of development does fit this consideration neatly; The "bookends" of the park's historic re-enactment.
At every $500 mark, I will announce progress towards reaching the final goal; Once we reach that, I will post weekly (Saturday) updates on the current construction (this is our ONLY expense) and events planned for the week.

Our final goal is $2,000 per month or $300,000 total. With 312 million people in this country, $300,000 shouldn't be hard.
1 of 1
Recent posts by Vivian Historic Park
By becoming a patron, you'll instantly unlock access to 5 exclusive posts
By becoming a patron, you'll instantly unlock access to 5 exclusive posts