Will Baker
is creating Music and resources for music practice
Select a membership level
Fluent Friend
Fluent Friends get access to a Private FluentFriends Facebook group. The facebook group will be where you can connect with other FluentFriends and access any extra content I share.
You will also get a personalized shout out on social media. 
$1 may not seem like much, but small amounts, added up over time, eventually become large contributions.  $1 makes a difference.
Fluent Family
Fluent Family is for those that want to support even more.
- Access to FluentFriends Facebook Group
- Social Media Shout Out
- 30 minute video lesson
Fluent Fellow
Limited (19 remaining)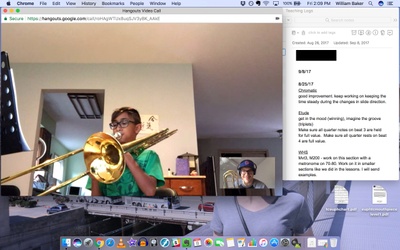 Fluent Fellows get direct 1 on 1 access to me.
- Once per week, Fellows can send in practice or performance videos and get my direct feedback and coaching. 
- Weekly video submissions can be gifted to a friend.
About
I am a professional low brass player from near San Francisco, California that specializes in the Bass Trombone. I love all kinds of music and have been fortunate to play with some world class ensembles like the San Francisco Symphony, Detroit Symphony, San Diego Symphony, the Boston Brass, the Funk Brothers, and the ArtHaus Collective at Burning Man. 

In February 2018, while playing with the Malaysian Philharmonic in Kuala Lumpur, I decided to turn one of my favorite musical moments from Mahler's 7th Symphony into a fundamentals exercise by transposing the music into all 12 keys. VOILA...#GetFluent Sequences was born.

I have found the creation of these chromatic sequences to be an incredibly fun and rewarding process for my own practice, and I was delighted to find that many other musicians enjoyed them too. I continued making sequences in 2018, but I had very little structure to my creation and release process. In 2019, I am upping my game, and hope you will join me. 


I will be sharing ONE sequence per week in 2019! 
Sequences will be based on the orchestral music I am performing, theme songs from movies/TV, and some popular hits you might hear on the radio. 
Fluent Friends, Family, and Fellows will get access to EXCLUSIVE resources/videos/sequences/content and rewards.
GetFluent Sequences are for musicians who believe that music practice can be fun. They are for musicians who want to sound great in ALL KEYS and ALL REGISTERS and want to be exposed to a new piece of music each week. If you play my sequences, you will learn to transcend the technical limitations of your instrument and become a more complete musician. I guarantee it. 


Recent posts by Will Baker
By becoming a patron, you'll instantly unlock access to 38 exclusive posts
By becoming a patron, you'll instantly unlock access to 38 exclusive posts