Rise Above The Disorder
is creating Universal Mental Health Care
Select a membership level
Join The Community!
Access to Patreon Feed- follow the incredible stories of those going through our programs!

Monthly Membership Updates a Patreon exclusive video update on the work we're doing at RAD.
Join The Community!
Join our RAD Circle and meet up with the team when we go to gaming conventions and expos!

You'll receive a personal credit on our website.

All previous rewards.
Join The Journey!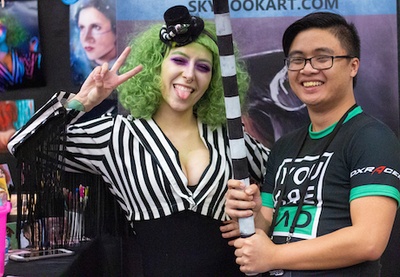 Made Possible By- add your name or gamer tag on the grant acceptance letter!

You Are RAD Pin, exclusive to Patreon supporters. 

All previous rewards.
About
We Are RAD
Rise Above The Disorder
Our 501(c)(3) is a community driven initiative to provide entirely free mental health care to youth across the world. Join us in creating and sustaining a universal mental health care system for everyone! 100% of membership goes towards our care programs.
A Radical Approach To Mental Health Care
As a member of our Patreon, you will be giving to a system that has privately helped over 27,000 people recover from their mental health issues. Together, we hope to help many more

Our Vision:
To create a community that provides supportive, educational, and entertaining resources to people facing mental health challenges
Our Mission:
To provide free mental health care for generations to come.
Our Goal:
To create a sustainable community driven on a universal healthcare system.
Our Core Values:
Be Radical
Rise Above the Challenges
Give Floral Support
Spread Awareness
Our System:
Open and accessible to anyone in the world, we use 100% of your donations to cover anyone that are unable to afford mental health services. With all your donations, our skilled team of social workers, volunteer therapists, and other mental health professionals are funded to create a recovery plan, answer critical questions, and provide free mental care for all those in need.
How Your Membership Makes A Difference
Our Promise:
 The people in our programs are giving 100% of their efforts to recovery, so we're giving 100% of your membership to them.
When we approve an application to our program, we do so knowing that we're simply the stewards of a process that you make possible. Each dollar is carefully assigned to someone who is actively working on rising above major depression, social anxiety, or any other mental health issue.
Your Impact
: World is quickly changing into a generation where we are most connected. Your impact means everything to all of our patients in our program. Every cent that is donated is committed into helping bring someone one step closer to achieving mental health care.
You will be helping those suffering from:

Chronic depression
Social Anxiety
Isolationism
Your Membership:
Everything someone needs to rise above the disorder will be entirely covered by your RAD membership.
We review every single membership on a case by case basis. You can trust that your contribution will be fully committed to go towards the following:
Cost of weekly therapy sessions
Cost of transportation
Cost of medication
Cost of medical doctor visits, or any professional assistance
You are RAD:
In all of your efforts, you are RAD. We thank you for your time and contribution to into helping us create a better environment. With your contributions, we will handle all logistics and provide the highest quality mental care professionals. By the end of the day, you are the one that makes this possible.
You are RAD because you covered the cost of psychotherapy for a woman in Dallas, Texas who developed major depression after losing their father. Rallied together to pay for a man in London, England's Uber so that he's able to go to and from therapy each week to overcome crippling panic disorder. Stood behind a woman abused in her home when she needed an Airbnb to stay while starting therapy to overcome the trauma. Helped a family go through grief counseling after their son, a fellow gamer, died by suicide.
Formerly Anxiety Gaming, we are a 501(c)(3) non-profit. EIN: 46-2688472

The System Is Up & Running!
With $500 coming in each month, we're making sure that at least 10 people in our program start their journey towards recovery.
1 of 1
By becoming a patron, you'll instantly unlock access to 2 exclusive posts
By becoming a patron, you'll instantly unlock access to 2 exclusive posts
Recent posts by Rise Above The Disorder