Allan Fernandes
is creating Traditional Art, Drawings and Paintings
Select a membership level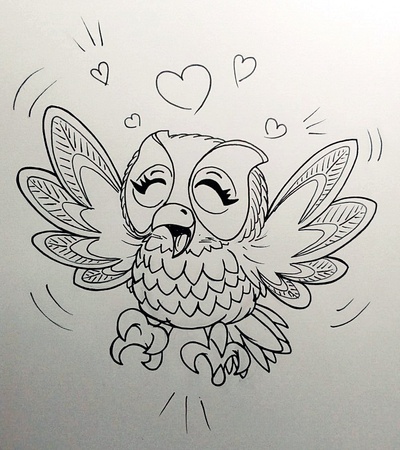 Admiring Owl
You're making a little owl very happy and joyful!
This is the most basic tier that you can take to support me. ♥
You'll be getting:

Access to exclusive Patreon feed.
First view of sketchbooks and  projects I'm working on.
Artists I've been loving and what's been inspiring me.
Frst access to buy every print that I make.
Access to artwork exclusive for Patreons.
My aternal gratitude!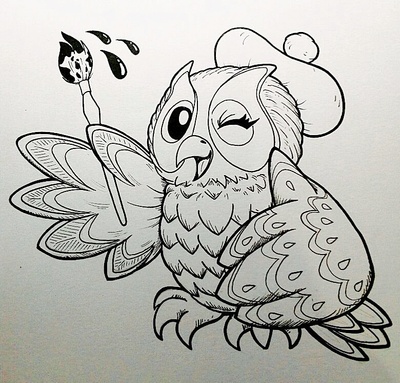 Acolyte Owl
WOW! You're really getting into this! Your little Owl is now a devoted apprentice! ♥
You can get a good in depth at everything that I'm doing and get know and participate of my process as well.
You'll be getting:
Everything listed in the previous tier.
A look at my future projects.
Chance to vote in polls regarding new projects .
The option to influence my choices on subjects portrayed in each project (each project usually has lots of subjects that can be portrayed and you can help me to decide which is the best to be part of that).
Monthly high-res coloring page version of one of my drawings.
Wizard Owl
Now you're a full Wizard Owl that knows a lot about the power of drawing and painting! ♥
This is a good tier for you if you want pump up you inking game and get to know more about the hacks and techniques that I use.
You'll be getting: 
Everything listed in the previous tiers.
 Focused tutorials addresing your personal issues about inking and watercolor. 
Every three months you'll get an exclusive post card piece.
About Allan Fernandes
Welcome to my Patreon page!
I am
Allan Fernandes
aka
Allan Von Green
or just
Von Green
and
I love drawing and painting!
I love the feeling that I did something with my own hands that is good to look at.
I get constantly inspired by other artists, by other people in general for many different reasons, and I love when I get to do that to others with my art as well! It might be throuhg a tip or an advice, or throuhg a paiting or drawing of mine.
And I would love to be capable to provide some of that inspiration over here and have a closer contact with those who like my art and wants to get inspired by it.
I work with ink and watercolor
and I have a deep love for
very intricate
and
highigly detailed
design
that can
convey beauty through a harmonious balance between all elements in the piece
. Sounds geeky and it is!
I want to achieve beauty between lush and simplicity.
I just want people to have a pleasent visual experience when they look at my work.



Why Patreon?

I'm currently living in Brazil working as a freelance artist and as a Portuguese and English teacher. And
I really wanted to have an outlet where I could have a more direct contact with my audience or people in general that likes my work
. So I think this has the potential to both offer me that and also provide me some means to keep my working flowing.
What do you get by supporting me?

I want to offer the opportunity to people see
my process
like 
behind the scenes, ideation, thought process, techiniques etc
. 
I also want people to have an intellectual impact in my work by participating in my process of choosing new projects.
 I want 
a real interaction with my Patreons where your opinion improve my work
. After all,
in the end you'll be the ones who will benefit from the exclusive materials from each project.


Thanks for being here!If you don't have the resources to support me over here I still want to say a big thank you! Just by giving a like, following or sharing my work in anysocial media because you really enjoyed my work already means a lot to me!


You can cancel your pledge at any time (Patreon charges you at the beginning of every month) so if you would like to try out a tier for just a month, I would definitely encourage you to do so! ♥


Because I'm living in Brazil, the average conversion of currency offers me a broader access to supplies with just a humble amount. Which means that every dollar count and helps to make a huge impact in my life! So yes, I am definitely not just being "cheesy" when I say that every dollar count, that's REALLY the case over here!

Even tho isn't a huge goal it is a great deal to me! And I'll do everything to make your support well represented by offering tons of goodies and beautiful stuff to you guys. I really hope that this might be a realiable source of income so I can offer videos, articles and much more prizes and exclusive materials to all my patreons.

1 of 1
Recent posts by Allan Fernandes