AVA - All Visions Align Ltd.
is creating Movies
Select a membership level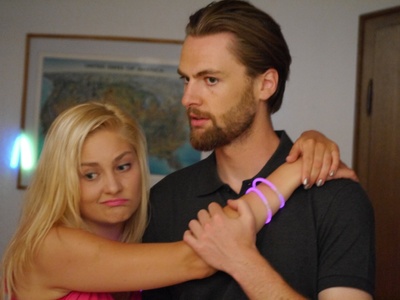 Felix (unconditional support)
A man of honour. He pledges his support without asking for anything in return.
Caleb (INTRUDER download)
The Bro. A true friend and supporter.
Any bro receives the INTRUDER download link (once our first goal is reached) and ongoing access to behind the scenes material of all our projects (including 30+ minutes of Intruder Making-Of)
Alex (INTRUDER DVD)
The scientist. She knows the importance of investing in her cause.
Any diligent colleague gets an INTRUDER DVD shipped to their house (once our first goal is reached) and ongoing online access to behind the scenes material of all our projects (including 30+ minutes of Intruder Making-Of)
About AVA - All Visions Align Ltd.
Redefining Cinema. Revolutionising Business. Redesigning Life on Earth.
We play big and we dream big. As a visionary Film Production company, now operating in four different countries simultaneously (UK, US, Germany & Japan) we strive for excellence in our creations every day, but behind each step we take, ultimately there is a higher purpose:
We believe that when every human being follows their own greatest vision of themselves, that it is in fact within their reach, and that all visions align with each other perfectly, once executed from a place of inspired self-expression.

We believe that there is enough space, time, love and happiness in the world for everyone and that we can all achieve our most daring goals by supporting, inspiring and empowering each other, instead of perpetuating the old way of "each man for himself".

We want to utilise the power that cinema has in shaping human culture to carry across that message.
We apply this philosophy in the way we run our business – working in partnership with each other, rather than adapting to outdated dictatorship-like structures that too many people still believe are "just the way things are in the film industry".

We want to bring humanity together and lead by example, because we have been lucky enough to experience first hand: When we join forces, we're unstoppable!
all visions align. - what is yours?

Wanna find out more about AVA?
Every month
you'll find one new video project, that has been released on the
AVA youtube channel
- notice: as a patron you will be presented additional exclusive content, e.g. behind-the-scenes footage or an audio commentary!
Follow our posts on
Instagram
for endless
daily
and fun facts about our company and crew. And last but not least please allow us to introduce to you the
AVA blog
. The place where you can dip into thoughts and experience shared by AVA members,
twice a month
- we are all happy to welcome you!
INTRUDER DVD RELEASE + "Crazy Woman Got a Gun" Short Film available on youtube!

Reaching 1500$ of monthly support will enable us to employ one person part-time and pay our ongoing expenses without contributing from our own pockets.

This person's responsibilities will include:
x Leading the team
x Connecting with our audience
x Continuously updating Social Media
x Overseeing the progress of all AVA Projects currently in various stages of development/production 
x Maintaining AVA's online presence
x Recruiting new team members
x Managing the production of a more consistent content-creation flow
x Organising events
x Promoting our content on- and offline (PR management)
x Acquiring funding for our feature film projects
x Manage and maintain an AVA podcast & an AVA blog

______________________________
Currently all these tasks are being managed by our company director in her spare time, which means our workflow is slow and inconsistent. 

1 of 4
Recent posts by AVA - All Visions Align Ltd.