Ambition Works
is creating Games
Select a membership level
Snacks
Hey, something is better than nothing! Thanks for the tip!
 ☆ Name in Game Credits
Fast Food
Wow thanks for the help! Something nice to munch on while we work!
 ☆ Name in Game Credit
 ☆ Access to Votes for cosmetics and features that will be in the game
Meal
Holy Crap! Thanks bunches! With this, we won't be going home hungry!
 ☆ Name in Game Credit 
 ☆ Access to Votes for cosmetics and features that will be in the game
About Ambition Works
Who Are We?
Welcome to the Patreon page of Ambition Works! We are ambitious individuals that grouped together in order to develop games. We hope to bring high quality games of all kinds! Since we are a starting company, any assistance would help greatly!
Why Patreon?
In the near future, we plan to start Kickstarter in hopes to get enough funding to fully finish the game. The funds from Patreon will help push the project towards the Kickstarter date. This page is where we will share our progress and update you guys on what's going on. There will be an update every Wednesday. Even if you can't or don't want to pledge, it would help us greatly if you press that lovely "follow" button.
All posts will be made public, but any tips will be appreciated!
*There is a "charge up front" enabled.

Project #1: Starline
Starline is a comedy puzzle game in a sci-fi setting. Arie, the pilot of Starline, is hired to clear out debris and meteors using a vast array of weapons. Each weapon will have different properties which may destroy obstacles efficiently, however, each shot comes at a cost. Arie must be able to destroy all the garbage in space but also manage her resources at the same time.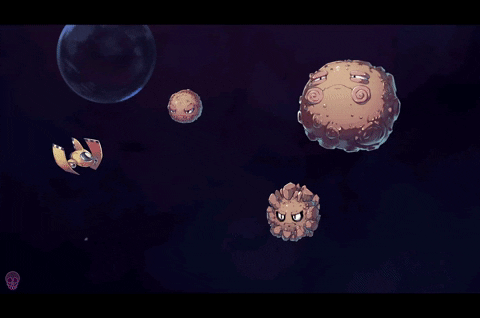 Brief Story Introduction
Star Center is a super awesome, highly respectable, very reliable, top notch space military division that provides great benefits and pay. Only accepting the most intelligent and the most talented applicants, the acceptance rate for pilots is around 3%. Arie is an ambitious young girl, lured by the pay and prestige (but mostly the pay), who takes the tests.
She may have amazing talent for flying, but her intelligence is...questionable. She passed the flight exam with ease but failed the written exam disastrously.
As she walked out the test room reeking with the stench of failure, the Chief saw potential in her and asked if she would like the opportunity to join anyway. Thanking the stars for the miraculous second chance granted to her, she happily accepted, but was quickly disappointed when she found out that by "joining", the Chief had meant as a janitor. With no other feasible options for games, clothes, and food, she accepts her new job of destroying junk and meteors in space for the more important members of the team.
Meet the Starline Team!

Steven Paek
- Director, Game Design, Writer, UI Art, Side Animator, Special Effects Artist
Arielle Chongco
- Programmer
Sam Chu
- Music and Sound
Edwin "ehlboy" Lee
- Lead Animator
Paroro
- Character Art, UI Art
Paroro's Patreon:
https://www.patreon.com/paroro
Alpaca Carlesi
- Background Art, Chibi Art
Alpaca Carlesi's Patreon:
https://www.patreon.com/alpacarlesi
Special Thanks

Daniel "GOLDPRINT Studios" Bell
- Concept Artist
OTAKO Studio
- Concept Artist
OTAKO Studio's Patreon:
https://www.patreon.com/otakostudio
Recent posts by Ambition Works