American Resilience Project
is creating Documentary Film Series
Select a membership level
Private Link to our Award-Winning 1st film, "The Burden" (2015)
Permanent, private, link to "The Burden" 
FILM DESCRIPTION: 
The U.S. military is currently the world's single largest institutional consumer of oil, and the United States alone uses 20% of the total global supply. The film highlights how that heavy reliance upon oil and other fossil fuels poses a variety of national security concerns, including:

• The vulnerability of troops and loss of lives and money resulting from the need to protect and defend fuel convoys in war zones like Afghanistan and Iraq, 
• The strategic and economic costs of keeping oil rich areas of the world open,
• How climate change will increase the need for the military to respond to natural disasters, and other emerging global security challenge
Private link to our most recent Award-Winning Film, "Tidewater" (2017)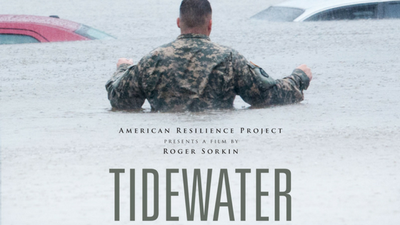 Permanent, private, link to "Tidewater" 
FILM DESCRIPTION: 
The Hampton Roads area of Virginia is relatively unknown nationwide, but it is the region whose vulnerability to sea level rise most affects military readiness and our overall national security.
With 14 military installations spread across 17 local jurisdictions, it is our highest concentration of military assets in the country, where 1 in 6 residents are associated with our nation's defense.
Their homes, schools, hospitals, and families are increasingly struggling to keep up with the effects of rising waters, and the military and all the surrounding municipalities are working towards solutions in the name of strengthening national security and enhancing economic prosperity.
Hampton Roads requires $1 billion in urgent infrastructure repairs with 900 miles of its roads and electric grid threatened by permanent flooding. Faced with these unprecedented challenges that can only be tackled by a wide range of stakeholders, from ordinary citizens to the U.S. Navy to local businesses, Tidewater demonstrates that an innovative whole-of-government problem-solving model being attempted by local and military leaders is the only way to ensure the continued strength of our national security, along with the continued prosperity of the region and the nation.
If Hampton Roads succeeds, it will mean success on several levels.  They'll save their homes, schools, businesses, the bases, and that's no mean feat.  But they'll also create a powerful template for success, a model other regions can use to prepare for and deal with disaster – and more: a model that can demonstrate how people, businesses and government can pull together to solve any complex problem. The story strikes a positive tone, highlighting the outsized capabilities of Hampton Roads to show the nation and the world how it can be done. Lots of hard choices and sacrifices will have to be made in order for the plan to succeed, but if they get it right, human communities everywhere will have a roadmap.
About
The American Resilience Project (ARP) engages citizens and policymakers to strengthen their communities in the face of environmental threats like sea level rise, extreme weather, resource scarcity, land subsidence, and electrical grid vulnerability. We specialize in harnessing the power of film to inspire action and cooperation around these critical issues. We start with an understanding of the attainable policy or cultural changes we seek, and then produce films that highlight the political, economic, and social opportunities that come with making resilience an urgent national priority.

Current Revolution, our newest documentary series, informs viewers about the critical importance of the electric grid to our resilience and national security--and the benefits of an electric grid increasingly integrated with electric vehicles, batteries, and alternative forms of energy, such as renewables. For decades, the utility industry has been a driving engine of the U.S. economy, contributing significantly to our progress and standard of living with a business model that focused on centralized generation. But now, because of reduced demand from a number of factors, including more efficient energy systems, power companies face a crisis that requires them to capture new market shares to survive in the 21st century. The industry has its sights on the transportation sector, which means a chance to catalyze the electric vehicle industry, but this also sets a collision course with major petroleum interests. And with the need for a smart, cyber-secure grid, the tech and defense industries also have critical roles to play as we progress as a country. The complexity of this story requires a chapter-by-chapter approach, and thus we've decided to format this documentary as an ongoing series. The first chapter focuses on Arizona and Georgia--two traditionally Republican States with two different stories to tell about their electric grids, the military, renewables, and electric vehicles. Through interviews, observational and archival footage, the film tells the story of a towering American industry on the brink of massive change.

But making films is only the half of it. We also mobilize strategic public engagement campaigns in collaboration with our network of partners, who use the films to build relationships and advance policies required for maximum resilience, mitigation and adaptation for the constituents they serve. Our partners include Union of Concerned Scientists, Truman National Security Project, Environmental Entrepreneurs, and Moms Clean Air Force among others.

ARP is also available to create commissioned work for leaders seeking to educate and inspire their communities to take action.

American Resilience Project needs engaged citizens like you to help us support our multi-faceted approach to harnessing the power to stories to create a stronger nation.
When we reach 100 Patrons, we'll hire a Chief Technology Officer to manage our website, social media, video platforms, and much more! 

1 of 1