Andrew Bzh.
is creating Video Courses about Drawing, Graphic Design and Illustration
Select a membership level
Good Tipper!
Thanks, you're a patron! You will get access to my speed drawing videos and other interesting content. Also you'll receive one picture from me every month, and you can use it as you wish. Oh yeah! You can print it on a T-shirt!
Great Tipper!
Five dollars? COOL! No, really! I will not stay in debt - you will get access to all of my courses, my speed drawing videos, free picture for download every month and more!
Wow! That's support!
Excellent! THANK YOU! You get all the same as for $ 5, but if you suddenly think that $ 5 is too small to support me, that's what this reward is for!
About Andrew Bzh.
Hey! I'm Andrew Bzhitskikh (I know, it's quite difficult to pronounce, so I removed the extra letters from the surname) ...
So. Hey! I'm Andrew Bzh. - Illustrator, graphic designer and teacher of online courses in drawing.
My drawing can be found on the tattoo of one Canadian. Or in one of the magazines in Austria. Logos in India and the USA. And in China, little Chinese children play with my monsters.
And it's really nice to know that somewhere, sometimes very far away, there are people to whom you are a little useful.
That's the thing.
I love to draw and I like to share what I know. Now I have more than 5,000 students at Udemy and Skillshare, who say they learned a lot from my courses. Hmm... Well, at least they say so. So, perhaps, I found the thing that I want to do!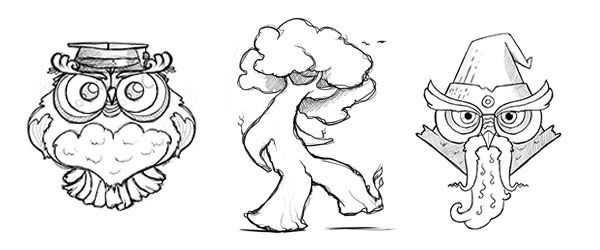 Patreon
I'm just starting my way here. But I'm very grateful to you, as you have read all this text almost to the end. Does this mean that you are interested?
THANK YOU!

Patreon is the way for my fans and patrons to help me create courses on drawing on a regular basis. In turn, I will be able to share here the newest lessons, work in the process, ready-made drawings and everything that will help make this world a little more creative!
It will be great when we reach this goal! It will mean that you do not just watch my videos, but you get pleasure from it!
1 of 3
Recent posts by Andrew Bzh.