Anime Herald
is creating Anime & Manga News, Commentary, Discussions, Reviews, & Analysis
Select a membership level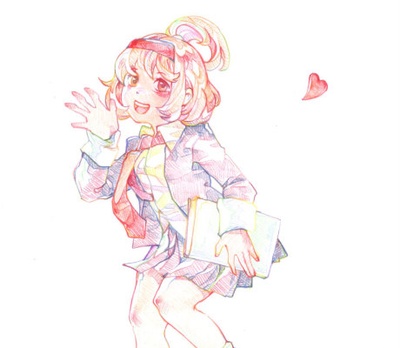 Nerdy Talker
This gets you early access to Behind-the-Scenes articles and exclusive access to chapters of "That 2007 Feeling" as they're ready.
You'll also get a shout-out in issues of The Dispatch as one of our supporting lovelies.
Hera's Helper
You'll get the chance to vote on numerous items, from podcast topics, to upcoming Patreon blog pieces, to our seasonal Herald Anime Club show. Your vote will have the exact same weight as our Anime Herald team members.
Want to see the Nerdy Talk crew talking up your favorite topics? Would you like to see the Herald Anime Club take on a show like Devilman Crybaby or Pop Team Epic? If so, then this tier is for you.
In addition, backers of this tier will gain access to the private Anime Herald discord group.
(Includes all previous rewards)
About Anime Herald
Hi, and welcome! I'm Samantha Ferreira, and I'm one of those randos who talks about anime on the internet. (wait, don't go!) I'm a journalist with more than fifteen years of experience, and I've served as editor-in-chief at
Anime Herald
for more than eight of them.
Anime Herald began as somewhat of a dream, so to speak. The organization was born in 2010 out of youthful ambition, enthusiasm, and genuine hope for the future. In the years that followed, we were able to grow into a real player in the anime world, providing the latest news, industry-leading commentary, in-depth reviews, and interviews with icons like
Naokatsu Tsuda
,
Lisa Ortiz
, and
Shoji Kawamori
.
From the very beginning, the ad model never felt "right" to us. We always felt that you, the reader, are the one who should be our biggest focus. Rather than waste time cold-calling sponsors or dealing with AdSense disasters, we felt that you should be the one who gets our utmost attention.
It's this mindset that led us to adopt the mantra of "You deserve better." We stand behind the fact that that you should never have to settle for anything less than authentic, independent voices, whose only priorities are to keep you informed and intrigued. You deserve one small spot on the internet where the site doesn't look like a NASCAR paint job barfed all over it, where ad blockers aren't a "must," and where quality content is ruler above all else.
And, most of all, you deserve a space where we practice what we preach; where we do our best to bring you our very best every day, to bring you engaging, accountable articles that you'd be thrilled to read. This should be your place, as much as it is ours.
What Are We Building?
Anime Herald - The Website!
The entire Anime Herald crew loves writing about anime. To be able to discuss and share our thoughts on the latest shows and trends, or mull over the industry at large, is a bit of a dream come true for us. We've
challenged publishers
and broken
stories of corruption
in unlikely places. And, when push comes to shove, we've proudly stood up for delivering strong, accurate content time and time again.
But, since day one, it's been mostly a volunteer option. Nearly every article, review, and column, has been written 100% free, with nobody drawing a paycheque. All revenues have gone into paying for the infrastructure that keeps the lights on, with out-of-pocket payments covering the shortfalls.
I want to change this. With your funding, we'll continue to build Anime Herald ad-free, without any skins, banners, or brand deals. We'll be able to continue to bring high-quality content without the burdens of sponsorship, and we'll be working, first and foremost, for you.
Rewards
Thanks to revenues that have come in through 2018, I've been able to take a night off from time to time. During those evenings, I've begun work on a book, which traces the history of events that leads up to and through the Great Industry Crash of 2008. As a special thanks for this opportunity, I'm sharing all chapters early, exclusively with Patrons. You'll be able to read it months before it's officially published elsewhere.
In addition to the chapters from That 2007 Feeling, all patrons will receive access to backer-exclusive behind the scenes pieces and exclusive articles. In 2018, we dove into our backlog of classic stories from fallen sister site Anime Dream, and published in-depth looks at some of the biggest stories to cross our desk. We're not 100% sure what will come about in 2019, but my goal has always been to spoil our Patrons a bit. All it takes is $1 a month, and access is yours.
For $5, you get some real power in the way we work. As part of our "Hera's Helpers" tier, you'll be able to vote for the shows we'll cover in the Herald Anime Club, which topics we'll cover on the Nerdy Talk podcast, and other topics. Your vote has equal weight to our team members, so this is a pretty powerful position! Even better, all Hera's Helper patrons receive access to our Discord channel, where you can talk nerdy with the people who talk nerdy to you every day.
Our Goals
Ultimately, you deserve a place where you're the most important person in the room. We want you to read and enjoy the articles we publish, rather than be pitched one product after another. With this in mind, our goals are simple:
Pay for infrastructure
Pay our team
Make a living doing Anime Herald full-time
Anything more than that would be breathtaking, as it would give us the freedom to expand our team and scope to keep building something special for you all.
As of now, all of us at the Herald work full-time. Some of us are writers, some are tech gurus, others are coders. While I'd love to turn this into my career, it's up to you to determine whether I do or not.
Anything to Declare?
In the interest of full disclosure, I want to be 100% upfront in my interests, so I want to be clear about what you are and are not funding, along with all other sources of income. In the interest of transparency, all changes will be disclosed immediately as they occur.
Day Job:
I work as a software engineer in the daylight hours. In the interest of privacy, I won't disclose a specific organization, but I can confirm that work in the healthcare industry.
Review Copies:
Since day one, it's been our policy to disclose whether review copies are obtained from a publisher or not. This has been our standard from day one, and it will be our policy in the future.
Our Agreement With You Isn't What You're Funding:
I'd like to emphasize that we are 100% independent. I trust that you're a mature, intelligent individual who can understand that we will say things that you don't always agree with. And that's totally okay! Being able to discuss our differences is a fantastic thing, and it's something that I've always enjoyed. But keep in mind that, if you fund us, you're funding the fact that our writers' personal views are their personal views, and we don't care who likes it when we share them.
And I Think That's It!
Whether you back us or not, I hope that you continue to support us, no matter where you end up.
For now, though, sit back, get comfortable, and let us talk nerdy to you.
Allows us to pay for one editorial article each month.
3 of 5
Recent posts by Anime Herald