Timothée Giet
is creating New graphics for GCompris activities
Select a membership level
$1
per updated activity with new graphics

You support my work on GCompris. Your name will appear in a dedicated credit page.
You get access to the full version on all supported platforms.
$3
per updated activity with new graphics

You support my work on GCompris. Your name will appear in a dedicated credit page.
You get access to the full version on all supported platforms.
You get access to the making-of content.
$5
per updated activity with new graphics

You support my work on GCompris. Your name will appear in a dedicated credit page.
You get access to the full version on all supported platforms.
You get access to the making-of content.
I will send you a new GCompris postcard every year.
$11
per updated activity with new graphics
About Timothée Giet
(Description en français en dessous)
Hello, my name is Timothée Giet and I'm a french graphic artist working on improving the great educational Free-Software called GCompris.
GCompris is a huge collection of activities, more than a hundred, for children from 2 to 10 years old. Some are game orientated, but nonetheless still educational.
As a graphic artist, my goal here is to make new graphics for each activities in order to improve the experience. This way, I hope it will attract more kids to learn a lot of things while having some fun.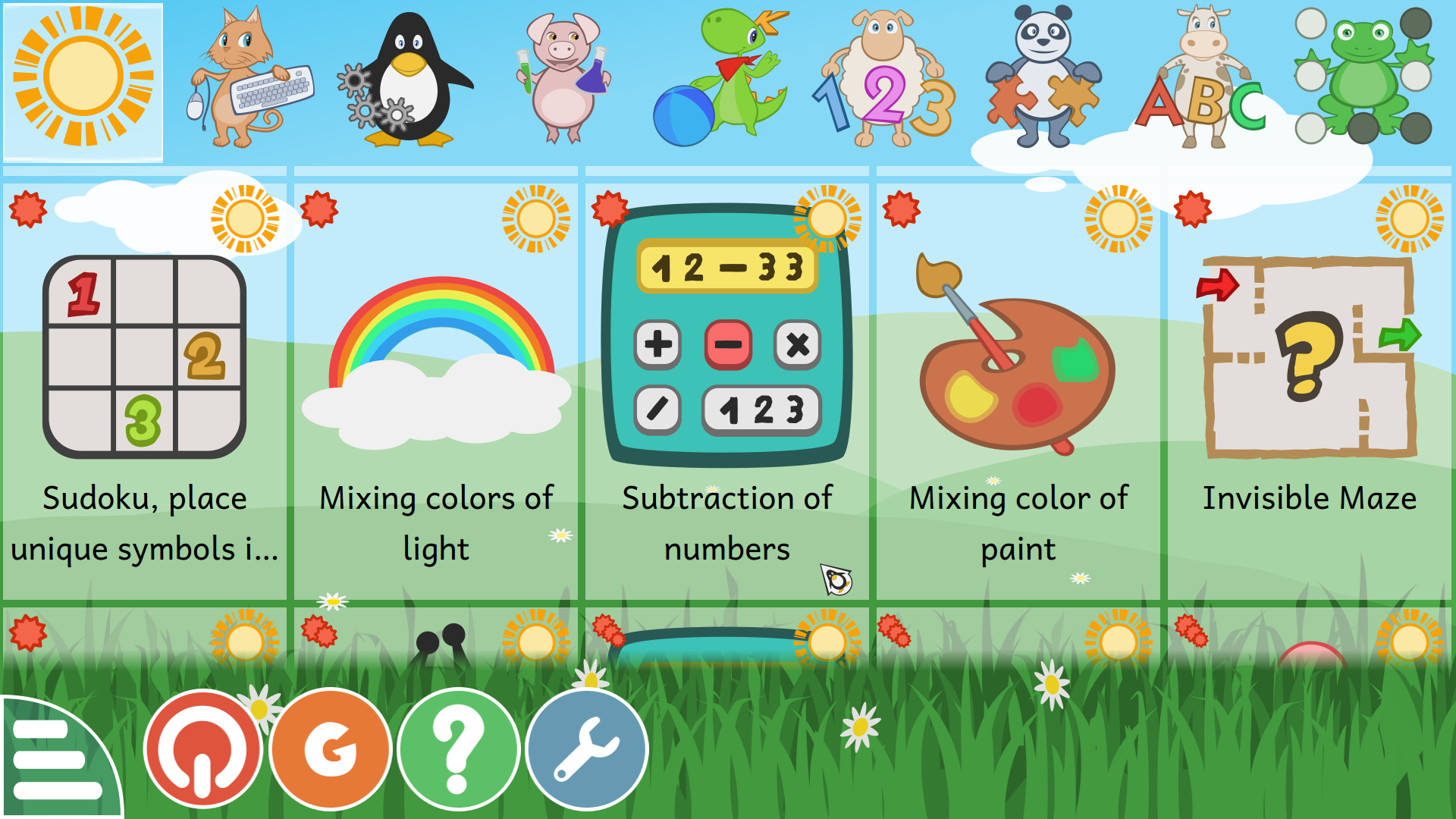 screenshot of the main menu with the new design

REWARDS
The result of this work benefits to everyone. The artwork is released on the same Free license as GCompris, and can be reused by other Free Software.
Every patron can get his name on a dedicated credit page in GCompris. Also, every patron can get the full version on all supported platforms (Windows, MacOSX, Android and iOS).
The version for Free-Software operating systems like GNU/Linux is already free to access for everyone, without any restriction.
For 3$ and more, patrons also get access to the making-of section, including digital sketches and occasional bonus artwork.
For 5$ and more, patron will also receive once a year a new personalised postcard with GCompris artwork.
WHY ON PATREON ?
I strongly believe that freedom, sharing and learning are the most important things to care about. All my work for the last years has been about contributing to free/libre software and free culture projects. I really want to see those alternative become mainstream, and take every chance I get to help this happen.
This project about GCompris is a big task. It made a good start in 2015 thanks to a one-time crowdfunding campaign. I could define
some global guidelines
for the style to use, and
made new graphics
for the main interface elements and a good number of activities.
Still, there is a lot left to do, with lots of activities that need new graphics. Also when all existing activities will be updated, there will always be new activities in need of graphics and design.
To make it possible to keep working on these in a sustainable way, asking for your patronage is the best solution.

PAYMENT INFOS
I'm asking  your support only for new updated activites, and it will usually happen only once per month. It may happen twice on some month depending on my workload, but Patreon gives you the possibility to setup a maximum limit per month. This way, you are totally in control with your budget and safe if you want to patron me.
FAQ
Q- If Gcompris is Free Software, why do I need to buy the Android version, or the activation code for Windows ?
A- GCompris is Free Software for all and gratis on free software platforms like GNU/Linux (Ubuntu, Fedora, Suse, Mageia … ). However building packages for proprietary platforms takes some time and is worth asking to pay for it. It is a good compromise that allow us to continue to maintain and improve the project over time.
Description en français
Bonjour, je m'appelle Timothée Giet et je suis un dessinateur français travaillant sur un projet pour améliorer le logiciel libre éducatif GCompris.
GCompris contient une très large collection d'activités, plus d'une centaine, pour les enfants de 2 à 10 ans. Certaines activités sont orienté vers le jeu, tout en restant éducatives.
En tant qu'illustrateur, mon but ici est de créer de nouveaux graphismes pour chaque activité afin d'en améliorer l'experience. Ainsi, j'espère qu'il incitera encore plus d'enfants à apprendre de nombreuses choses tout en s'amusant.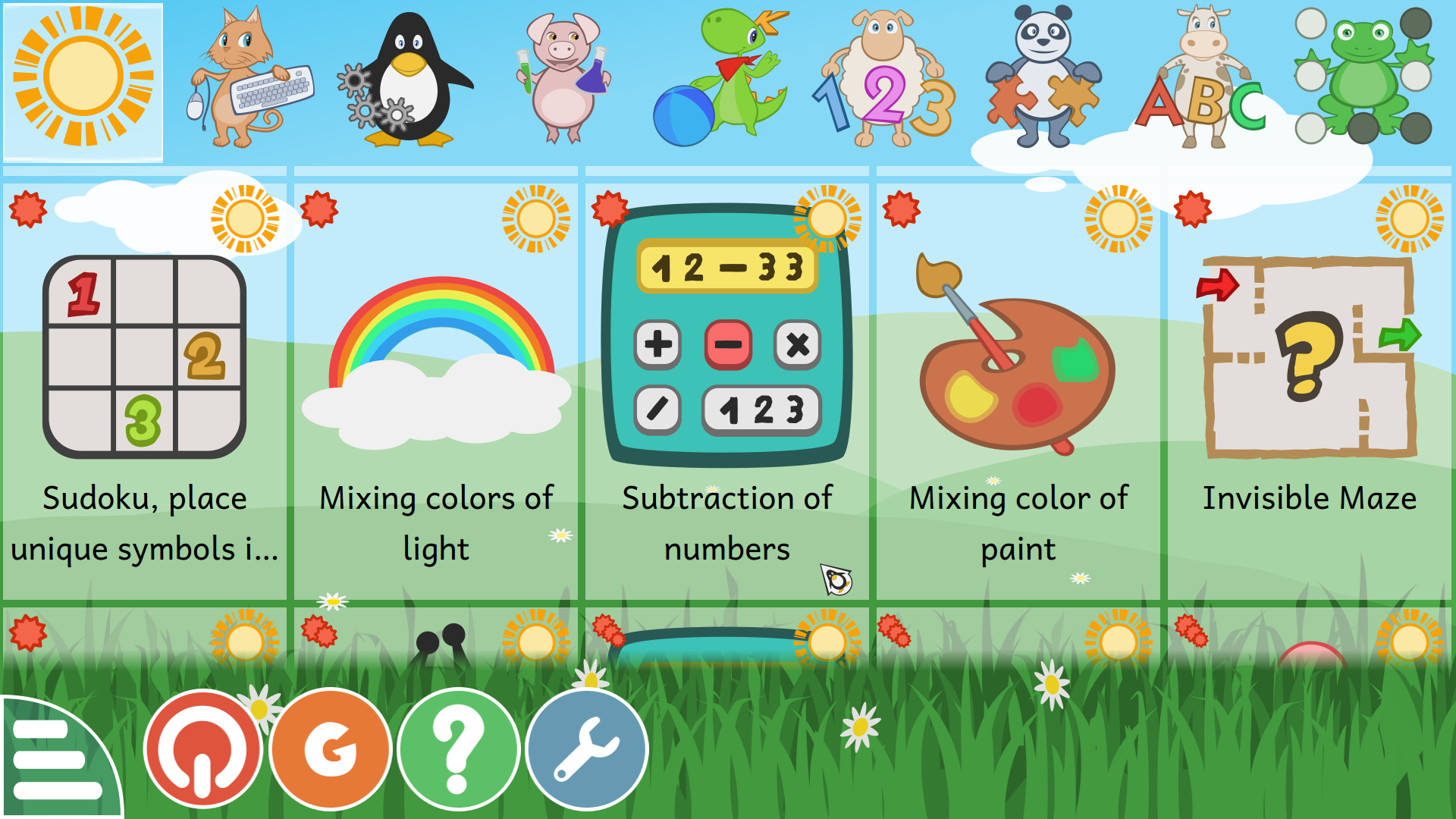 Capture d'écran du menu principal avec le nouveau design

RECOMPENSES
Le résultat de ce travail bénéficie au monde entier. Les graphismes sont publiés sous la même licence libre que GCompris, et peuvent être réutilisés par d'autres logiciels libres.
Chaque patron peut avoir son nom dans une page dédiée aux crédits dans GCompris.
Chaque patron peut accéder à la version complète pour toutes les plateformes supportées (Windows, MacOSX, Android et iOS).
La version pour les systèmes libres comme GNU/Linux est déjà accessible pour tout le monde sans restrictions.
Pour 3$ et plus, les patrons ont aussi accès à la section making-of, contenant des croquis numériques et des images bonus occasionelles.
Pour 5$ et plus, les patrons recevront en plus chaque année une nouvelle carte postale personnalisée aux couleurs de GCompris.
POURQUOI SUR PATREON ?
Je suis persuadé que la liberté, le partage et l'apprentissage sont les choses qui comptent le plus. Tout mon travail depuis plusieurs années consiste essentiellement à contribuer sur des Logiciels Libres et des projets de culture libre. J'aimerais vraiment voir ces alternatives devenir populaires, et je saisis chaque occasion qui se présente pour arriver à ce but.
Ce projet sur GCompris représente beaucoup de travail. Il a démarré en 2015 grace à une campagne de financement participatif, qui me permit de définir
des lignes directrices globales
pour le style à utiliser, et de réaliser
de nouveaux graphismes
pour l'interface principale et pour un bon nombre d'activités.
Cependant, il reste encore beaucoup à faire, de nombreuses activités nécessitent toujours de nouveaux graphismes. Aussi, lorsque toutes les activités seront mises à jour, il y aura toujours de nouvelles activités qui auront besoin de design et de graphisme. Pour rendre possible ce travail sur la durée, la meilleure solution est de demander votre patronage.

INFORMATIONS DE PAIEMENT
Je demande votre soutien seulement pour les nouvelles mises à jour d'activités, ce qui n'arrivera en général qu'une fois par mois. Cela peut éventuellement arriver deux fois pour certains mois selon ma charge de travail, cependant Patreon vous donne la possibilité de définire une limite maximum par mois. De cette façon, vous gardez le contrôle sur votre budget.
FAQ
Q- Si GCompris est un logiciel libre, pourquoi dois-je acheter la version Android, ou le code d'activation pour Windows?
R-GCompris est un logiciel libre pour tous et distribué gratuitement sur les plateformes libres telles que GNU/Linux (Ubuntu, Fedora, Suse, Mageia, ...). Cependant, compiler et distribuer des versions sur des plateformes propriétaires demande beaucoup de temps, ce qui vaut la peine de demander une contribution financière. C'est un bon compromis qui permet aux développeurs de continuer leur travail pour maintenir et améliorer le logiciel au fil du temps.
$11 of $200
per updated activity with new graphics
1 of 3
Recent posts by Timothée Giet