Annika Victoria
is creating DIY Videos! Sewing Content! Podcasts! Disability Awareness!
Select a membership level
Supporter ☆
Access to an exclusive Patreon-only feed, including:
● EARLY ACCESS to new videos
● Exclusive patreon-only vlogs and videos
● Sneak previews of projects I'm working on
● Have your say over important decisions I make for my channel & content
● Chat to me and others in the my Patreon-community (some of the loveliest people on Earth!)
Extra Awesome Bean ✿
+ everything above, and...
Nothing extra - just the knowledge that you're an extra awesome human being who is an extremely important part of this community.
Public Producer ♡
Limited (17 remaining)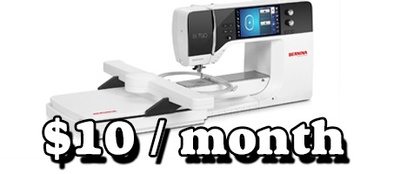 Everything at the $1 level, plus...
Producer credits, meaning your name is on the end cards of all my videos PLUS the description box (Begins each month when pledge has successfully gone through. Note: I will use the name you provide to Patreon, unless you specify another name!)
About
Hey! I'm Annika Victoria. I like to sew my own clothes and I love teaching. I make easy to follow, close-captioned sewing videos for all sizes and abilities. I'm also an avid thrifter and passionate about sustainable fashion, and like making fun of ridiculous fast-fashion trends. All of this happens on
my Youtube
channel.
I also advocate/educate about disabilities and chronic invisible illnesses (of which I have!) mostly through my
Instagram account
.
What is Patreon & why should I pay for content that's already free?

Patreon is a platform that allows content creators to
continue making the content you love
.
Think of yourself as a patron of the arts.
This is what I have achieved over 3 years of Patreon support since 2016:
- It's provided me with a regular income & I am financially secure for the first time in my adult life; when I have bad periods with my health I know that I won't be out of a job;
- It's made beginner-friendly sewing accessible for a large audience. A sewing class or course is expensive - my videos are free. I can keep making quality tutorial videos and releasing them for free, so that people who cannot afford to be a patreon supporter are able to learn a new skill, or even start their own sewing businesses;
- Purchasing of a new camera, lens, tripod, studio lights, audio equipment which makes my videos all the more watchable, enjoyable, and easier for me to film;
- Hiring captioning services to make videos accessible for people who are d/Deaf and hard of hearing;
- I can afford both my life-saving & quality-of-life-improving medications ($450 a month)
- New computer for faster-editing of videos (which means more frequent content!);
- A larger studio to make videos, film and sew in which has made filming SO much easier;
- Continued purchasing of new materials and sewing tools to make videos with;
- I've made good friends with some of my supporters on Patreon;
- Starting
a podcast
;
- I have been able to hire agents to secure brand deals and am now an ambassador for Bernina sewing company.
This is just some of the good I've been able to achieve thanks to Patreon support.
As hinted above, I also live with a disabling chronic illness called "Takayasu's Arteritis" (read more about that
here
), which among other issues causes chronic pain and fatigue, costs me $450 a month in medications alone, and has also limited my future employment options somewhat. I had to give up on my dream of becoming a research scientist because there was no way my body could handle 8+ hour days in a laboratory. So with some sadness but also some excitement, in 2016 I decided that I would make this video-making thing my full-time job. Often limited to my own house or unable to work for a string of days because of fatigue and pain, I am still able to put 20-30 hours into every video (plus the many hours of work that goes on for the business-side of things), because I'm now my own boss & can determine my own working schedule.
Of course, I also don't want you to see me as some charity case.
Donate because you see some value in what I do. Donate because you want to become a vital component of this community.
Just know that your donation will also be helping out in a HUGE WAY.
But what do I get out of it?
Aside from a deep sense of satisfaction & contributing to continued and improved videos, supporters will get access to an exclusive feed featuring early access to all video content, private vlogs, sneak peeks of DIYs and clothes I'm working on and a patreon-only community forum. Higher-level supporters will get producer credits in each and every one of my videos.
All my current content and future videos will remain totally free if you cannot be a supporter, and I totally understand that not everybody can!
You can still view all my tutorials for free
here
- don't worry, I'm not going to start charging for them if you are unable to support me at this time! You can set a pledge from as little as
$1 per month
and you can cancel or change your pledge at any time.


Thanks so much for reading, and for all the other types of support and motivation you wonderful human beings have given me over the past few years as I've tried to make this work!

Important FAQs:
1. You can still view all my tutorials for free here.
2. You can cancel or change your pledge at any time.


I can hire some help!!
There are so many things that I have to spend a lot of time on, that are important to do, but also mean I can't spend that time sewing or filming tutorials - writing [CC] captions for my videos to make them accessible (which can take up to a whole day!), EDITING, managing my website, creating graphics, managing make thrift buy requests, managing and promoting merchandise, managing emails, etc etc ETC.

At this goal, I will be able to hire assistance. This will free up a LOT of my creative time, basically meaning I can make more videos and tutorials for ya'll ???!

13 of 14
By becoming a patron, you'll instantly unlock access to 244 exclusive posts
By becoming a patron, you'll instantly unlock access to 244 exclusive posts
Recent posts by Annika Victoria