Art Expressions
is creating Art and healing
Select a membership level
Checkin things out
Access to my feed, updates to work in progress, info on sales and offers for art, reiki, and tarot readings as well as classes, occasionally live feeds with live art! 
Small Print Collector
Receive your choice of one full-color 8X10 print by US mail. US only. Takes up to 6 weeks to receive your print. Specify which print. (Multiple print discounts at other tiers!)
5 Card Tarot Reading or 30 Min Reiki Session Certificate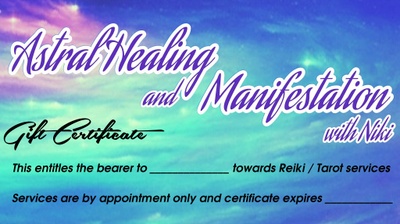 This tier provides supporter with a gift certificate for a Tarot Reading or 30 min Reiki session to be used any time within one year, or can be given as a gift. 
About
Hi! So many of the people who see this already know me personally, but for those who do not, I'm an artist, a Reiki Master and Tarot reader. That's what I'm working towards anyway. So I used to be a tattoo shop owner and tattoo artist. Long story short, I went through some stuff and decided to strut my skills on the rollerskating rink, and unfortunately got too brave and fell in a way that permanently disabled my right elbow from being my "skin stretcher" arm. That was 2 yrs ago, and after a lot of complications and being unable to overcome this issue with my arm, 3 trauma ortho surgeons, an autoimmune disorder diagnosis, and dealing with really heavy depression, I decided the best thing for me was to walk away before I drowned any further, and close my tattoo shop. I wasn't who I wanted to be anymore, and being a boss was making me miserable. I just want to make art, and help people heal. So while I was able to get out of my tattoo shop and get into a beautiful loft studio where I'm able to do these things, I was left with a huge amount of debt from being unable to work for 2 yrs, on top of the debt left behind from my tattoo shop, on top of medical bills, on top of past due property taxes, a looming utility bill crisis, and now I've been hit with a legal battle that has nothing to do with anything I did at all. It just so happens I'm the one he chose to go after though, so I have to defend myself in court, frivolous or not, because I can't afford to lose. All total, I'm nearing the 10k debt mark, and though my business is growing really well, I still owe others who bailed me out and bills that got set aside, so this just isn't coming in fast enough. Rather than ask for a hand out, I decided to put together various support packages that will provide the individual with either some cool prints of my more popular artwork, custom paintings you can prepay for and will receive in a matter of just a few weeks after the fundraising gets going, as well as Reiki and Tarot sessions, extended intuitive empath guidance, couple's sessions, or classes in Reiki level 1 or in Tarot reading for the personal healing and guidance. These sessions are one on one and up to 2hrs long. I'm open to suggestions, and I'll happily put together any package you like for any reasonable amount also! Your support means the world to me and I appreciate any amount of support, and even the $5 level gets a print mailed! If you can't get something, but want to help, sharing this page and letting people know who I am and why I'm asking for help would be a great way to boost my fundraising. If you have any questions at all about my injury, or situation, feel free to ask. I'm an open book.  Thanks so much for reading and for those who have been there along this very long road. Losing my career was difficult and I feel very grateful to still have an opportunity to do something I love. I just need a little boost to get going and in no time I'll be giving back. Blessings!
Legal Retainer fee and utility emergency
1 of 3
By becoming a patron, you'll instantly unlock access to 2 exclusive posts
By becoming a patron, you'll instantly unlock access to 2 exclusive posts
Recent posts by Art Expressions