Adam Lumb
is creating The Tide - Graphic Novel Series
Select a membership level
Bring the drama
Help achieve the mission to bring more drama to comics. Includes full access to my work in progress images as I make my books.
Thank you.
Subscription to The Tide series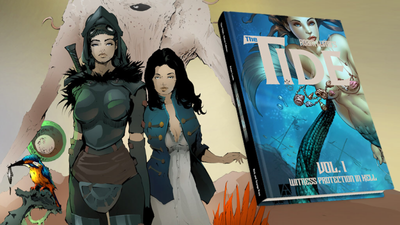 Read the comic as I make it. New pages published are here first. Straight from my studio to you. Your subscription makes it possible for me to keep making the book and having it professionally lettered. No more waiting for the release of the full volume. Be there as I publish the pages. 
When each chapter is complete I will be compiling the pages as print and digital volumes and you will be the first to know about their publication too.
Tide Vol. 3 pages will be published here for this tier in 2020. Join any time if you would like to support my work at this higher tier now.
Thank you.
About
Hello. 

Welcome to my Patreon. 

Exclusive content when you support the mission. Become a Patron to help to bring more drama to comics for only $1.

I have created this Patreon to host exclusive content and discussions about bringing drama to comics and to share my own comics with you
as I make them
.
I'm still learning how to make comics with more drama. A Patreon is a way to support the development of my art from a $1 a month. 
This is:
A place to talk comicsThis is a place to discuss how to make comics with more drama. And for readers of The Tide it is a place to discuss the story with other readers. See the community tab.
A place to share work in progress
I will be publishing exclusive content, early previews of work in progress including work on The Tide.
A place to share read my comics as I make them
Read my series The Tide as soon pages are finished.
Let's bring believable drama to comics.
Bring the drama - $1 
For immediate access to the exclusive content click on the Tier -
Bring the drama.
You'll get immediate access to all my work in progress videos painting the covers for the rare monster edition of
The Tide Vol.1
and future work in progress as it's added.
Read The Tide... as I make it - $5
For the monthly subscription of $5 per month you get the continuing story of The Tide. Pages straight form my studio to you as soon as it is drawn, coloured and lettered.
It means I can produce a chunk of the story at a time and fund the lettering of the story from the subscription. And you get to read the story much sooner.
When the full Volume is produced I will then bring these finished lettered pagers to Kickstarter to make the books available as Hardback and digital download as I did with Volumes 1 & 2.
Subscription begins 2020 - sign up and upgrade any time or join early to support making
The Tide
 now.
I hope you enjoy the art and community here on Patreon.
The Mission and Manifesto.
I believe comics have yet to reach their potential as a medium.
When cinema first emerged as an art form there was a lot of stumbling around as the cinematic language was created. With notable exceptions it feels like the medium of comics has been stumbling for a long time and is still stumbling.
It has been said by some that true drama does not translate to comics.
I believe the comics medium needs to connect more with readers at an emotional level if it is to find a wider audience as the mediums of prose novels and film have.
My comics will stumble too but join me as I search for ways to add believable drama to comics. I might have to do things differently.
- ADAM LUMB
www.artofadamlumb.com
Recent posts by Adam Lumb
By becoming a patron, you'll instantly unlock access to 8 exclusive posts
By becoming a patron, you'll instantly unlock access to 8 exclusive posts