Artrageous
is creating episodes filming creative & innovative people and places.
Select a membership level
Sweet Graphics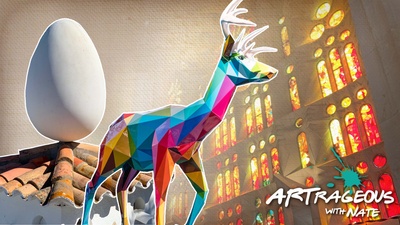 Wallpaper!  Nate will send you two Artrageous wallpapers for your computer, phone, or iPad. Unlimited high fives!
Happy Trees
Bumper sticker! You get an awesome Artrageous bumper sticker! Bob Ross would be so proud of your support! 
Producer's Circle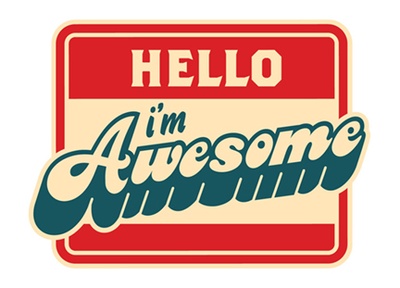 You are now a producer! You have now become an official producer of Artrageous with Nate! Your name (or in honor of name) will be added to the credits of every upcoming Artrageous episode. You will also be added to the sponsors page on our website! 
Yes, you will be awesome with this virtual badge of honor, as well as the Artrageous with Nate bumper sticker I'm sending your way!
About
What Is Artrageous Anyway?
Have you ever wondered why Vincent Van Gogh cut off his ear, or who creates the sets for the hit musical Wicked? Or how an industrial designer at Delta Faucet finds artistic inspiration from a Kit-Kat candy bar? I travel behind the scenes to find out where creativity is happening---at the Statue of Liberty, the Museum of Modern Art, amusement parks, Broadway, and more.
Recently, we took the next step to reach worldwide broadcast distribution for the series. My team and I traveled to Spain to film 
our first full-length episode!
We highlighted the creativity and ingenuity found throughout Spain's past and present. We had unique access to film in Salvador Dali's home, the towers and workshops of Barcelona's La Sagrada Familia, and the modern art studio Ink and Movement in Madrid.
Why Did Nate Start Artrageous? 
As a former art teacher, I was concerned with the yearly decrease in arts funding. In 2013, I set out to create online arts content that could be seen by students around the globe, regardless of their educational institution's financial status. To date, the "Artrageous with Nate" YouTube channel has had 7.1 million minutes of creative arts-related content viewed, with an equal split in domestic and global viewership. 
Why Support Nate?
Your support directly keeps Artrageous in production. I use every grant, donation, or contribution to keep making more episodes! I receive many emails from schools around the world telling me how helpful my episodes are in their classrooms.
I want to keep creating content that inspires, educates, and demystifies cultures and people, but I cannot do it without your support. 
THANK YOU
for being awesome, and be sure to check out some episodes below!


Short-form episode!

Full-length/Netflix ready episode!

Episode on Samuel Morse & Equipment Needs. Did you know Samuel Morse did more than just invent Morse Code? He started his life as a painter, and his creative story is fascinating! We are producing a live episode mixed with animation, but we need the funding to get it completed. Additionally, we really need to update some basic equipment that is, well, just getting old! 
1 of 3
Recent posts by Artrageous