Artwork by Tasha Turenne
is creating Fine Art using Graphite, Charcoal and Colour Pencils
Select a membership level
Black and White using Graphite
Every journey starts with the first step, my first step that made me fall head over heels for the art world was the simple wonder called graphite. You know it, we've all used it since childhood and yet it can be magical for the inquisitive eye. How did they do THAT with one pencil?! *Imagine wide eyed bewilderment of a young child* 
Rewards:
1. Exclusive Access to Patreon Only News Feed - Want to know what I'm doing before I do, this is the place to start!
2. Front Row seating for New Artwork - Be the first to see All new artwork hot off the drawing board before everyone else! Includes triumphs and never before seen...flops! Yes they do happen.
Getting Messy with Charcoal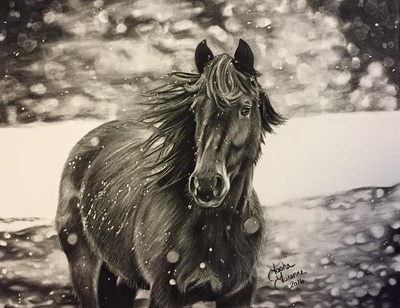 Don't be afraid to make your darks, really dark. Not only will you create the best depth you can, but you'll have fun being covered in it!! Warning: May get on clothes, hands, face and other things that you're pretty sure you didn't touch. 
Rewards:
1. All Previous Rewards
2. Progress Shots on all Works in Progress - Normally I would save these until I was finished a piece, but not on here. You get to see the progress pictures as they happen. Follow along till the end!
3. Time Lapse Videos - See a piece being worked on from start to finish. Don't have hours to spare? No problem, they're sped up for maximum enjoyment in a limited time.
Layers Upon Layers of Colour Pencil
Layer, Spray, Layer, Spray, Layer, Spray and Repeat.
Rewards:
1. All Previous Rewards
2. Tips and Tricks - I'll share with you Tips and Tricks that I've discovered along the way.
3. Real Time Videos - Do you like the sped up versions but want to really see what's happening with each pencil and eraser stroke? This is the place for you. 
About
" My favorite thing about being an Artist is showing my kids that your dreams can come true with hard work and dedication! I get to show them that passion for what I do everyday!
- Tasha Turenne

Welcome to my Patreon Page! I'm so excited to share this page with you, my family, friends and enthusiastic art loving supporters. I've created this page so that I'll be better equipped to share my artistic journey with everyone, and the BEST part...you get REWARDED for taking those steps with me!
It's a great way for you to get exclusive access to sought after extras that people have been requesting, all the while providing me with the opportunities to support myself and my family as an artist. There are different levels of rewards to embrace everyone's comfort level. By joining me on this journey you'll get to see the latest and greatest off the drawing board BEFORE all other social media accounts, with my patreon only news feed. You'll be the first to see current Works in Progress for every piece I'm working on, Videos, Tips and Tricks I want to share and more!!

Why is having your support on this journey so important to me? Well lets get real for a second here. Besides the obvious costs of art supplies, there's all the time and dedication I put into every piece I make, time to edit and make videos and the supplies needed to do so, the costs of having a functioning art studio where creativity can flow and magic can happen, etc. Such costs are not covered in the selling prices of my artwork and come out of pocket, usually and unfortunately taking away from activities with my family. My main goal in life has always been to provide the best that I can for my family, doing the best that I can do! That's where you come in! I'll never be ashamed to say that I can't do it alone, I would much rather have fun along the way and do it with you!!

I can't imagine a more rewarding life, I've been so blessed with my art. Thank You, Thank You, Thank You, From the bottom of my heart and the very depths of my soul! I would not have achieved the level of artistic ability that I have today if it wasn't for everyone out there pushing me to better myself. You have made me what I am today, and you will be the reason for all future achievements!
Much Love Tasha 



Over the years I have been working towards developing a space within my home and garage where I can offer workshops, one-on-one or group instructions and tutorials. This has been greatly requested in the past few years and when we reach this goal, we will be that much closer to finishing the space needed.
1 of 1
Recent posts by Artwork by Tasha Turenne
By becoming a patron, you'll instantly unlock access to 52 exclusive posts
By becoming a patron, you'll instantly unlock access to 52 exclusive posts