Ashley Kordik
is creating portraits, illustrations, appreciation cards, & performance art.
Select a membership level
8x10 Custom Illustration
One custom-made hand-drawn illustration made uniquely for you and shipped directly to you.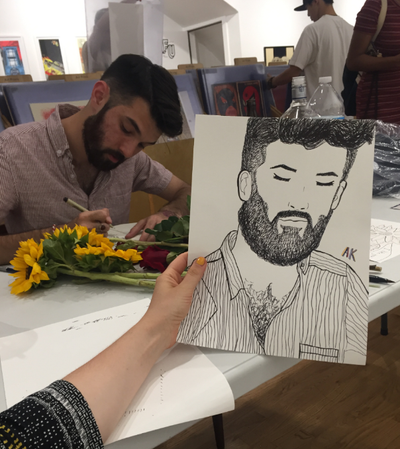 8x10 Custom Portrait (remote)
One hand-drawn portrait illustration- can be done based on a simple image sent to me.  Shipped directly to you.
Illustrated Bike Helmet
One custom-made hand-drawn bike helmet (helmet cost + shipping to me + shipping to you included), made uniquely for you and shipped directly to you.
About Ashley Kordik
In a time of harsh polarization, I find comfort in connecting deeply with others and discovering the human elements that show how similar we all are deep down. My power lies in interpreting, connecting dots, and understanding the big picture.
(I just happen to love drawing little ones.)
I am a journalism-educated storyteller and artist specializing in illustration, writing, interviews, and performance art. My work focuses on finding human connection, compassion, and growth through exploring desire, fear, vulnerability, honesty, trust, love, joy, gratitude, self-esteem and spirituality. I find inspiration in the exciting and uncomfortable rawness expressed by Shel Silverstein, Mari Andrew, Brené Brown, Cheryl Strayed, Marina Abramović, Elizabeth Gilbert, as well as many brave musicians (like 
these
).
I can't wait to make art for you. Thank you for trusting me to do so and making my dreams come true in turn.
xoxo
Ash
P.S. Feel free to check out my art on Instagram @ashleykordik and my writing style on my 
baby blog
.
When I reach $500, I'll make 5 pieces to give away for free on the 1st of the month at an exhibit incorporating a solo performance art piece.
1 of 1
Recent posts by Ashley Kordik