Atomiczata Cosplay
is creating cosplay, costumes, photoshoots and visual art
Select a membership level
Bronze
♦ Acceso a publicaciones solo para patreons
♦ Access to publications for patreons only 
♦ 2 fotos en HD de la sesión del mes que no veras en otro sitio (Las fotos HD las puedes utilizar como fondos de pantalla) 
♦ 2 HD photos of the session of the month that you will not see anywhere else (HD photos can be used as wallpapers)
♥ Gracias por apoyarme ♥ 
♥ Thank you for supporting me ♥
♦ Acceso a publicaciones solo para patreons

♦ 2 fotos en HD de la sesión del mes que no veras en otro sitio (Las fotos HD las puedes utilizar como fondos de pantalla)
Silver
♦ Acceso temprano al contenido
♦ Early access to content

♦ Acceso a publicaciones solo para patreons 
♦ Access to publications for patreons only
♦ 6 fotos en HD de la sesión del mes que no veras en otro sitio (Las fotos HD las puedes utilizar como fondos de pantalla) 
♦ 6 HD photos of the session of the month that you will not see anywhere else (HD photos can be used as wallpapers)
♦ Una foto de cosplay del mes en HD en dedicatoria (Las fotos HD las puedes utilizar como fondos de pantalla)
♦ A cosplay photo of the month in HD in dedication (HD photos can be used as wallpapers)
♥ Gracias por apoyarme ♥ 
♥ Thank you for supporting me ♥
♦ Acceso a publicaciones solo para patreons

♦ Una foto en HD en dedicatoria (Las fotos HD las puedes utilizar como wallpapers)

♦ 6 fotos en HD de la sesión del mes que no veras en otro sitio (Las fotos HD las puedes utilizar como fondos de pantalla)
Gold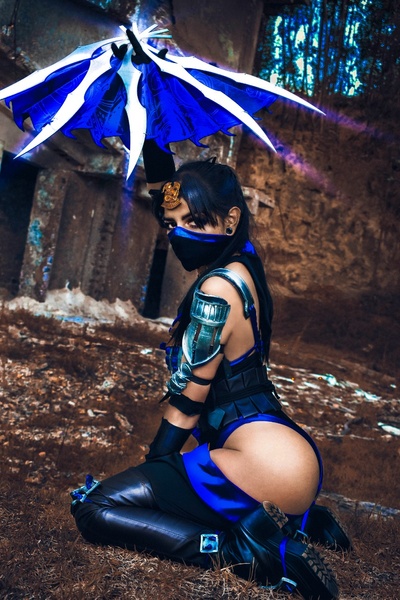 ♦ Acceso a publicaciones solo para patreons
♦ Access to publications for patreons only  
♦ Una foto de cosplay del mes en HD en dedicatoria (Las fotos HD las puedes utilizar como fondos de pantalla)
♦ A cosplay photo of the month in HD in dedication (HD photos can be used as wallpapers)
♥ Selfies de mi sesión fotográfica del mes ( entre 5 y 10 )
♥ Selfies of my photo shoot of the month (between 5 and 10)
♦ 12 fotos en HD de la sesión del mes que no veras en otro sitio (Las fotos HD las puedes utilizar como wallpapers) 
♦ 12 HD photos of the session of the month that you will not see anywhere else (HD photos can be used as wallpapers)
♥ Un GIF conjunto del cosplay del mes
♥ A GIF cosplay set of the month
♥ Gracias por apoyarme ♥ 
♥ Thank you for supporting me♥
♦ Acceso a publicaciones solo para patreons

♦ 12 fotos en HD de la sesión del mes que no veras en otro sitio (Las fotos HD las puedes utilizar como wallpapers)

♦ Una foto en HD en dedicatoria (Las fotos HD las puedes utilizar como wallpapers)

♥ Un GIF conjunto del cosplay del mes

♥ Selfies de mi sesión fotográfica del mes ( entre 5 y 10 )
About
Hi all!
My name is Tania, I am an industrial designer, I dedicate myself to art, I love the world of fantasy, I like the mood, video games, comics and movies, my free time I dedicate to different activities among them, the realization of these beautiful cosplay that I use to show them my skills and my dedication.
I want more people to know my work and also identify their tastes with mine, I want to devote more time to this, but sometimes it is difficult since it is very expensive and that is why I am looking for financial help for this hobby.
It would be great to be able to grow as an artist and even more, where I live, since this is not very valued and I think that if I can live enough for this.
What am I going to offer my patreons?
-Exclusive photos that you will not see on another social network.
-Selfies with the costumes you wear.
-Gifs only for patreons
-Information about my next costumes.
I am open to ideas, try new things that can work, interact with all those who believe in me and I support.
Social networks:
My facebook: https: //www.facebook.com/Atomic-zata-189347578330 ...
My Instagram: https://www.instagram.com/atomiczata
Thank you very much for reading me and especially if you want to support me!
¡Hola a todos!
Mi nombre es Tania, soy diseñadora industrial, me dedico al arte, me encanta el mundo de la fantasía, me gusta el ánime, los videojuegos, cómics y películas, mi tiempo libre lo dedico a diferentes actividades entre ellas, la realización de estos hermosos cosplay que uso para demostrarles mis habilidades y mi dedicación.
Deseo que más gente conozca mi trabajo y además pueda identificar sus gustos con los míos, quiero dedicar más tiempo a esto, pero a veces es difícil ya que es muy costoso y por eso busco ayuda económica para este "hobbie".
Seria genial poder crecer como artista y más aún, donde vivo, ya que esto no es muy valorado y creo que si lo lo suficiente puedo vivir de lleno para esto.
¿Qué voy a ofrecer a mis patreons?
-Fotos exclusivas que no verán en otra red social.
-Selfies con los trajes que usas.
-Gifs solo para patreons
-Información sobre mis próximos trajes.
Estoy abierto a ideas, prueba cosas nuevas que pueden funcionar, interactúa con todos aquellos que crean en mi y yo apoyen.
Redes sociales:
Mi facebook: https: //www.facebook.com/Atomic-zata-189347578330 ...
Mi Instagram: https://www.instagram.com/atomiczata

¡Muchas gracias por leerme y sobre todo si me quieres apoyar !
By becoming a patron, you'll instantly unlock access to 2 exclusive posts
By becoming a patron, you'll instantly unlock access to 2 exclusive posts
Recent posts by Atomiczata Cosplay