Ben Griffin (A Tribe Called Cars)
is creating YouTube car videos and motoring content
About Ben Griffin (A Tribe Called Cars)
Hey there!

My name is Ben Griffin. As a motoring journalist for the past six years, I have driven the likes of the Fiesta ST, McLaren Senna and hundreds of cars in between. Now I want to share my experiences with you via my fledgling website and YouTube channel, A Tribe Called Cars.

It has been a dream to start my own thing and for nearly a decade I have contemplated doing so, yet was never brave enough to make the jump. But here I am, better late than never, giving it a go, which is where you come in.

Although I get to drive some amazing cars and for that I am ever-thankful, it is often too expensive and too time-consuming to create insightful and (hopefully) entertaining videos and write insightful and (hopefully) entertaining articles, especially as freelance rates have plummeted.

In return for a little (or a lot, not fussy) of your hard-earned, I can build my independent website and YouTube from nothing to something. From a rusty shell to a slick, well-oiled machine, if you will.

I have the equipment and expertise(-ish), I just need a little funding to help keep me afloat in the early days and maintain a serious Earl Grey tea habit.

From car reviews and guides on how to film and photograph cars yourself, to getting the best from the latest racing games and tips on how to pass your driving test, I will cover it all in a way that is accessible, practical and useful.

All for free, I should add, and delivered with as much impartiality as humanly possible and in a way that makes the cars look as humanly flattering as possible.

Rewards for pledging includes the ability to have your say about what videos I make, receiving a limited edition car print taken by me and, potentially, early access to videos before they go public. And, of course, my eternal gratitude.

If you love cars or maybe just want to learn more about motoring journalism and how to make your own automotive content, feel free to make a pledge and help me make that happen. Every bit of support will be greatly appreciated!

You can have a look at my previous articles on my website, A Tribe Called Cars, and my first video reviews on the YouTube channel of the same name to get a flavour for what I am trying to do.

Thanks for your time,
Ben Griffin

Select a membership level
A Little Goes A Long Way
Donating $5 will help me make A Tribe Called Cars a success! You will also get 5 per cent off my merchandise store when it goes live, where I will sell car prints and other motoring-related things.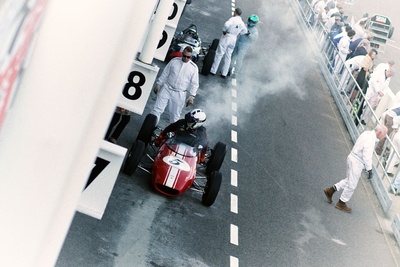 Supercharger
Donating $15 grants you 10 per cent off my forthcoming merchandise store and an especially warm thank you!
Twin-Turbo
Donating $25 gets you an A4-sized car print taken by me, in addition to 15 per cent off my forthcoming photography and merchandise store! Plus a whole lot of gratitude.
When I reach $500 a month, I will hire an editor to make one extra video every week.

1 of 2
Recent posts by Ben Griffin (A Tribe Called Cars)