Baltimore Beat
is creating Journalism
Select a membership level
I HEART Journalism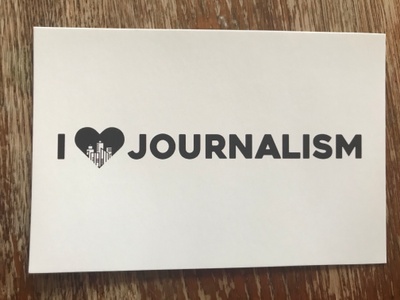 For sustaining Baltimore Beat you receive:

In your snail mail, an "I HEART Journalism" card designed by friend of the Beat Jenny Cardoza mailed to your house.

In your email, a weekly media-focused newsletter. Access to this e-newsletter gives you content related to the reporting we do that won't be available elsewhere: media criticism, reporting resource guides, how-to pieces by journalists, and an early heads-up warning on upcoming events and other special projects from the Beat.

And in your email in April, a "Best Of The Beat" ebook. A curated ebook featuring material from Baltimore Beat's print-run and additional commentary put together by Lisa and Brandon.
About
On March 6, 2019,
Baltimore Beat
returns.
One year to the day that the paper was closed.
Since the closure,
the Beat
cofounder Brandon Soderberg worked to gain ownership of the paper and editor-in-chief Lisa Snowden-McCray has been working to reimagine it.
Baltimore Beat
will pick-up where it left off last year except it will be online only. For the time being at least. Print remains a part of our mission and we'll have occasional one-off print projects (and "IRL" events), but we're moving slower this time to make sure
the Beat
is sustainable and can stick around.
Why do all this? Because Baltimore needs more journalism. Research shows that corruption flourishes when citizens don't know what's going on. We keep people accountable. We also expose folks to new things. There is a dearth of information about and criticism of the arts and food in the city. These scenes continue to thrive but lack the persistent and thoughtful media coverage they deserve because there are less and less outlets in Baltimore and the ones that exist can only cover so much.
And our coverage is unique. We showed you that during the four short months
the Beat
was around.
Devin Allen shot 
our first cover story
.
Jermaine Bell designed 
the cover for our gift guide
.
Daily 
dispatches from The Gun Trace Task Force trial
resulted in its writers, Baynard Woods and Brandon getting a book deal with St. Martin's Press. Baynard received 
a Best Of Baltimore award
from
Baltimore Magazine
for 
his story on the death of Baltimore Police detective Sean Suiter
. Lisa 
sat down with Ben Jealous
and interrogated his policy and approach long before he became the Democratic nominee for governor. Rebekah Kirkman 
continued the coverage of sexual assault and the arts scene
she began with former
Beat
Managing Editor Maura Callahan at
Baltimore City Paper
.
Through a collaboration with
The Real News Network
, we ran community-facing stories from Eze Jackson, Dharna Noor, and Jaisal Noor, on 
Mothers Of Murdered Son & Daughters
, 
sex workers
, 
city schools
, 
people experiencing homelessness
, 
the Fight For $15
, 
safer drug consumption
, and more.
We reviewed 
a lot of weed
.
We 
made some dumb jokes
.
We 
asked the whole city for New Year's resolutions
.
We 
mourned the city's homicide victims
.
All our content will be free online. By subscribing to our Patreon you get exclusive access to a newsletter (and a nice card and a cool ebook), but really, you're going above and beyond just because you want
the Beat
back.
Money raised goes towards pay for freelancers, pay for our editor-in-chief Lisa, and part-time pay for Brandon. It would also begin chipping away at the administrative-related fees Lisa and Brandon accrued over the past eight months or so of working to bring
Baltimore Beat
back: money that goes towards the domain and server space, money we owe a lawyer for their assistance, and related dues and expenses. We have not only been working for free on this for the past year but putting our own money into it because we deeply care about media in this city.
Here's why we're asking for five dollars. We think of it as you giving us one dollar per week to read our work with the additional dollar going towards administrative fees. Currently, Patreon and individual tax-deductible donations are the only way
the Beat
is funded. We will seek out grants and other forms of support, but we want to build a bedrock of reader supporters before we do any of that. This will makes us as community-funded as we are community-facing. We don't believe that journalism is a one-way street. We think it's a collaboration. We want to use
the Beat
 so people can have their say and that begins by asking for your support because that tells us how much work you want us to do and how many of you believe it is important.
You tell us how much we are truly needed in Baltimore.
Lastly, some administrative or "fine print" kind of things. 
The Baltimore Institute For Nonprofit Journalism (BINJ)
facilitates funding
the Beat
. Over the past year and a half BINJ Baltimore has focused on funding alternative media projects with a focus on racial parity and community voices and encouraging collaboration between local media organizations. BINJ Baltimore entirely funded 
an issue of Baltimore City Paper written by Writers In Baltimore Schools
, Reginald Thomas II's 
The City That Hoops
magazine, and Ericka Blount-Danois' Real News piece
"A Baltimore Teacher Uses Comedy to Reach Class Clowns."
BINJ partially funded 
issue three of Lawrence Burney's True Laurels
and collaborated with Baltimore Fishbowl on
"Structural Racism and Cannabis: Black Baltimoreans still disproportionately arrested for weed after decriminalization."
Funding Baltimore Beat will be BINJ's most ambitious project yet.
A percentage of the money we receive goes to Marc Steiner's 
Center For Emerging Media (CEM)
. This is because CEM is BINJ Baltimore's fiscal sponsor and their accounting support and general guidance allows us to take donations to fund
the Beat
. So whenever you give us money, it means you're also giving a little bit to another vital media outlet in the city.
If you're giving us money soon after launch—so, in February 2019—it means we're asking for money before we begin publishing. We appreciate that you'll give us money before we show and prove a second time. For this first month where you'll be subscribing but there won't be any reporting, we'll be having some "IRL" events that we'll announce soon. Definitely a happy hour and another conversation-oriented idea we're still working out.
One that is already in place is a Baltimore Legal Hackers meet-up on February 27 at the University of Baltimore where Brandon will discuss the policy-shifting reporting he did with Ethan McLeod of Baltimore Fishbowl and data scientist Andy Friedman.
Come through to that
.
Thank you for reading and considering supporting
Baltimore Beat
.
If you have any questions, you can reach out to Lisa (
[email protected]
) or Brandon (
[email protected]
).
By becoming a patron, you'll instantly unlock access to 7 exclusive posts
By becoming a patron, you'll instantly unlock access to 7 exclusive posts
Recent posts by Baltimore Beat