Beth Leyba
is creating creative nonfiction, memoir, ancestral healing work
Select a membership level
Trunk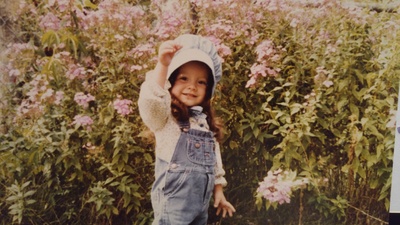 Taking nutrients from roots to crown. In addition to Roots access, receive a once monthly written or video guided meditation.
Branches
Limited (19 of 20 remaining)
Creating the shape and beauty. In addition to Roots & Trunk benefits, receive sneak peaks of the bigger projects I am working on, and a one-time card reading.
About
Raíces Rituales: Ritual Roots Healing Collective is a vision given to me by my ancestors. It is still taking shape, but I am ready to start taking it from dreamland to reality, and I invite you to join me.

I envision an actual physical space at some point down the road, where I will be joined by other healers who are firmly rooted in their own ancestral healing and offering various modalities of healing to others. For now, I hope to offer my writings, guided meditations, pondering on life and spirituality, and the opportunity to engage in various spiritual practices to my patrons.

In my day job I am a religious professional at a Unitarian Universalist church, and while I do enjoy many aspects of it and it is fulfilling on some levels, I have to answer the call of my ancestors to continue my own journey of healing and to offer that healing to others. (Starting 01/01/2019 I am a free agent, but still hope to be involved in UU spaces and am planting a people of color-centered church here in Denver with a fabulous group of people.)

I offer here as an introduction to my work and who I am, a piece I wrote and spoke aloud at a Sunday service, before lighting the chalice that is a symbol and ritual of UU faith:

Some might say that I'm not qualified to stand here. I have no degrees. I have never in my almost 40 years been anything more than lower class. I've been on both Medicaid and food stamps at various points of struggle. My child has had a box of free food shoved into her arms at school, which she carried home, bewildered, on the bus.

I drive a 21-year-old car that my parents gave me. My housing situation is not stable. I know it is a matter of when, not if, I get pushed out of my beloved Denver neighborhood of Northside, where I grew up, due to gentrification. I feel shame that I am unable to financially contribute to my eldest child's college education.

This is just a sliver of the realities of my life, without even touching on the traumas I have endured in my lifetime and the intergenerational trauma I have inherited.

So, I stand before you not with letters after my name or academic accolades, or any of the trappings that this society has deemed to be success. I stand before you by ancestral birthright. I stand here, firmly rooted in the knowledge of where I came from, who I came from, and in that knowing, I understand both my purpose and my call. I know whose I am, and therefore I know who I am.

My call is a bonfire in my womb; the many bonfires my ancestors circled in dance, during times of celebration, and reverence, and grief. It is the song of my ancestors, their unrealized dreams, their cut-short lives, their inability to do anything in their lifetimes beyond survive. Their resilience is encoded in my DNA. I am their best becoming and their atonement.

There are things that I know only because they have shown or told me; a thing I have come to refer to as bone knowing. Sometimes I try to pretend that I don't hear or don't understand, and I hear the chuckles of the grandfathers. "She's so stubborn." And the knowing smile of the grandmothers. "She's ours." Then I will feel mi abuela Juana's hands cup my face as she stares lovingly into my eyes and whispers gently, "Tu sabes, mija." You know.

And I do. It is true, and this bone knowing is my north star. Learning to walk and commune with my ancestors has revealed who they have called me to be: a curandera. A healer, wisdom keeper and storyteller, tasked with calling people back to their own bone knowing.

I call in the direction of the north as I light the chalice this morning; the direction of elders, ancestors, wisdom, and guidance. May we know who and whose we are.

Ven conmigo.

By becoming a patron, you'll instantly unlock access to 1 exclusive post
By becoming a patron, you'll instantly unlock access to 1 exclusive post
Recent posts by Beth Leyba